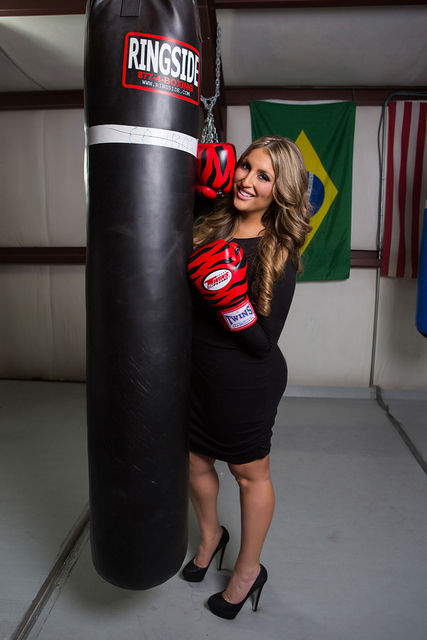 I'm the girl you want sitting courtside at the game. I drink too much beer, swear and yell way too loud. but go ahead and fall in love with me anyway.
About Stephanie Joplin:
Stephanie was born and raised in Houston, Texas. After graduating with a degree in Hotel Administration from the University of Nevada – Las Vegas, Stephanie returned to Houston to pursue a career in the hospitality industry. At the behest of her friends in February 2012, Stephanie began a small sports blog, covering her beloved Houston sports teams such as the Rockets and the Texans. One month later, Stephanie was approached to cover the Houston Aeros for FoxSportsHouston.com (now Comcast SportsNet) as a special reporter. Determined to find her niche in sports writing amongst several strong female writers in the local market, Joplin took on the task of learning MMA. Inspired by the various disciplines, she began training Muay Thai under Uriel "Woody" Figueroa at Revolution Dojo Houston and slowly began to focus all of her coverage on fighting promotions and their athletes. After attending and live-tweeting several local fight cards, Stephanie was asked to join the Legacy FC family as a contributing writer in January 2013, a position she maintains and relishes to this day. Her work has been published both online and in print for Legacy FC Magazine and she was named one of Houston Modern Luxury Magazine's "Prettiest and Wittiest Female Sports Writers" in April 2013. 
***
Photography: Laurie Perez