Well, Houston fans…the Texans season has come to its bitter end. It's been an incredibly tough couple of months for our city and the team's loyal fan base. After many heated debates over social media, I often found myself turning my phone on silent every Sunday to avoid all the negative tweets and texts about my beloved Texans.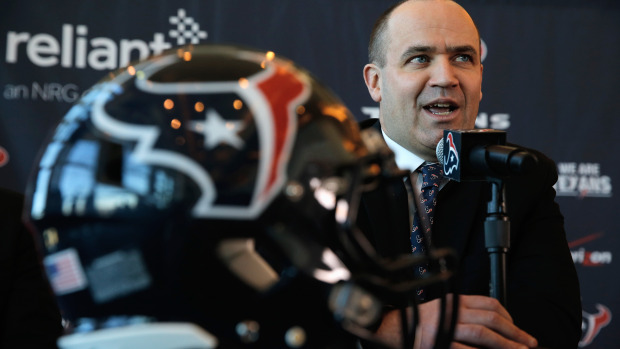 But despite all the injuries, the bad decisions and the unavoidable loss of Gary Kubiak after seven seasons, Texans owner Bob McNair has an ace up his sleeve. There is a light at the end of the tunnel, and that is the acquisition of new head coach, Bill O'Brien. Needless to say, O'Brien has swiftly axed several coaches from the old guard, including offensive coordinator, Rick Dennison, and defensive coordinator, Wade Phillips. It has yet to be determined who O'Brien will bring on in the DC position, but all bets are on his former New England Patriots colleague, Romeo Crennel.
Now, the real quandary that remains, of course, is the matter of the franchise quarterback. With the eminent departure of "Bearded Schaub," do we exchange our first round pick in favor of a potential trade? Or should we take our chances with Aggie superstar, Johnny Manziel, and attempt to build around him? Could he stay healthy as an NFL QB? What about Blake Bortles, who just entered the draft a few days ago? O'Brien is still tight-lipped on the matter.
What we do know are the three qualities that O'Brien will require above all else in his new quarterback:
One. Throw the ball accurately.
Two. Make good decisions, both on and off the field.
Three. Be intelligent and have a great football IQ. O'Brien says, "If he can't learn it, he needs to play another position."
In addition, we know that Coach O'Brien is all about those two buzzwords: "adaptability and accountability." He will adjust his game plan and plays to fit the mold of the team's opponents precisely, and not forge on with an original game plan that may no longer be relevant.
Overall, the addition of Coach O'Brien is an A+ decision by Mr. McNair and Rick Smith. O'Brien is no stranger to adversity, and already possesses the attribute Houstonians are best known for… resiliency, even during the worst of times.
Photo Credits: CBS Houston