---
---
Remember that guy you were impressed with during The Ultimate Fighter: 17 Finale that faced Clint Hester on just one week's notice? You'll probably want to remember his name.
Despite his third round KO loss to a vicious elbow from Hester, Bristol Marunde [12-8] was just selected to take on TUF 2: Brazil's Viscardi Andrade [13-5] in Rio at UFC 163.
In this interview, Bristol and I talk about the upcoming "must-win" situation against Andrade, his training under BJJ master and (now) fellow-UFC fighter, Robert Drysdale, his very own Washington-based fight promotion, Reign FC, and an in-depth look at what it is really like inside that TUF house…
…All this, PLUS some personal pics, of course. Take a look.
***
Stephanie: Did you know that your opponent [Viscardi Andrade] just went through the same situation that you did after his season with The Ultimate Fighter? [Marunde was not selected to perform in TUF 16 Finale last year.]
Bristol Marunde: Yeah, I never watched any of their show, but that's what I was picking up. I'm curious what's behind the UFC's motive for bringing him back.
Stephanie: I know, me too. I was going to ask you if you knew anything…
Bristol Marunde: From what I gather is that he kind of stuck his foot in his mouth and openly talked badly against the Nogueira brothers.
Stephanie: Had you heard much about him before recently?
Bristol Marunde: No, I'd never heard of the guy. I had to look him up to find out who he was; took me about three, four days to figure out what his name is.
Stephanie: He's coming off a six-fight win streak, two of those by TKO and then the two prior by RNC, do you feel confident with both your striking and your ground game?
Bristol Marunde: Yeah. As long as I have time to train, I'll be perfectly fine. I need to spend the time in the gym that I need to. What does that really mean? That means that I need to be in good grappling shape and, really, to be in good shape [all-around]. I have the technique and the experience; I just need to get in better shape. I grappled really hard today at Drysdale's with Robert [Drysdale]; he's huge and it's tiring. I just need to come home, eat and chill. It's just a lot. I know how important this fight is. I will put everything on hold for this fight. I might be obligated to my promotion, though; I can't just put that aside.
Stephanie: With just one week's notice and an entire weight class up from your normal fighting weight, what are your thoughts on your bout with Clint Hester at TUF: 17 Finale? Was it just was one of those things where you get caught or do you think there was something you could do to prevent it had you had a full camp?
Bristol Marunde: Getting hit with an elbow? Is that what you mean? [Laughs]. Yeah, I can look at the fight, but to me it's hard to critique much because I was so exhausted in that third round. I was just really tired and I could barely pull my hands up. I was really faking it pretty good as I watched the fight. Coming off my stool, I was just really tired and I wasn't in any kind of MMA shape or grappling shape; I wasn't training leading up to that fight. It's tough to say; there are things I could have done differently, but if you don't have any gas in the tank, you just can't even really use technique. That really opened my eyes that I really need to be in good shape for this fight and come ready to fight. Really take it to him. This is Brazil and I can't let this go to a decision; the judges are not very conducive to giving the win to a non-Brazilian. We know that going in to this, so I have to really be offensive and hungry for this fight. I can't just go out there and compete. In the past, I've fought and only given it a minimum of what it required in training, effort and mindset and it has showed in my performances. I know there are tough critics out there on me; I've seen it. I don't take it personally because I'm a critic too of myself. Let's be honest, I had my back against a wall and I really need to pull out a huge win in an impressive fashion. Otherwise, where does that leave me in the sport? Fortunately, I have this second chance, maybe it's a third or fourth chance; it doesn't really matter to me, but what is important that I really go out there and win impressively. I don't even want to think about the alternative of where my career would go. Let's just say this is one of those moments where in an athlete's career that will be defining, I mean, to win impressively; otherwise, I don't know what lies ahead.
The situation is that I've been somewhat mediocre in my last couple fights for the last two years. Yeah, I can make excuses and say, "Well, if you look at my record, I took these last two fights on a week's notice. I did good for no training, stepping in…"  That doesn't matter to me; I need to go out and do it. I want to do big things and I want to do it right. This sport is not something where you go fight in the UFC just for fun. I'd like to say it's fun; there are parts of this that I enjoy and I thrive for the energy and the hard work, but if you don't get it 100 percent, then it's going to eat you up and you're going to get beat up in the Octagon. I think that's kind of what's happened to me is that I gave it 90 percent, or maybe 85, because I have had other things in life that have distracted me. MMA has been sort of a savior for me; it's kept me on the straight and narrow and it's been something that has been in my life for the seven years. Not till recently have I really come to understand what the sport had done for me, personally. I think that's a good thing, but at the end of the day, you have to want to fight; you have to want to get in that cage. You need to want to go out there any want to destroy your opponent. You can't just be there going through the motions.
I just want to get in the gym and train because I want to erase the poor performances of the past. I just want to get in there and work my ass off. I've already trained more in the last week than I did for the past couple months. Before the Clint Hester fight, I didn't know where my career was going; thank God that Joe Silva called me. Thank God for second chances. I get to do what I love to do. All I need is a training camp and I have that now, so I'm taking all what I have learned and I am motivated to [live up to] my potential. That is what I am striving for is to show my potential, prove it to myself and really silence the critics; show that I belong in the UFC.
Stephanie: No one got to see much of your grappling or wrestling at the last fight.
Bristol Marunde: Yeah, I really would like to mix it up a little better. That last fight, [Hester] was so big that when I shot in, I could just feel that weight. I have a deep wrestling background and I would really like to show that a little bit more…maybe some big takedowns. Fighting at 170, I'll be big and healthy for it, so I'm excited to be in good enough to know I'll be able to shoot takedowns and it won't tire me out.
Stephanie: It's evident that the grappling of those who train under Robert is far superior; do you think that will help you as well?
Bristol Marunde: Yeah, my grappling at Drysdale's has really forced me to stay on my ground name. If you go in there, it's funny, with Robert himself…you have to become good or you're going to get beat up every day. Every time I go to practice, I learn something new and I wish I had known that for my previous fights.
Stephanie: You're from Alaska originally?
Bristol Marunde: Yeah, I was born there, but grew up in Washington most of my life.
Stephanie: How did you end up in Vegas?
Bristol Marunde: I was in Seattle and I was working [as a sales exec for a construction company] and I had an opportunity to transfer to Vegas. It was Vegas or a couple of other cities. I chose Las Vegas because of the training.
Stephanie: You were already fighting professionally at that time?
Bristol Marunde: Yes; I moved to Vegas late 2008.
Stephanie: Do you remain happy with that decision?
Bristol Marunde: Yes, I am so happy I moved to Vegas! Since moving here, so many good things have happened to me in my life. The training is phenomenal; I get to train with the best grapplers and MMA fighters in the world.
Stephanie: Are you training with [James] McSweeney?
Bristol Marunde: Yeah, we grapple together and I do a lot of stand-up with him. He's looking good and he fights a lot and has good energy in the gym. I feel like in the past I have always worked one or the other [stand-up or ground game], but for this fight I am putting in a lot more time in being better rounded. I am working on very strict boxing; I need to get my hand speed faster. I am not just focusing on one aspect of it like I have done in the past, where I get excited and I go all grappling or all stand-up; I'm actually keeping a really good balance of both. Also, we do wrestling one full day a week.
Stephanie: Going back to Vegas and as a former resident, myself, I want to know one thing you LOVE about the city and one thing you HATE.
Bristol Marunde: One thing I love about Vegas is good food. I am a huge "food person." I love going out to eat at good restaurants and Vegas has some of the best food and the best service; that's huge for me. You can have all kinds of different food here, like sushi, steak…I can just go pick a restaurant every night and they're so good. So that's what I love and what I hate about Vegas is…I grew up in the Pacific Northwest, so everything was green. I hate that everything is brown in Vegas: the houses, the desert. Everything is so brown and bland. I wish there was more green; I miss trees.
Stephanie: You could always go down to Wynn and Encore…
Bristol Marunde: Yeah and then I would end up at the pool and wake up three days later. Happens all the time. [Laughs]
Stephanie: You have a son [Kale] with your girlfriend, Aubrey. Do you want him to one day start getting into MMA or wrestling?
Bristol Marunde: [Laughs] No! I want him to do football, I want him to enjoy his weekends and not spend every waking moment in the gym. I want him to do something more fun. Here's the situation: if he wants to fight, I will train him and he will be the best fighter in the world and I will live in the gym for him, but I would rather him get into, like, motor cross or football, so I can go do that with him. Then, when I'm done fighting, I can spend the rest of my time outdoors or at the lake. If he wants to train in the gym, I'm going to have to be in the gym everyday with him. We are going to go knock people out!
Stephanie: Tell me about how you got into wrestling and then MMA?
Bristol Marunde: I started wrestling when I was ten-years-old and my mom said I just came up to her one day and said that I wanted to start wrestling. We never came from a big sports family, but it was in me from a young age that I wanted to be in combat sports. That kind of got me started. I wrestled forever, through high school and a little bit in college. Wrestling is one of those sports where you put in a lot of work and devote your life to it, but there's no glory in it. Thank God for MMA, because wrestlers actually have something now that they can look forward to and transition into. Once I was done playing college sports, like I said, I needed something. MMA, for me, gave me the guidance and the drive. I was looking for something to do and my older brother [Jesse] is the one that convinced me to try MMA. If it wasn't for him, I never would have though I could do it. [Jesse tragically passed away in 2007.] This was back in 2004; he just really pushed me into it. I just never would have thought [this would be a career for me]; I avoid violence, I'm not a violent person. I tried it and started training and had no idea what I was doing. I didn't know if I was going to get beat up or what. I had never even been to a fight. I just signed up and found the right people. I went to my first fight not knowing A THING. I just showed up and knocked the guy out. Right then, I was hooked: I knew this was for me and this is something I can do for a long time.
Stephanie: Tell me about TUF: 16 – how you got on the show and your experience.
Bristol Marunde: It started with, for my team, they didn't do open tryouts. I had no intentions of ever trying out to be on The Ultimate Fighter at that time. I had tried out in the past, several times, and I didn't want to go away for seven weeks. They called me a month before the show and I didn't think I'd make it since I had tried out for it before. I really didn't treat it like it was a big deal at the time; I just went on with my normal life. I had been working and promoting events in Seattle and two weeks before the first fight to get into the show, they called me and said, "Be ready to make 170, but no guarantees you're going to be on." I was in Seattle and hadn't trained for two months, so there was a little bit of apprehension about going into it because, for one, I'd never made 170 before, I'd always fought at 185 and two, I had too much going on and didn't have time to train. Like a week before, they told me to pack my bags and I started shedding off the pounds, hoping I could make weight. I was nervous because I hadn't been a 170 since high school, which was ten years before, twelve. The day before, I was like, "Crap, this is real, dude," as I packed my stuff. Then, you get to the hotel in Las Vegas and say your goodbyes; I said goodbye to Aubrey and Kale and walked in and they took my phone and everything I had that wasn't in the rulebook. I walked into that hotel room and had a lot of apprehension; it hit home, "Holy crap, if you lose, everybody's going to see that I lost and didn't even make the show." It was very weird; I was completely alone. There was no corner, no support group…it was a whole new experience. Going into the fight, walking in it was completely empty; it was the strangest thing EVER because it was completely silent. There was no noise whatsoever, no music, nothing. I would rather hear people booing me than nothing because it was so strange; I was looking around, there's Dana [White], Shane Carwin and Roy Nelson. I could hear, like, the cage creak as I walked past it, I could hear somebody cough. This is just weird! My opponent comes out and we're staying at each other and it's QUIET. I was like, "Dude, there's NO way I am going home." I got [the win], but it was really tough actually; he was huge. He cut a lot of weight. I'm looking at this guy and I'm thinking, "How did this guy make 170?" I ended up choking him out, but it was definitely a whole new experience. Even though I had a lot of fights, you can't…. NOBODY can prepare for The Ultimate Fighter. They throw you right in there and you're on. It's like, "Okay! Show up and fight," and it's so weird.
Then you win and I'm like, "YES!" excited, wanting to celebrate, you know, but then they're just like, "Okay, go stand in line." Then it hit me that I was going to be gone for seven weeks; holy sh*t! I thought, "I can't see my two-year-old son for seven weeks?" It was such a trippy feeling.
Stephanie: Did you make any friends on the show?
Bristol Marunde: Oh yeah, I made a lot of good friends. I still keep in touch with them today, like Colton Smith and Igor [Araujo]. Colton and I were roommates and we had a common bond; even if you didn't like some of the guys in the house, you still kind of shared that moment together and went through your boot camp together. You'll always remember those people. They know exactly what it was like and only they know what you experience, so you kind of have that common bond that brings the guys together as a group.
Stephanie: Tell me about your experience with your coach.
Bristol Marunde: Shane Carwin was very cool. He was so much better than the TV show was able to portray. Him and Roy Nelson didn't go at it and they didn't talk a lot of trash to each other or cause a lot of drama. You know, after I watched the show, I could see how it was kind of boring in TV standards. In all reality, Shane was awesome and he brought in a great coaching staff and they were all very cool to us. They took care of us and we all learned a lot. That aspect of real life was cool because they were there. As the show went on and I watched it, you didn't really see a whole lot of that.
We were told the fights were really boring and we were supposed to push the action and I kind of took that to heart. I really came out walking forward and trying to throw some big punches. For some reason, I thought the judges were going to give us a fair ground, but they gave both rounds to the other guy and I ended up losing my second fight. It was really frustrating; I felt like I deserved another fight because I was ready to fight more and more. It was very frustrating to go back to the house after you lost and to try to wait it out, because I still had five or six days [left]. It seemed like an eternity. We had no distractions; no TV or music, so it was just, like, SLOW. I was like, "What am I doing here? I lost and I'm ready to go home and see my family," but I had to stay there and go train. I helped my teammates out and helped them get ready for their fights, so I had to suck it up. We were all going stir crazy towards the end. We were close to burning the house down; the crew actually had to come out and tell us to calm down sometimes because we were throwing knives and having giant watermelon fights and basically going nuts. They said they were going to start charging us money, $200 per incident. A lot of guys lost several hundred dollars. They don't really show it, but we all went so crazy because we were, like, prisoners and you kind of get that prison mentality. Since we didn't have any power, we were like, "You're going to treat us like kids, we are going to act like kids." There are so many things you don't know about unless you're there. It's taking guys with big egos out of their comfort zone and putting them in a house and shaking them up. It's a pressure cooker; everybody wants to explode. You know what? One interesting fact: every single person in that house cried at least once. Not everybody did it on camera, or some guys would hide and do it, but we would sit around the campfire and guys were like, "Yeah, I cried yesterday," or, "Yeah, I cried three days ago." Our buddy, Igor, he was crying right there [laughs], because he cried a lot. I cried, too! It kind of breaks you down, for sure. I feel like it's harder on the guys with kids. Your mind plays tricks on you and you hope they're okay. That protective instinct makes you go crazy, too. You feel like if something bad happens and you weren't there to protect your family, you'd literally go crazy.
Stephanie: What do you think about women being thrown in the mix on TUF 18?
Bristol Marunde: I think it could go two ways. I feel that it's going to get a lot of viewers and I'm going to want to watch, because I want to know how it goes. I hope that it comes off as classy and shows the true desire to be a mixed martial artist and doesn't just focus on the human interaction part. The sport of MMA is such a great and terrible sport. I hope that they portray it as people there are working hard because they want to be martial artists and not just this disgusting house, shoving men and women together. I hope it shows the better side of women's MMA and doesn't make them come off crazy. I hope they introduce [WMMA] to the world as a positive and a good thing.
Stephanie: Tell me about your fighting promotion.
Bristol Marunde: [It's called] Reign FC: Reign Fighting Championships. I like the name "Reign" because it really resonates with me, "Who's going to reign supreme that night?" I am the owner, operator, matchmaker…I started it in 2009. My next fight [card] is June 29th at the Clearwater Casino in Poulsbo, Washington.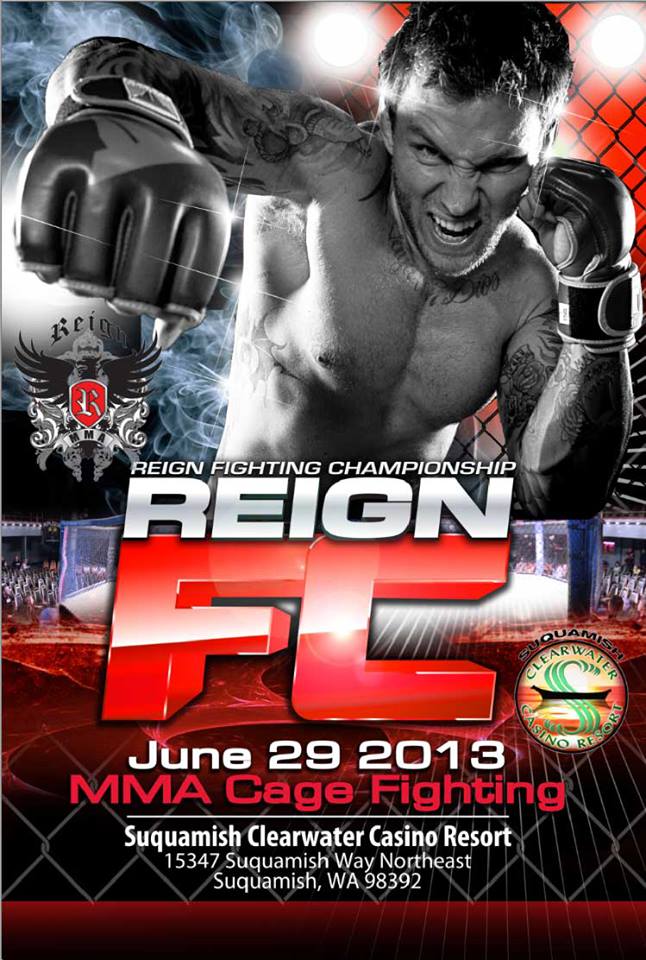 Promoting, to me, is something that I enjoy doing because I get to give back to the fighters. What that means is that I get to match make fights. I get to promote fighters. One of my biggest things with promoting is that I don't want fighters to have to go through what I went through as a young fighter; that is, fighting small shows that are unorganized and outside, or one time I won and I had beer bottles flying at me and I had to run out of the building. I never want any fighter to have to do that. I want to run a professional organizationthat builds fighters; I don't want to build my organization on fighters' backs. I want everybody to be evenly matched; it's what separates me from the rest. I want everybody to have an equal chance to win. There are just so many bad promoters that just throw shows together and don't really take care of their fighters and there are other promoters that CARE about their fighters, but can't run a business, so they end up falling apart. So far, I've been able to be successful and I want to continue building my brand. I want to have a greater reach. I do professional and amateur fights and I have brought up a lot of amateurs, given them ten amateur fights and turn them professional, given them the platform to succeed. I want to provide these guys with sound advice and be somewhat of a mentor to these young fighters. I'm setting this up for my future because I can't fight forever, but I can promote forever.
Stephanie: Are the fights televised at all?
Bristol Marunde: No, we record them, though and put them on YouTube. I would love [to have them televised]. I've had a couple of offers of people wanting footage, but haven't worked on the details yet.
Stephanie: Who would you like to thank?
Bristol Marunde: I would like to thank my dad, Chuck Marunde, for telling me I was a champion…whether it's true or not, he believes in me.
***
Go check out ReignFighting.com – sick website and absolutely a promotion to pay attention to in the coming months.
You can follow Bristol on Twitter @BristolMarunde.
Photos courtesy of:  Bristol Marunde and family   CageWall.com   Sherdog.com
---
---