---
---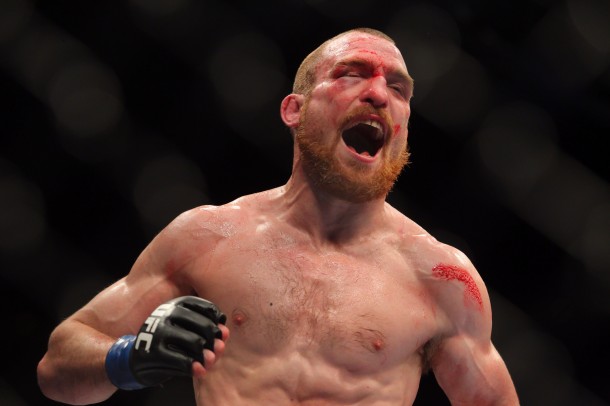 Imagine for a moment that you are across the Octagon from your competitor. You realize that with two rounds behind you, only five more minutes, and one very skilled contender, stand in the way of glory. Your corner blurts out excited sentences as the medic tends to the cuts on your visage. The crowd roars, the lights blind and your pulse quickens, yet you remain focused on the task at hand. Instantly, all you see is your opponent: the vanishing point on your half-painted canvas. The noise from the crowd is nothing but a dull, remote hum now as you stand to face your Goliath.
Suddenly, the referee is waiving you off your foe. You have finished the battle and rocked your opponent to sleep. As you take your place in the center of the Octagon, you await the announcement of your name. The moment arrives and, as your arm is raised, Bruce Buffer calls out…. your opponent's name?!
For a split second, Pat 'Bam Bam' Healy (32-15) truly thought he had lost his marbles. After all, submitting top-10 lightweight Jim Miller (22-5) in a remarkable rear-naked choke is no easy task. What's more, Miller did not even have a chance to tap.
"There was definitely a brief second of panic," Healy laughs. "Like, man, what exactly just happened? I looked around and I could tell by everyone's reaction that I won though."
Apparently, this moment was Buffer's very first "oops" in all his years with the UFC, but Pat takes it all in stride.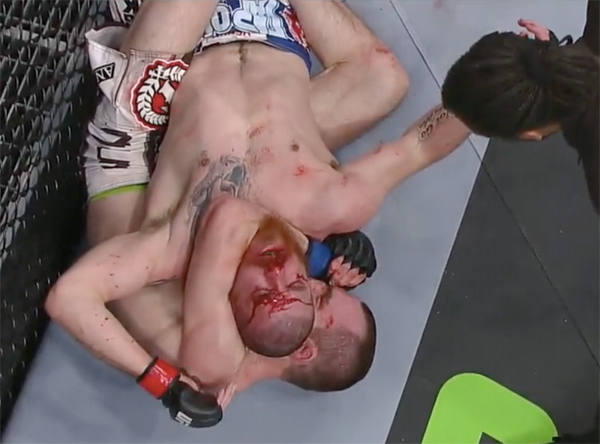 "It helps, you know? One more reason for somebody to talk about the fight."
Another very obvious reason to keep talking about this fight: Healy took away honors (and a boatload of cash) for not only "Submission of the Night," but also "Fight of the Night."
"As soon as I got to the back [after the fight], I saw Bryan Caraway who had a sub that night too," Pat recounts.  "We were kind of joking back and forth the whole time about who was going to get [SOTN]. When you go backstage, you really start thinking about those bonuses. You sit back and hope for one, but it's kind of unreal. To get two of them, I definitely sleep a little better at night right now."
Miller, whose only losses since 2009 came from the likes of Nate Diaz and Benson Henderson, took his most current win last December off Joe Lauzon at UFC 155. If you didn't see that fight, do yourself a favor and watch it: it was one of the bloodiest battles I have ever seen. Naturally, it occurs to me that Healy was probably expecting a similar performance out of Miller this time around.
"Yeah, watching that last fight, what with the big success in it at such a high pace, I knew that [Jim] would try to have the same fight with me," explains the Strikeforce vet.
The difference, of course, was that Pat did not aim for a win simply by decision. He was not going to leave it to chance once that bell sounded for round three.
"I felt like I had that momentum at that point pretty strong on my side. I learned back when I fought Josh Thomson that you really have got to fight for that finish at all times. That's one thing I keep in my head now. I'm happy I was able to get [the technical submission]."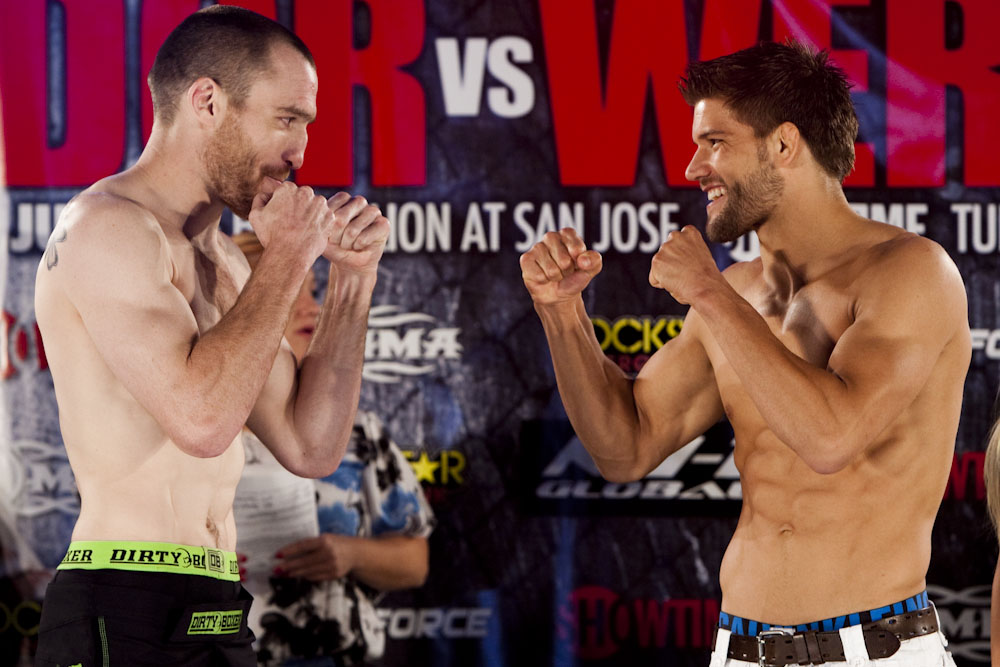 You should know that Thomson is the only person to finish (hell, the only person to win, period) over Healy since 2009 at Strikeforce – M1/Fedor vs. Werdum.
"One thing I really learned mentally [since then] is I don't ever think of the third round as 'man, I got to take him down, hold him down and I can get that decision,'" Healy reiterates. "That's kind of what I was trying to do when Josh reversed position and choked me out; I try to keep that finish in my mind."
I ask if he thinks a re-match between he and Thomson would go down differently today.
"For sure," he replies. "A lot of things have changed since I lost to Josh. I started going out to Hawaii to train with B.J. [Penn]; I learned a lot from him. I focus a lot more on technique. That has been something that has helped turn my career around. It's gotten me a lot better a lot faster."
As a Strikeforce crossover, Healy knows all-too-well the cynicism that surrounded his fellow fighters as they made the transition into the UFC. It has been apparent, judging by fellow talents such as Luke Rockhold, Gilbert Melendez, Daniel Cormier and Gegard Mousasi that these cage bosses are certainly here to stay.
"That's the way the media and the fans look at it. Everything outside the UFC is second best," Healy tells me. "Most people don't know there's a sport called 'MMA.'"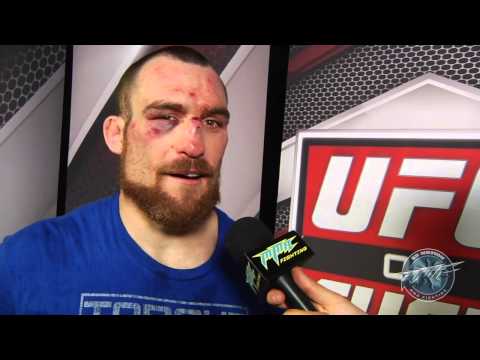 I start cracking up and blurt out, "Oh, you don't train UFC?"
"[Laughs] Everybody's heard that ONE too many times!" Pat says, cutting up. "The basic fans know the UFC above everything. I think in Strikeforce, the top guys were at a really high level and we are proving that now."
Pat was supposed to face the most recent UFC lightweight belt contender, Gilbert Melendez, twice before Strikeforce dissolved; yet, both times, Melendez backed out. I ask Healy if he believes Gilbert ducked him or if they were legitimate circumstances.
"I think the first time, [Melendez pulled out] without a doubt, he was injured," Pat tells me. "But the second time, when our fight was about to happen and it was when we were all kind of moving to the UFC, he just made a business decision. With him fighting for the title in the UFC, I think that was the right business decision. I'm not bitter about it."
Some report that Healy is "over" a Melendez match-up, while others say he would accept the challenge heartily. Pat clears things up for me:
"I wouldn't mind it. Everybody was asking me about it for so long; 'You want Melendez? You want Melendez?'" he mimics. "Everyone thought I had, like, a quest for him, but I just wanted to win the belt and he was the guy that had it. So I guess I was just over getting asked about the Melendez fight so much. If they were to offer it to me I wouldn't be upset about it."
Speaking of the belt, what does the Oregon-native really think of Benson?
"I think he's a really tough champion. He has had some close fights where he barely edged out. He's the champ for a reason and he's definitely a tough champion to overcome."
As for the recent lightweight championship bout, Healy had this to say:
"I really thought Melendez just edged it out first, second and fifth round. But it was really close. Sometimes they want [the challenger] to come in and just really 'beat' the champ, so…" Pat tapers off. "But, definitely, Ben pulled it out. Nothing too drastic [happened], nobody got robbed, or almost finished in the submission. It wasn't too terribly dramatic."
I tell Pat that I have to ask him a very serious question: does Bendo's hair "situation" affect him as a fighter?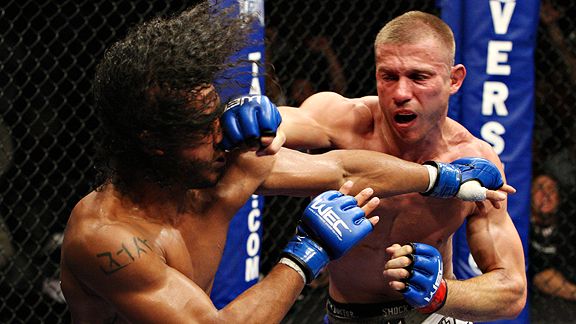 "[Laughs] I think that has to affect him a little bit," Healy admits. "Watching that last fight he was adjusting it so much! I was sitting watching it with a bunch of friends and they were all talking about it, like, 'Man he's going to time him trying to put his hair back and hit him in the face when he does it!' He should do something about it, for sure."
The question on everyone's lips is who is Bam Bam's next opponent? Who does he want?
"I don't know what's going on right now," he sighs. "I have really been racking my brain looking at the top five, ten guys and wondering what they're going to do. I'd like to try to fight a guy coming off a win; I've been on a winning streak. But Melendez lost; that would still be a good fight I think. They say if [Jose] Aldo wins [against Anthony Pettis, who is moving to featherweight to take on the Brazilian native] that he is going to come up to 155 and fight Benson. Really I don't know who to call out or who to want to fight; it's all jumbled up in there right now. I wish I had a better answer than that!"
Is 155 Healy's ideal fighting weight?
"Yeah definitely, I wouldn't move. The guys at 170 are so big; they have such a bigger frame," he says. "Like, rolling around with Mike Pierce, who I train with, really let's me know that I belong at 155. I walk around at like 185; I'm certainly not a small 155-pounder. It takes some work; I get pretty lean when I get down there."
So how does Pat maintain himself at his physical peak in terms of diet?
"It's really green, a lot of vegetables," he explains. "It's really the portions; I never get a big, hearty meal. That's what I miss. It's at least five or six weeks that I don't get to have a meal where I walk away really full."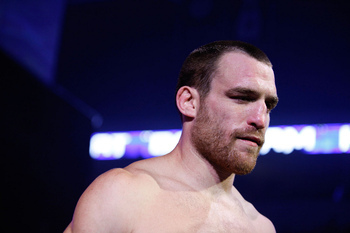 Steak and potatoes? Not for this dude.
"I really love breakfast; that's always been my thing. I was thinking, like, a big eggs benedict and pancakes. Breakfast is the only way to go for me."
Another need-to-know (for me, of course): who would Pat fight if he could choose one person in his weight class, past or present, to fight today?
"You know, I think it would have been…not that I have anything against him…but Jens Pulver back in the day," he says. "Like, the original badass at lightweight." [Click here for my interview with Jens.]
Hypotheticals aside, Pat is dedicated to the path ahead.
"My goal in the UFC is to win the lightweight world championship," he affirms. "You know, if you're not working for that, I don't really know what you're doing. I want to be able to keep fighting and have moments like this, man. I mean, doing what I love to do. I can't imagine doing anything else. As long as this ride can keep going, I like it!"
For now, Healy will take some time to hang with his best buddy.
"I have some weird habits that don't really co-exist very well together," Healy chuckles. "I like guns. I like bird hunting with my dog. I have a German Wirehair Pointer named 'Finnigan.' He's my right hand man and he's a much better bird dog than I am a shot. It's so fun to watch him work. He has a smile on his face; it's weird, you can see it. He's like the ultimate man's dog: the dog that's not afraid of anything, that will jump off cliffs into the water…he's pretty cool."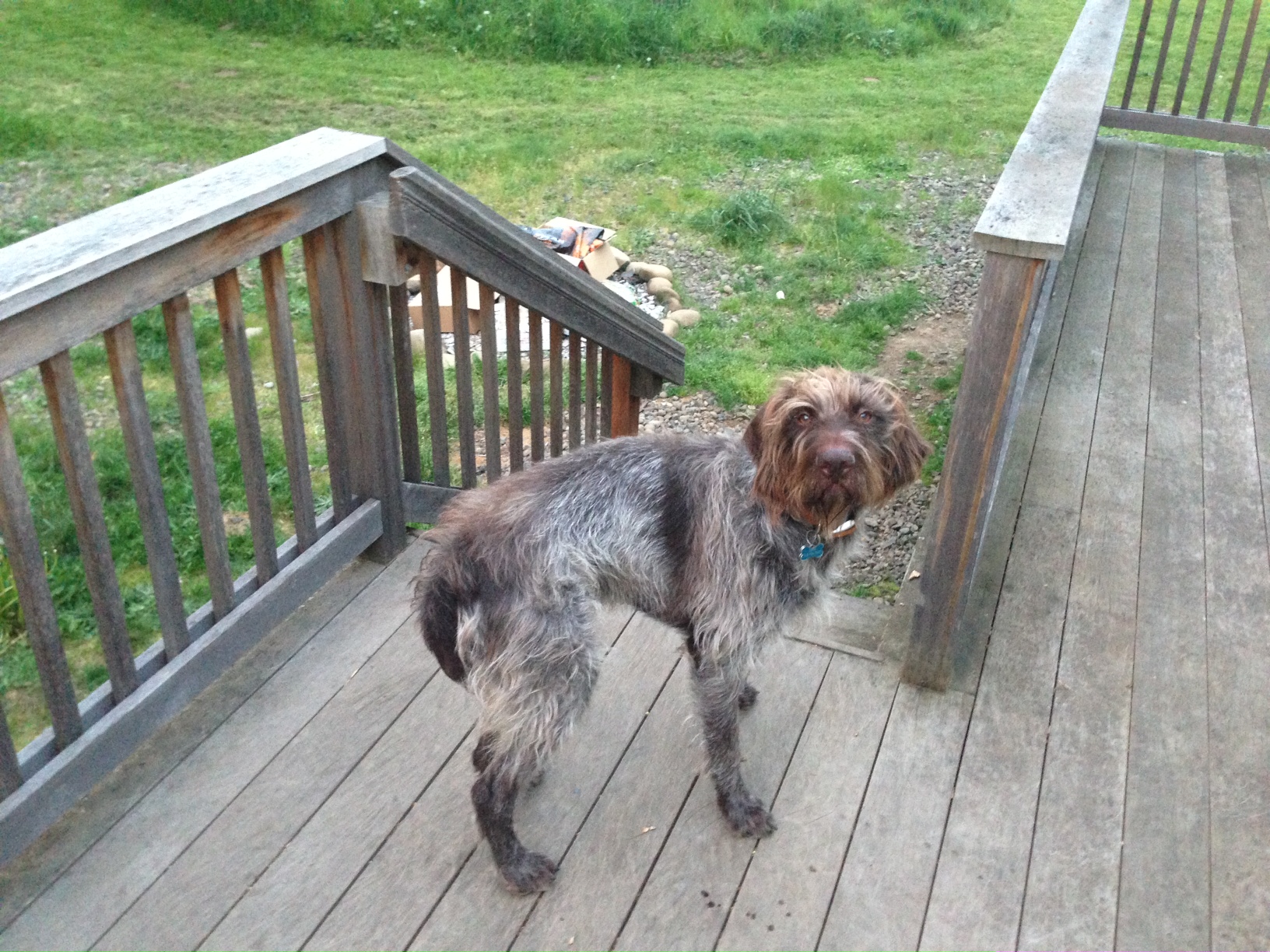 I presume that Finnigan will be accompanying his 'human' on a one-way ticket to Hawaii, where Healy will soak up the sun and get to work once again with his mentor, B.J. Penn.
Lastly, Healy and I talk about the importance of family. It's pretty evident that he would give them the world if he could (although, I think he plans to, eventually):
"I have an identical twin brother [Ryan] and he just had twin girls," says Uncle Pat. "[Ryan] is an assistant GM at the UFC gym in Hillsboro [Oregon]. My goal is to invest in a gym and have my brother run it; he's great at that stuff. If I can help and we can build a business together, what could be more satisfying than that?"
***
Pat would like to thank:
"Jason House with Iridium Sports Agency. It's the first time we worked together and I think he did a great job. I really appreciate everything he did for me and all the companies that sponsored me for the fight."
Photo Credits: Bleacher Report  Cage Wall  MMA News Uncensored  Fight Time  Cage Potato  & Pat Healy.
---
---