---
---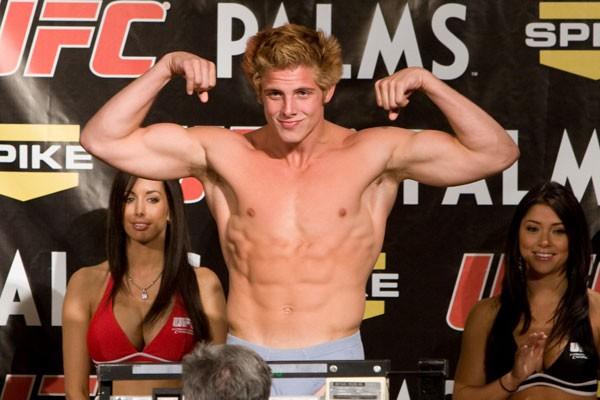 I must first confess that I never inhaled.
Clinton reference. And you're shocked, I know. Hell, I didn't even know how to spell "marijuana" correctly, truth be told. Heading into an interview with Matthew "Deep Waters" Riddle, you kind of know what you are getting yourself into. I read pretty much every feature and every interview he has done post "Ganja Gate" (Matt was fired from the UFC after testing positive for the substance a second time in seven months) and it occurred to me that I was very much uneducated on the subject of marijuana use.
It might surprise you to know that not only did Matthew and I speak at length regarding this debacle, but he also took the time to explain to a true weed cynic (me) why he uses, and rationalizes how it should never be considered a PED.
Last week, Matthew signed with Legacy Fighting Championships. This exciting development has created quite the buzz around the Houston MMA scene. (Many are anxious to see him take on current Legacy FC Welterweight Champion, Jeff Rexroad). I wanted to get a feel for how much Riddle knew about the promotion, as well as his feelings regarding his departure from the UFC.
"It's not that I don't like fighting in front of thousands of people, but at the same time it's nice to go to the smaller shows and still fight good talent. My buddy, [Legacy fighter and Brazilian Jiu-Jitsu Black Belt] Robert Drysdale had nothing but good things to say about [the promotion]. It's like the UFC of Texas."
Riddle started training at Drysdale BJJ [Las Vegas, Nevada] in July 2012, just seven days prior to his UFC fight versus Chris Clements. That night, Matthew won Submission of The Night for his performance (although it was later overturned by the Commission after he failed his drug test). Despite his recent setback, Riddle attributes a lot of his growth in the sport to working with both Drysdale and striking coach, James McSweeney.
"I've never really had a real camp. All that stuff turns sour…it was always hit or miss and a lot of people would flake out on me. It's Vegas," he explains. "I can count on both those guys always helping me out. I've never had that in my career."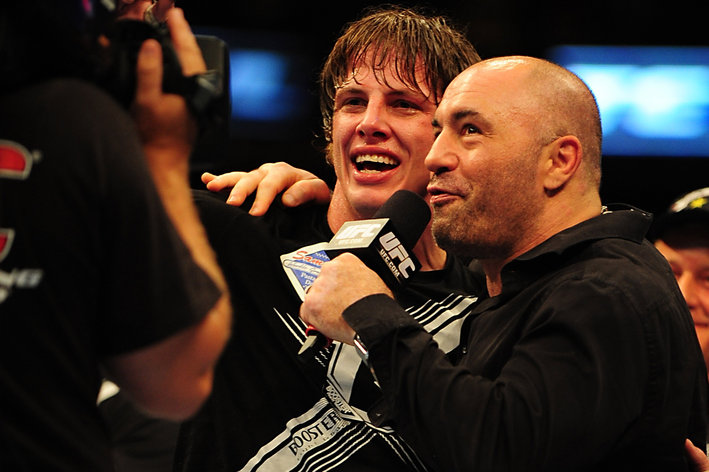 Along with the news of Riddle's signing with Legacy came the headline, "Dana White: Matt Riddle Got Cut 'Because He's a Moron.'" Obviously, I have to ask Matthew to give me his thoughts.
"I really don't have a reaction to it because, to be honest, Dana White…it's sad but he's uneducated to the sport and the industry. He's calling me a moron for using my medicine when half his fighters are on steroids. It's pretty offensive, but at the same time, I am looking at the source, and he can't help himself."
He goes on, "Even now, I don't have a dislike for Dana White or the UFC. But really, he's just a juice monkey who's bald, who doesn't know sh** about business. He just yells the F word and expects things to be handed to him."
"What should I do?" He asks me. "Should I get angry? Find out where Dana's house is in Vegas? Ask him why the f**k did you fire me? Dana White should be thankful I am on medication!" He's kidding, guys.
Matthew's background is in wrestling, a discipline that he believes the UFC is trying to eliminate because of the lack of finishes. He considers that his wrestling style of fighting also led to his release from the promotion.
"It's 100% true! Look at Dave Herman, he failed two drug tests, doesn't even have a medical license and he still has a job. He's lost three fights in a row. I've won four fights in a row, I got Submission of the Night; I have a medical license, but they fired me without hesitation."
I ask Matthew if he thinks Nick Diaz would be fired if he were to test positive after his recent bout versus Georges St. Pierre at UFC 158. (The Nevada State Athletic Commission suspended Diaz for one year after he tested positive for marijuana metabolites at UFC 143).
"That's hard to say; it depends on the outcome of the fight.  If he loses and then fails the drug test, I could see the UFC getting rid of him. [Diaz lost to St. Pierre via unanimous decision].  But the difference between me and Nick Diaz is he has a huge following, much bigger than mine. The UFC will outweigh the option of him flipping off the camera and calling you an a**hole with the amount of a**es he will put in the seats."
Has Matthew ever taken diuretics or other aids to be able to pass his drug tests?
I've never taken [them]. I'm not trying to trick anybody. I am not trying to pull the wool over somebody's eyes. I'm not trying to pass a drug test when I am on drugs. I always quit 2 weeks before or longer. I am trying to pass the test fairly."
He jokes, "Maybe I should just start taking testosterone…no, I would never. I know I sound like a broken record, but in the end, everyone will see that abusing steroids is very bad, and marijuana is not." He adds, "But if you don't have to use it, don't."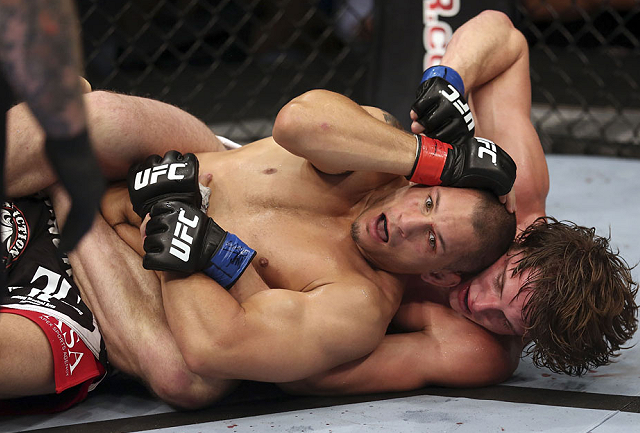 Matthew's medical marijuana license in Nevada provides him with the ability to use the substance to control hand and knee pain, as well as providing him with some clarity.
"It slows things down for me, so I can comprehend things. It helps." But does it help him perform better? "No it doesn't put me in a zone or anything." He continues, "People [tell me] all the time 'it's illegal, Matt,' but it's not illegal for me. [The authorities] couldn't take anything from me, it's mine."
So what about when he comes to Texas? Is he going to be using while he is down south?
"Nooooo!" He exclaims with a laugh. "Texas is one of those states where they frown upon it greatly. You don't want to have anything on you in Texas."
Before our time was up, I wanted to ask Riddle how he got his nickname.
"They call me 'Deep Waters' because I don't get tired. My waters run deep. To get stronger, faster, better, you have to break what you have and then rebuild. That's how I see it. I have been breaking myself since I was 12 years old."
So what is it that sets him apart, cardio wise, from other fighters? "I just don't get tired. I run about four miles a day. I can run four miles in about 25 minutes. I'm pretty fast. I run sprints too; the key is that I like to make sure my lungs are always open."
After a short pause, Matthew decides to ask me a question.
"So if I were to fight this Jeff Rexboard?"
I correct him, "Rexroad…"
"Yeah, Rexroad. That would be a title fight right?"
I tell him yes, it would be a title fight.
"That's five rounds," he says definitively. "So you see, that's right up my alley."
***
Although no formal announcements have been made, Riddle is expected to make his Legacy FC debut on May 31st.
Photo Credits: FCFighter.com  CagePotato.com  MMAGospel.com 
---
---