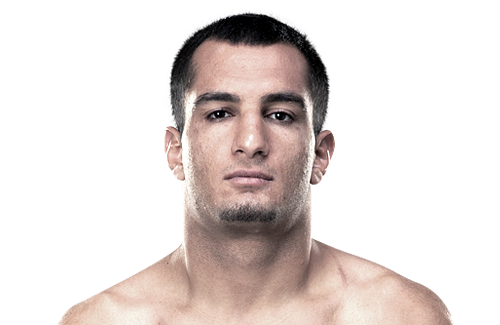 On Saturday, April 6th, 2013, a ten-year mixed martial arts veteran was supposed to finally get his shot in The Octagon.
UFC on FUEL 9's fight card promises some serious action, and the icing on the cake was to be a light heavyweight match-up between the promotion's newest prospect, Gegard "The Dreamcatcher" Mousasi, and UFC fan favorite, Alexander "The Mauler" Gustafsson (15-1). Currently, at press time, the news that Alex cut himself training is spreading like wildfire. There has not been an official announcement from the UFC, but it does not bode well for Gustafsson, nor his eager challenger.
Despite these tidings, I want to share with you the story I wrote on Mousasi's journey, and the thoughts he shared on his opponent. What you read will probably surprise you.
***
The Iran native, who currently fights out of Holland, is often regarded as having a "lazy" training style, despite his impressive 33-3-2 professional record. Many question whether or not he has what it takes to make it in the UFC.
Mousasi, 27, makes no excuses for his past, but instead promises the fans they will get what they want: one hell of a fight.  He tells me he has definitive plans for his UFC debut.
"I get the chance to make a run for the title, so that's very motivating for me.  I got now new challenges in biggest organization, so I want to become the champion. I always knew I would end up in UFC, so I had this goal always in my mind."
I ask him his response to those who say his previous training style has been a bit too "laid back."
"I have always trained, but maybe not the right way. I think I train more professional, that's it."
I tell Gegard I am curious if there are differences between training in Holland and training in the states.
"Training is training. I just think training in U.S., you have more fighters and more MMA; they know how to [better] train for a fight, what works or not; but, that said, I don't think I come short on anything in Holland."
When Mousasi does train in the States, he relies on Gokor's Hayastan MMA Academy and Glendale Fighting Club; however, he tells me that none of his colleagues from the U.S. have come to Holland to help train for this particular fight.
How does Gegard feel about Gustafsson getting all the media attention coming up to this fight? I get an intriguing response.
"He deserves it. I don't have problem whit that. He is fighting much longer in UFC, so it makes sense."
I ask what he believes Gustafsson sees as his "Achilles' Heel."
"I believe he will try to take me down."
Gegard also tells me that Alexander's biggest weapon is his ground game, but his opponent might have a tough time getting him there.
"It's MMA, you have to be able to do everything! I [have been working] a lot on my wrestling."
Also in Mousasi's arsenal is the sharpened skill of boxing. At one time, he was slated to box in the Olympic Games. He admits that this path would have probably proved exceedingly difficult, and is content with his chosen career path.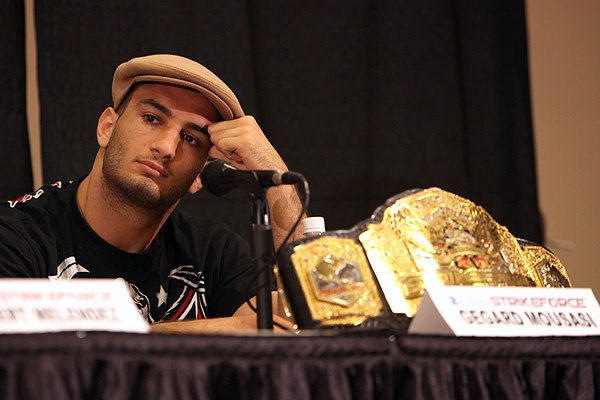 At a Strikeforce bout in April 2011, Gegard took another ding to his near perfect record, picking up a majority draw versus Keith Jardine. It was said at the time that Mousasi depended almost solely on his boxing and, despite tagging up his opponent pretty badly, Jardine was able to take him down several times. This factor is what forced the judges' hands into a draw. I ask if there are any emotions there when he recalls that day.
"That's a fight that I think I didn't fight smart. I thought too easy about it and, of course, it was a hard pill to swallow."
We recently saw a former opponent of Gegard's make a big impression in the world of MMA. At UFC on Fuel in Japan last month, Mark Hunt broke Steven Struve's jaw and picked up a big victory. Now, he's up against former heavyweight champ Junior Dos Santos at UFC 160. I asked Gegard, who submitted Hunt via arm bar in the first round at Dream 9, about his experience with "The Super Samoan" in the cage and his expectations of the approaching match-up.
"[Mark] is a fighter; he comes to fight and to win. He doesn't fight to win on points. This fight will be difficult. If JDS keep him on reach with his longer reach…I don't see [Dos Santos] getting hurt. But [Hunt] has always a 'punchers chance.'"
Speaking of the world of MMA and UFC, is there anything that fires Gegard up a bit?
"Nothing. I don't care about nothing," he says bluntly. Gegard has clearly been in this business for a long time.
To be exact, it has now been 10 years since he first started training professionally. So how does he keep things fresh?
"It's actually getting very boring to do this," he tells me.  "But knowing it's just a couple weeks, you just do it."
Judging by his phenomenal record and ability to pinpoint his own weak spots, it certainly appears as if Mousasi might have this wrapped up: in terms of a UFC newcomer, he is the complete package.
A package, that is, with no bows, wrapping paper or other frills. UFC fans will just have to wait until his debut to see what's inside.
Photo credits: blog.betdsi.com  ufc.com