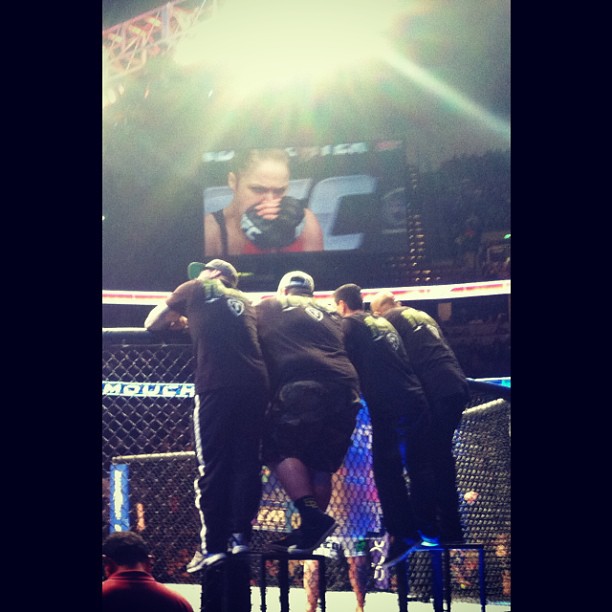 As a chick who is somewhat attractive and very "womanly" in most facets of her life, it is oftentimes difficult for men to understand my love of mixed martial arts. Blood and sweat isn't something you would associate with a girl who gets her hair blown out every week and has an acute lip gloss addiction. "I wouldn't have pictured that" [puzzled face] is what I get most….but you couldn't be more wrong: I love to train (currently in Muay Thai) and most of all, I love to attend and cover MMA fights. Luckily Texas has fight promotions such as Legacy (the third largest in the world), Garcia Promotions, and Immortal Kombat to keep me busy the majority of the time.
However, in this particular month, I was craving something more.
February 23, 2013, will go down in history as the day that women were first allowed to compete in the UFC. As most MMA fans know, Dana White, UFC President, was quoted as saying, "women will never fight in the UFC." So what changed his mind? By now, we all know the answer: Ronda Rousey. You think I would miss this sh*t? Not likely.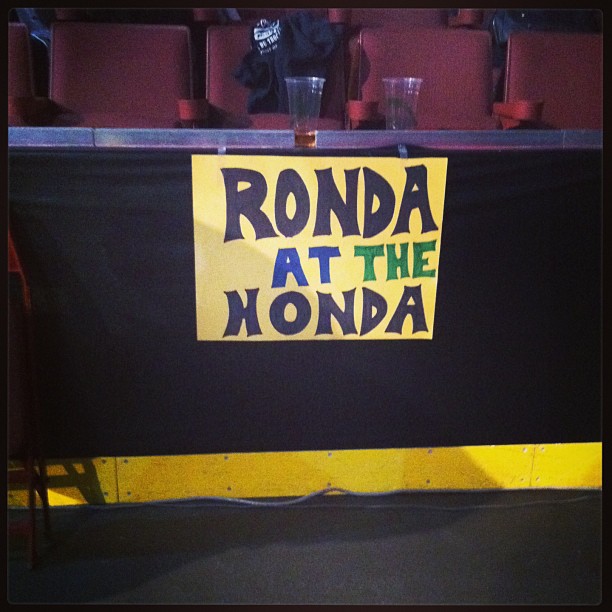 So I buy my tickets. Best available was section 106, row 8. Eight rows from the octagon. Eight rows from watching a stacked card that included some of my favorite mixed martial artists: Chad Mendes (later removed after his opponent, Manny Gamburyan, was injured while training), Michael Chiesa, Urijah Faber, Dan Henderson and of course, "Rowdy" Ronda. The entire card was jam packed with great fights, including a masterful FOTN from Dennis Bermudez (W) and Matt Grice.
Leading up to that weekend, I had never watched so much media coverage for just one fight card. In fact, at the pre-fight press conference, White confirmed that they had never received so much coverage prior to 157: "This is without a doubt, the most media attention we've ever had leading up to a fight. And when I talk about media attention, I'm talking about big time media."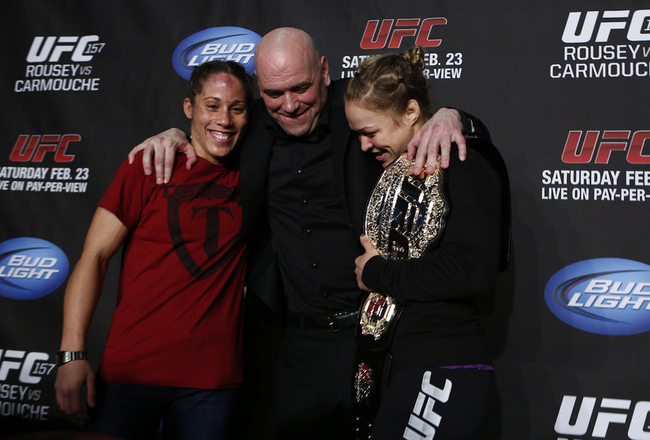 Despite all of this evident support for women's MMA, I had quite a bit of opposition from my peers as they questioned Dana's decision, and my own decision to attend this fight. I would like to emphasize once again that although feminine, I am a long way's off from what you might call "the typical girl." I don't watch The Bachelor, and if I do my best friend and I text about what idiots these girls are for boning a dude in hopes that he will pick them out of 20 other hopefuls. I don't have "girls' nights out" nor do I participate in "girls' trips", and I certainly don't enjoy attending dildo-filled bachelorette parties or missing football for a Sunday bridal shower. What I am trying to say is, I do not look at WMMA as being "girly" in any form; it is simply not another annoying "girly" habit at which men should be rolling their eyes. Women have a lot more to prove these days in this particular sport, and they are all well-aware of the hard road that lies ahead for them.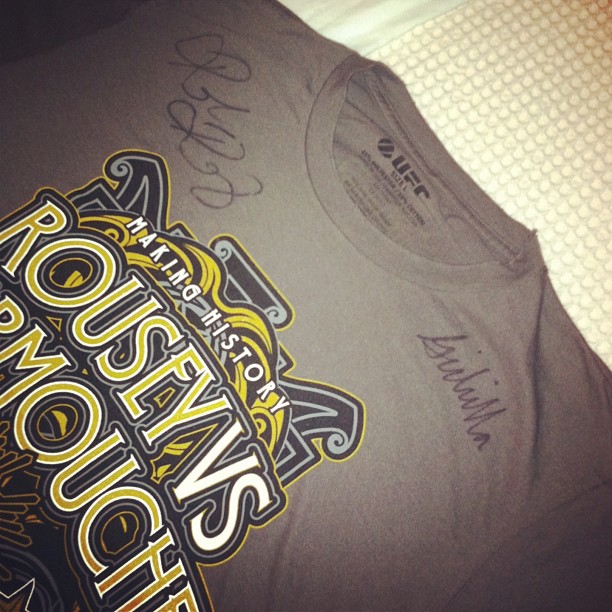 Many comments I received included thoughts that this was the "wrong move" for the UFC, and that it would essentially "destroy" the organization and all that it stood for. (Which is absolute garbage.) Clearly, Dana White knows what he is doing. He is a businessman, and a smart one at that. Dana and his team have spent years and years building the UFC to what it is now: the biggest fighting promotion on the planet, times ten, and there is just no way he would jeopardize that purposefully. And let me tell you, when the women did their walk outs that night, it was vastly evident that nearly all the UFC fans in attendance were waiting for that moment. 15,125 tickets, completely sold out. One might argue that the main draw was Henderson-Machida, but I can tell you right now that their cheers were no match for the main event. The abysmal performance only added to the excitement of the fast-paced women's bout.
Kevin Iole, Yahoo! Sports expert, wrote a great article the day after the fight in which he explained, "…[WMMA skeptics] simply showed themselves as clueless bigots because there was no doubt who everybody had come to see Saturday." He went on, "The reception [of Liz & Ronda's walkouts] made those who had angrily said they wouldn't buy a ticket or watch the show because the UFC was somehow disrespecting Machida and Henderson look awfully small."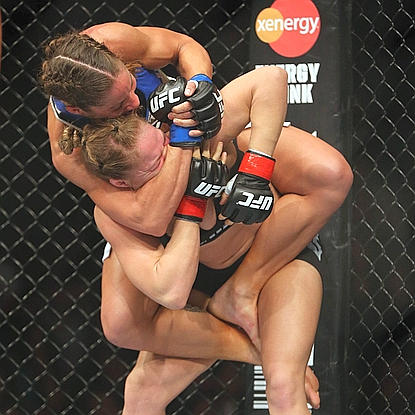 Post fight, Dana also addressed rumors that Liz had been brought on as a sacrificial lamb to Ronda's sharp wolfy chompers, calling it "goofy backlash." (There's a joke in there somewhere about Rousey's mouthguard and teeth marks on Liz's arm…) I was, as I mentioned, eight rows away and was actually screaming "OH MY G-D OH MY G-D OH MY G-D" out loud when Carmouche backpacked and was pursuing the neck crank. As Rousey said, "There is nothing predictable about Liz Carmouche." And she was right.
Up next for Rousey will most likely be the winner of Miesha Tate and Cat Zingano's bout on the season finale of The Ultimate Fighter 17. With all the sh*t talking that Tate has been doing after 157, I am surprised she has any energy left to train at all….but that's a discussion and a blog post for another day.
But to the fans of MMA, I pose to you this question (in Gladiator fashion): "ARE YOU NOT ENTERTAINED? IS THIS NOT WHY YOU ARE HERE?" I just don't know how you could not root for these human beings, these two women, who trained hard and fought so valiantly for our entertainment. So, despite the oh-so crushing blow to old schooler egos everywhere, and with Rousey/Carmouche at the helm, the women are undoubtedly here to stay. Tough sh*t, man.
***
Bonuses of $50K were distributed as follows for UFC157:
Submission of the Night: Brock Jardine vs. Kenny Robertson
Knockout of the Night: Robbie Lawler vs. Josh Koscheck
Fight of the Night: Dennis Bermudez vs. Matt Grice
Photo Credits: nypost.com instagram.com/stephaniejoplin bleacherreport.com