On December 12, 2011, the Houston Texans took their franchise seventeenth loss to the Indianapolis Colts. On this, their twentieth matchup versus the 1970 and 2006 Super Bowl Champs, the "Bulls on Parade" simply had their float deflated by the Colts late in the fourth quarter.
Both the Colts and the Texans fought that day at a disadvantage. Although favored to win this game, the Texans' star WR Andre Johnson was inactive, and, lest we forget the great QB debacle: Matt Schaub out for season, followed closely by Matt Leinart. Noticeably absent from the Colts offense was star QB Peyton Manning, and with the Texans' 10-5 record versus the Colts' 2-13, it looks like Indy's fate was sealed.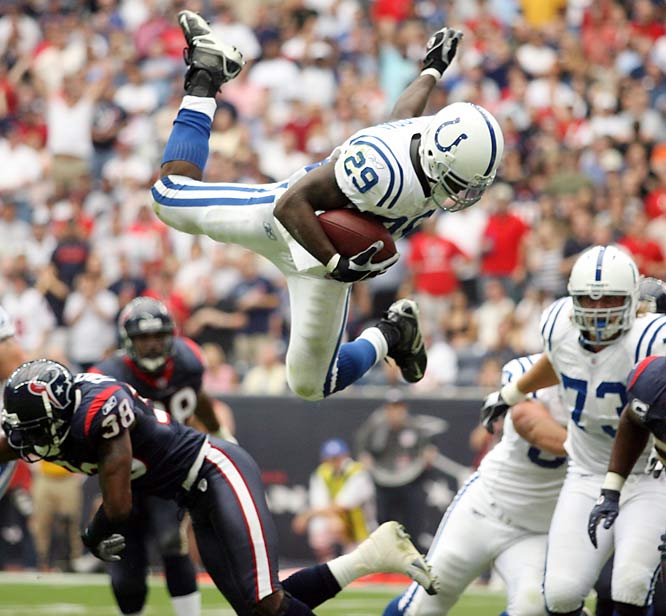 Defensive captain, ILB Brian Cushing, sacked Colts QB Dan Orlovsky on the first play of the game, but that is where the momentum stalled: after a pretty boring game of field goals, the Colts pulled it out in the second half to defeat the Texans 19-16. So what happened?
Well, all the experts concluded that the Texans just played too conservatively, and foolishly at that. Houston picked up eleven total penalties, three in the last quarter alone. QB T.J. Yates finished 13 of 16 for 132 yards; solid, yet his offense scored only one touchdown in the first (by RB Arian Foster, who ran 23 times for a total of 154 yards), and two field goals in the Red Zone. Additionally, there were no third down conversions till late in the fourth (1/10). Colts WR Reggie Wayne caught a 34-yard pass with 51 seconds left, where Texans DE J.J. Watt picked up two of the three penalties in the fourth quarter that ultimately cost Houston the dub. Orlovsky then completed to Wayne at the buzzer for the TD.
Fast forward to December 2012: week 15 will bring these two teams together once again, this time at Reliant Stadium. And although a win is comprised of a full and solid team effort, I truly believe that this particular match up will be rooted in a battle of the quarterback. The Texans have Schaub back once again, and the Colts….well, the Colts have "Golden Child" number one draft pick, Andrew Luck.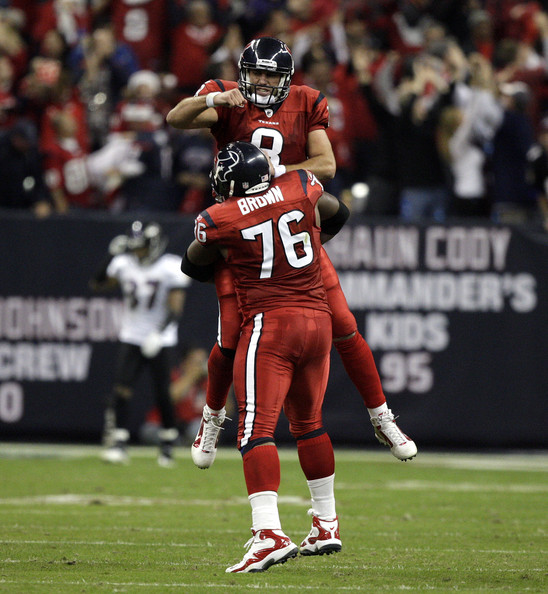 Luck has won more games (eight) than any rookie QB drafted number one overall in the Super Bowl era. * In Week 13 against the Lions, Luck was probable to play; however, Fantasy experts still chose him 87%-13% over Schaub. Luck completed 24/54 for 391 yards, including four touchdown passes. Season to date stats put Luck at 3,596 yards with 17 touchdowns.
Matt Schaub, in Week 13 versus the Titans, was 21/35 for 207 yards, with two touchdown passes. Year to date, he has a total of 3,062 yards and a total of 21 touchdowns. It is plain to see there is a bit of a tug-of-war going on between these two and their stats going into their matchup in Week 15.
Clearly, judging by overall performance, Luck is poised to launch himself into QB stardom, among the likes of Tom Brady and Aaron Rodgers. Not only that, he is in the running (and my pick) for the NFL's Rookie of the Year. Even the most die-hard Texans fans will tell you, Schaub just does not fit that particular mold. With that said, I will tell you what mold Schaub does fit, and to a tee: Houston's.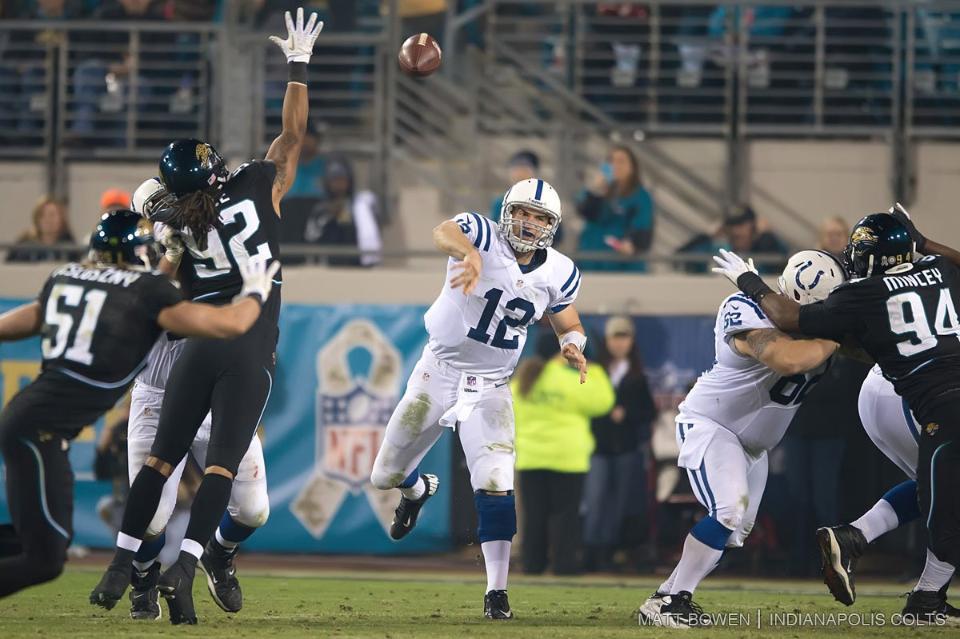 Knee-jerk reaction would be to call Luck the "better" quarterback, but perhaps that is a relative term. After all, what makes a good QB is one who brings his team together, where all the stars align and you just have that dynamic that no one can touch. That is precisely the case for this 11-1 Houston team.
The Colts will need to be acutely aware of the Texans' defense. In Week 13, Luck was picked off three times. He has had a total of sixteen interceptions this season to Schaub's nine (zero in Week 13). [To put this in perspective, Rodgers has eight picks on the season, while Brady has only four]. Arguably, this is Luck's rookie year, and fewer picks will come with experience, but this will be an imminent danger to Indy's offense.
Texans challenges include two things: the first being the absurd amount of injuries they have seen in the past few months (hell, the past few years). Offensive coordinator, Rick Dennison, and defensive coordinator, Wade Phillips, have done well shuffling their players around to fill the holes. However, in recent weeks, Cornerback Johnathan Joseph's absence has been a large obstacle, probably the most notable one. Alan Ball and Brice McCain both suffered subsequent injuries trying to fill the CB's shoes. Rumor has it Joseph will be back for Week 14 versus the New England Patriots, but with this weakness prevalent in all football-related media, this could prove to be the Texans' Achilles heel (sorry, Cush).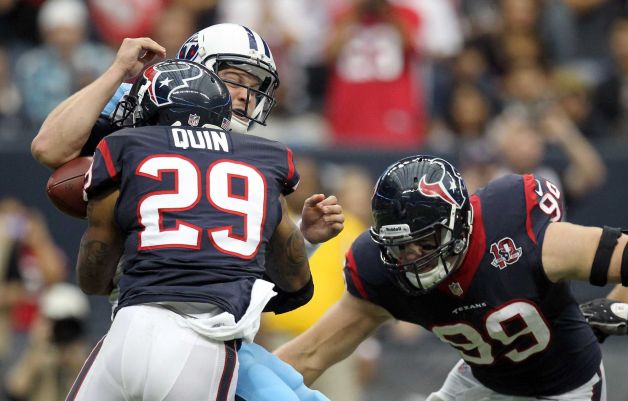 The second challenge for the Texans will be to get the proverbial ball rolling in the first half, preferably the first quarter. It is imperative to score early against the predominantly offensively-driven Colts, especially with Luck at the helm. The Texans have the propensity to rely a bit too much on their "Bulls on Parade" to get them out of a jam; this was evident in their consecutive OT games against the Jaguars and the Bears.
Regardless of the outcome, this game is sure to be substantially more interesting than last year's special teams dog and pony show.
#peaceloveandfootball
**BONUS: WEEK 14 AFC South, explained…
Texans v. Patriots (TBD)
Colts v. Titans (TBD)
Ravens v. Redskins (TBD)
Broncos v. Raiders (Broncos)
HOUSTON CLINCHES AFC SOUTH WITH:
1) Houston WIN and Indianapolis LOSS or TIE
2) Houston TIE and Indianapolis LOSS
HOUSTON CLINCHES FIRST ROUND PLAYOFF BYE WITH:
1) Houston WIN and Indianapolis LOSS or TIE PLUS Baltimore LOSS or TIE
2) Houston WIN and Indianapolis LOSS or TIE PLUS Denver LOSS or TIE
HOUSTON RECEIVES HOME FIELD ADVANTAGE THROUGHOUT AFC PLAYOFFS WITH:
1) Houston WIN and Indianapolis LOSS or TIE PLUS Baltimore LOSS PLUS Denver LOSS
*Stats via ESPN.com, Photos via: sportsvent.com  mysanantonio.com  colts.com  houstontexans.com  zimbio.com  Bob Levey/Getty Images