---
---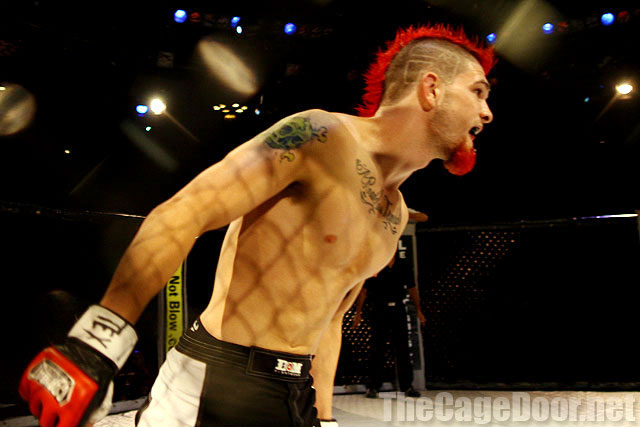 Type the word "fighter" in Microsoft Word. Now hit Shift F7. "Warrior". Shift F7. "Soldier". Shift F7. "Rebel". All of these words are synonymous with the soul of an MMA athlete. They train blood, sweat, and unseen tears seven days a week for one fight. And when they lose, they do it all over again, despite the potential heartache of the defeat.  Albeit having your team there to corner you, you stand alone in the cage. One moment, one opportunity to shine, and it's all yours. Make it or break it.
Consequently, one could say that an MMA athlete is expected to be stoic, hardened even. There is no room for mercy. So, with that said, how is it possible to find the balance between the cold stone and warm heart? I'm not sure how it's done, but Colin Wright has discovered it. He is infectious and endearing in the best of ways. His strength shines from the inside out, and you can see the fire from behind his hazel eyes. Everyone Wright knows, opponent or friend, respects him. And after reading what I have to tell you, you will have no choice but to root for him, too.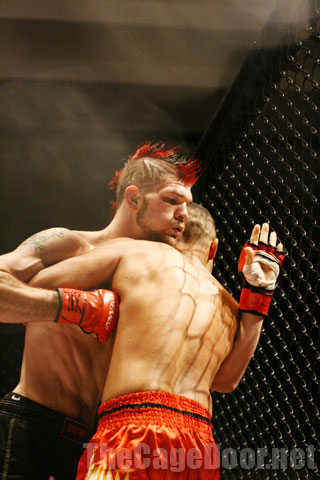 Wright was originally slated for a main event, title fight on Legacy's Amateur Series card a month and a half ago, a rematch versus his Cage Combat V opponent, Tony Orozco, Jr. The CCV fight had ended in a controversial TKO in Colin's favor, and a brawl had broken out amongst the two fighters' fans. Just 24 hours before the rematch was to happen, Colin received a phone call informing him that Orozco had failed to turn in his medical records on time. After a few go-arounds trying to find a match-up, the entire fight was scrapped.  "I told [Legacy] I wanted on the Muay Thai card anyways." And Colin's wish was granted.
October 6, 2012, will mark Wright's foray into his first Muay Thai fight, Legacy Fighting Championship's Amateur Series, against Uriel Figueroa. Going into this fight, Wright boasts a 6-0 record, rendering him undefeated as an amateur MMA fighter. Colin's fighting technique is based strongly in grappling, with a background in wrestling and Brazilian Jiu Jitsu (BJJ). This Muay Thai fight is quite a departure from the norm for Wright, and a superior challenge; his opponent, Figueroa, bears a Muay Thai fighting background. The two will fight at 145 pounds.
For those of you who are MMA-impaired, the two opponents' fighting styles could not be more different. BJJ is a self-defense system, and involves mainly ground-based fighting. Wright has been training day in and day out with Muay Thai coaches James Cooper and Geon Cho, who, along with head/standup coach Mike Altman and boxing coach Aaron Navarro, have refined Colin's skills in this stand-up striking combative sport. Figueroa should probably start panicking, because mohawk-wielding Wright packs a huge punch. His first two fights were done in under a minute, and his 6-0 record boasts three submissions and three TKOs.

At this point in our interview, it's 10PM, but I'm not quite ready to leave my newfound friend and confidant. Starbucks kicks us out, and we start swapping stories. Turns out, after winning his first fight in May of 2010, Colin got in line to meet the man who had originally inspired him to action, Ken Shamrock.  "When I shook his hand he asked me, 'That was you fighting right? You did really good…that was a great way to debut.'" Colin's face breaks out into a big, goofy smile. This is gold! So, of course, I take this as my opportunity to ask him about the ladies. "What does it take to catch your eye?" I ask. "I don't really have a type…I really like genuine people. Personality is a huge thing for me. As pretty as you are, I'm totally turned off because you're just, like, a blob…you're not even a person, you're a hollow shell. But physical attraction [is also important], you know? [Pauses] I'm picky…I'm really picky actually." Colin also tells me he's single [shock!!] and that he just could not see himself with a chick that wasn't into MMA.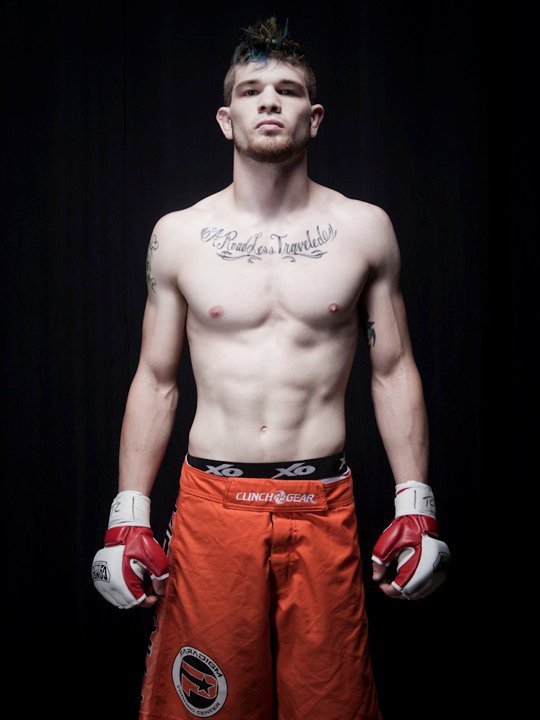 Despite his setbacks (which I will cover in depth in part II), success isn't far off for Colin. I can't say who, where, or when, but the call has come in, and Wright is going pro. What I can tell you: Saturday will mark his last amateur fight, and his first professional matchup will cause Colin's journey to come full circle.
"Fear none. Respect all." These words sit above the gym door at Paradigm Training Center, where Wright has called home for the past two and a half years. Colin reflects, "I've always approached life as 'you get what you put into it.' It's all about your own personal self-discipline. I know that that sounds so cliché…you hear it so many times over and over again, you can't help but internalize it after a while." "The biggest thing I've learned, the underlying message was always that you could do so much more than what you've done, you just have to believe in yourself."  One thing is certain, Colin is doing things his way: the Wright way.
***
Buy your tickets HERE for Legacy Fighting Championship: Amateur Series, October 6, 2012.
Photo Credits: TheCageDoor.net
---
---