---
---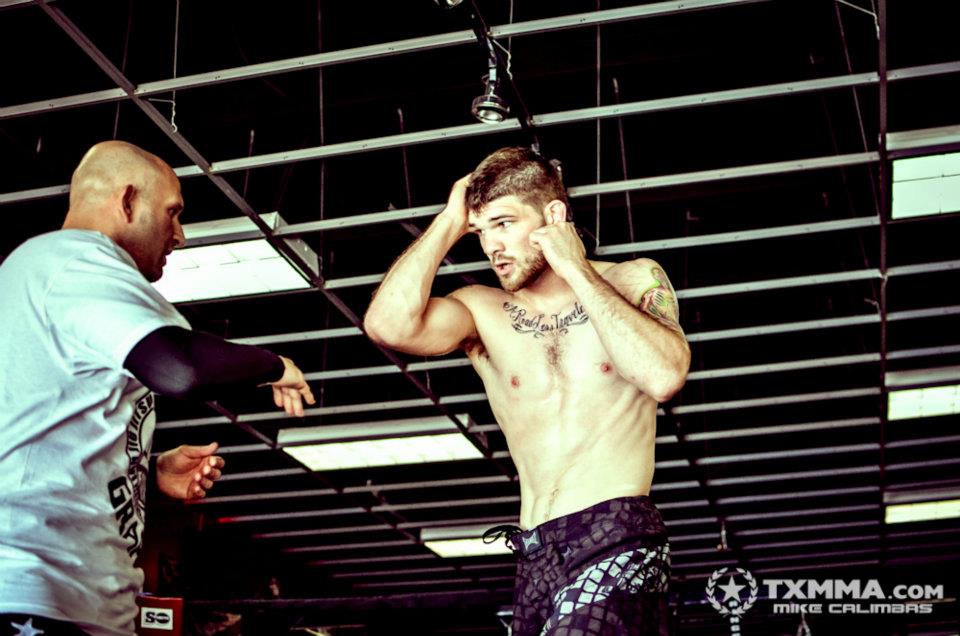 Picture this: you're nineteen years old with no direction and a less than perfect past. You're living in a two-bedroom apartment with twelve other dudes…yes, twelve. It's Friday night and the fights are on Pay-Per-View, so you order some pizza, crack some beers, and sit down to watch the third matchup between Ken Shamrock and Tito Ortiz. Just another Friday night to most, but on this night, for Colin, the stars aligned, and a dream was born. As the night dwindled and the main event drew closer, Colin's pulse was set on fire.  This was "the real deal, a real-life version of the Ninja Turtles" [Colin's own definition of MMA] that was evidently too hard to pass up. Just one week later, he found himself at the newly opened [Pat] Miletich gym, began work on his craft, and "never looked back."
But what happens when we dig a little deeper?
Colin's story simply cannot be communicated in one post, but I need you to know it. Up until now, his story, in its entirety, has not been made public, and it is with extreme reverence and utmost respect that I impart just some of his story to you.
With his father, Kevin, in the oil industry, Colin, together with his sister Lindsay, and his mother, Lisa, moved around quite a bit in his younger years. "I grew up in Sugar Land [Texas] mostly…rich suburbs…I was spoiled early on, but my parents believed that you have to work for everything." Much to his parents' dismay, in the first grade, Colin began showing signs of anger issues. "I got in a lot of fights really early on. My parents threw me in therapy…they always thought there was something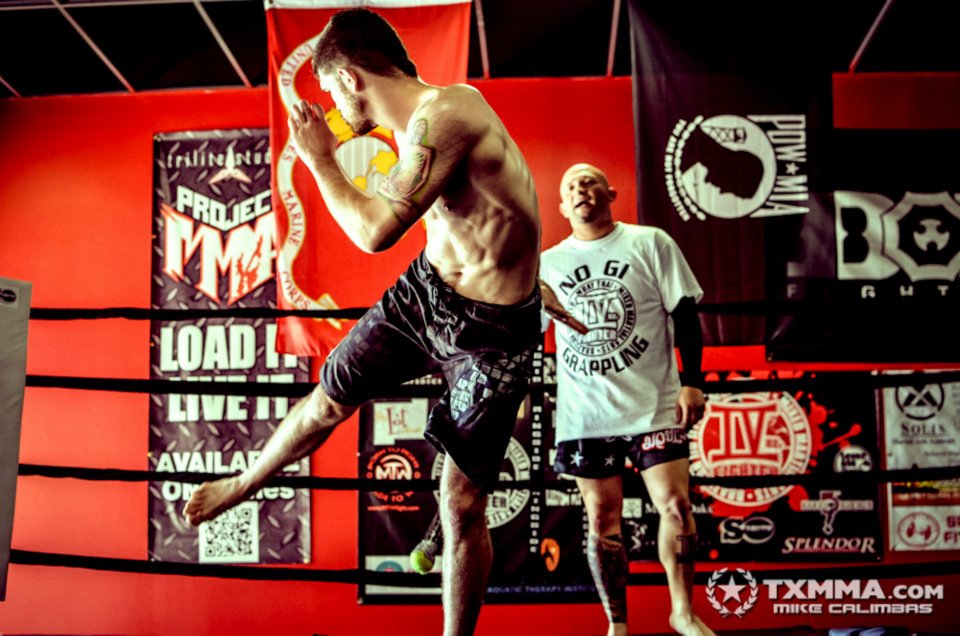 wrong with me. I was just an angry little kid, I guess." After a few years of counseling efforts, Colin's parents were able to pacify him, but it took its toll: "…I would hold in all my anger and get really depressed." The turmoil with his family ultimately resulted in Colin being sent away to military school at the age of thirteen. He was bullied and picked on, ridiculed and harassed. "My roommate was a junior…his job was to look after me, and make sure that I was always in line. His idea of keeping me in line was beating me up at night in our room. [My schoolmates] got really creative with their hazing. Everyone thought I was a problem child, and I didn't have any friends. It was a miserable time for me."
The first summer back from military school, Lisa went into the hospital. "After I was born [my mom] was diagnosed with Hypogammaglobulinanemia [a primary immune deficiency disease]; I always knew there was something wrong with my mom, but she was always the strongest person I'd ever met in my life. I always thought she was going to outlive me." When it was time for Colin to go back to school, he, to no avail, begged his father not to send him back, at least until his mother was out of the woods. Within two weeks of being back at military school, and just shortly after turning fifteen, Colin received the worst news of his life. "I remember getting this really eerie feeling…it was the weirdest thing ever; I could feel it in the air, and as soon as I felt it, my drill instructor came on the intercom and he was like 'Wright! Come down to my office.' I knew something was wrong." Colin's mother had passed away, and he hadn't had the chance to say goodbye.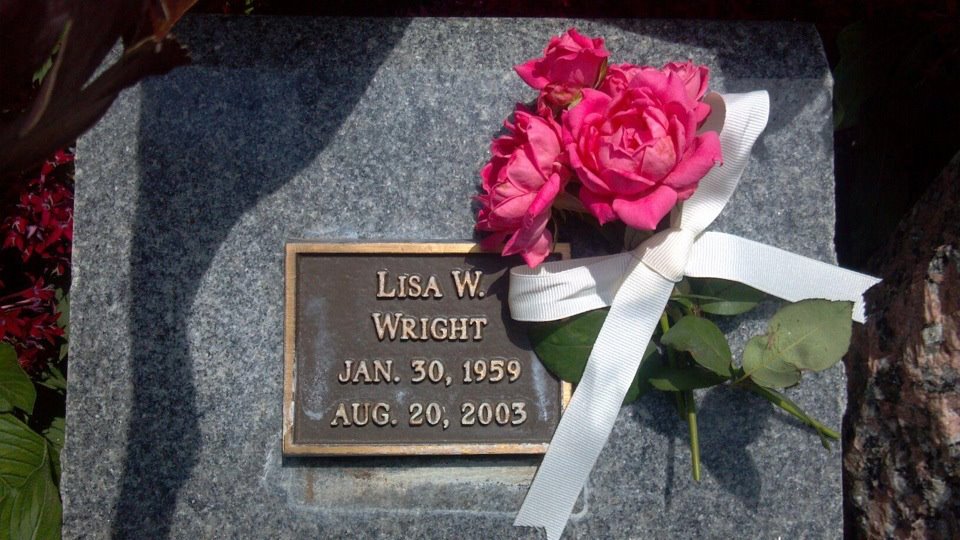 After a short time back home grieving his mother's loss and experiencing the outpouring of love from hundreds for his mother, Colin was sent back. "It was one of my mother's dying wishes that I stay at military school", he tells me with a heavy heart. "I was sent right back. The beatings got worse, I got more depressed", and he began experimenting with hallucinogenics and tobacco. Kevin eventually pulled him out and flew him home, but Colin returned to Texas to find more had changed than he would have ever imagined.
On the day of his arrival, and just six months after his mother's death, Kevin lowered a boom on his fifteen-year old son: he had been seriously dating another woman for the past month. Colin's first meeting with the new woman in his father's life did not go to plan: "I got the cold shoulder from her immediately, you could tell that she didn't want to have anything to do with me." After their initial meeting, Kevin asked Colin what his thoughts were on the match. He replied, of course, with reservation: that his mother had just passed six months prior, that this woman was ten years his junior, that this woman had four children of her own. Nonetheless, Kevin exclaimed, "Well, I think she's awesome. I think I'm going to marry her!" A month later, the pair was engaged. "My dad would leave home for days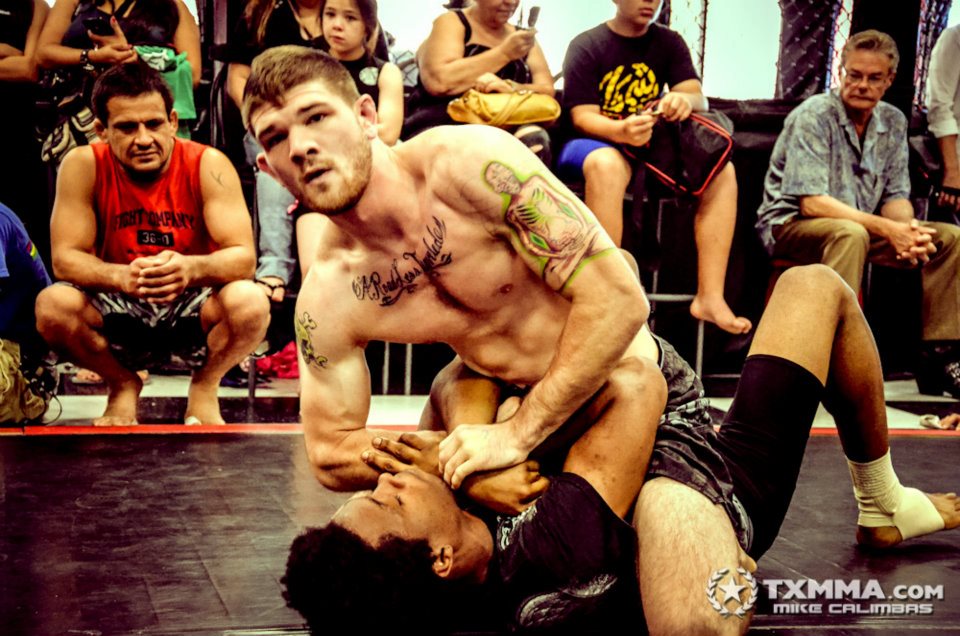 at a time, and leave me at home by myself. He would be over at her house hanging out." [Keep in mind Colin was just sixteen years old at this point in time.] Colin and Lindsay moved into the city with their father to join their new stepmom, Lori, and her family. The relationship between Colin, his father and stepmom was tumultuous, and he felt trapped. "It infuriated me on the inside." He became apathetic with regards to his education after changing schools so many times and with all the problems at home. The only bright spot was a budding friendship with his now best friend, Andon. A huge fight ultimately resulted between Colin and his parents, and it got physical. Lori had brought up his mother, Lisa, during the argument, and Colin lost it. After a physical altercation with Kevin, he packed his bags and went to bunk with Andon.
Kevin hired a private investigator to locate his son's whereabouts, and eventually convinced Colin to come home. More therapy and family counseling were not far behind. "The shrinks always wanted to send me away…I was like, 'screw this, I don't want to do this anymore.'" Yet, somehow, Kevin convinced Colin to go for one more session. It was a normal ride to the shrink's office. "We pull up…no cars in the parking lot…he drives to the back [of the lot]…there's a black SUV, and my dad puts the car in park." Colin says his dad got emotional. "He said, 'I'm so sorry…these men are here to take you'. I totally blocked him out…and got out of the car." The men in the SUV threaten Colin to ensure his cooperation, and he complies; they take him to the airport, and put him on a plane bound for Utah.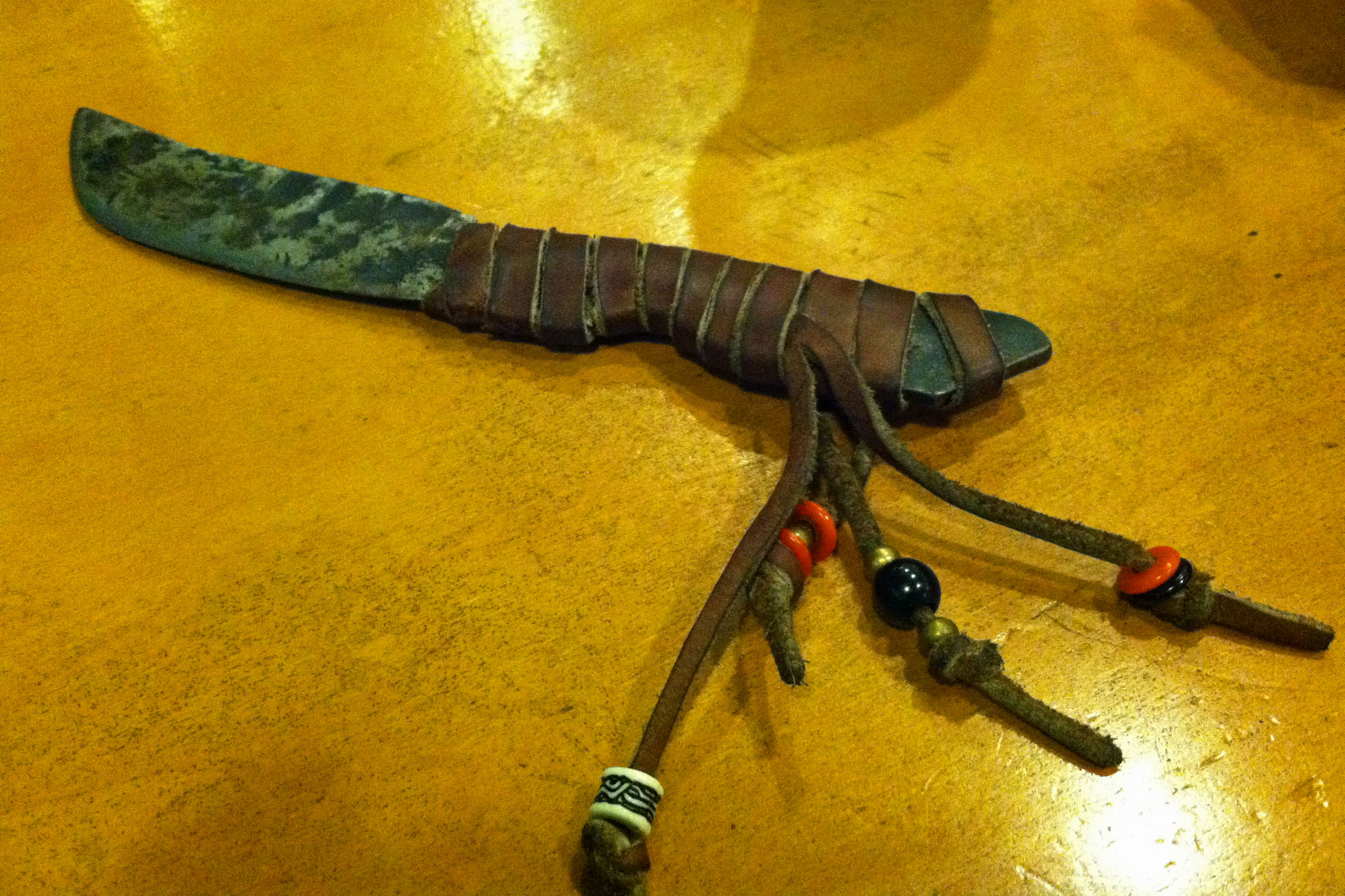 For the next four months, Colin was trapped in the middle of the wilderness with a handful of other kids. Think "Hunger Games" without the creepy child slaying. Essentially, Kevin had arranged for "Wilderness Therapy". Basic survival lessons, no showers, no electricity, no utensils, no nothing until you finish your tasks and "graduate." Talk about a paleo-lifestyle. "They give you a tarp and wool clothes, blindfold you, put you in the back of this SUV, and drop you 60 miles into the middle of the wilderness." Surprisingly enough, Colin calls this "the coolest experience" of his life. "I've made over 100 bow-drill fires…we would eat lizards, they taste like dry steak." Check out the sweet knife that Colin forged by hand during his time in the wild. [see photo]
After Colin's cameo on "Survivor: Utah" was complete, Kevin had another delight in mind for his son: "you're going to boarding school." "Literally, I graduate, we go to some burger joint, we get on a plane, and we go to Iowa", he explained. An extremely strict and uniformed school, as you might guess, was not where Colin was to excel. After two years of near torture for the seventeen year old, Colin was kicked out of school after being picked on and goaded by one of his instructors.  He had only half a credit missing to earn his high school diploma. Despite his best efforts to complete his education, he discovered that the boarding school credits did not transfer, and he was forced to drop out out of school completely.
After a short stint living with his grandmother and saving up money doing odd jobs, Colin returned to Houston and moved in again with his friend, Andon. Slowly but surely, ten others moved in to the small apartment. "It's been a struggle to get back on my feet ever since then. I'm really thankful that I got into mixed martial arts because it really focused my energies. I'd felt so disconnected from everything, all these shrinks told me I was screwed up; I didn't have a high school diploma, all the jobs I got sucked…I got into training. I work at a bar; I work at the gym, but [fighting] is what I'm focused on." Currently, Kevin is willing to help his son finish his education, but Colin is finding it difficult to hit the ground running: "I'm trying to go back to school…education means everything in my family. It's frustrating…I'm struggling to find that balance between trying to train, study, and work. It's too much.  It really is."
We talk briefly about Colin's sister, Lindsay, who was able to escape the problems with her schooling and parents that Colin could not. I ask what his father thinks about his MMA career choice. "He thought I was crazy! He was so pissed off. He was like 'This is so stupid, you can't do this and expect to make any money'." But Colin says after his last couple of wins in the cage, Kevin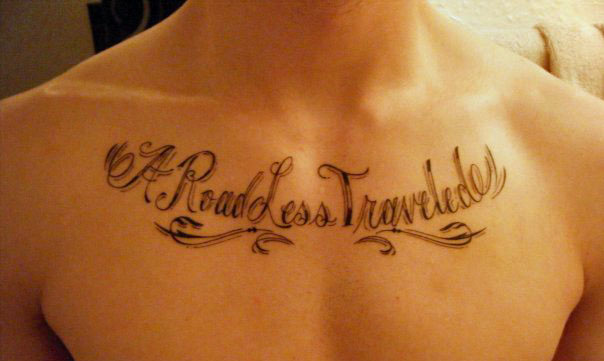 is coming around slowly but surely. I ask if Kevin will be in attendance for Colin's fight this coming Saturday. "I don't know," he hesitates. "Probably not." The disappointment in his voice is evident, so I switch topics. What of his relationship with his stepmother, Lori? "[Our relationship is] a lot better. She and I are civil…I feel like there's a big gap. My dad made me apologize to her after that big fight when she was calling my mom names and telling me I'm a horrible person. I feel like even though we're okay now, until she sits down and says I'm sorry for treating you the way I did, until that day comes, I'll always hold something against her. But we're civil, I hug her when I see her."
Despite the pitfalls, Colin sets a positive spin on things. He pulls down the collar of his Paradigm sweatshirt, and shows me his most prized tattoo. "My grandma was super eccentric. She lived in Cambodia…[and] had an Indonesian furniture shop in a flea market. She called it "A Road Less Traveled." After she passed away, I got that tattooed across my chest." He goes on, "It's so indicative of my life, you know? It really is. Nobody can say they've gone through the crazy shit that I've gone through. It's the road less traveled."
***
For Part One of Colin's #DreamShakeBarbie Double Feature, "The Wright Way", Click HERE.
Buy tickets HERE to LEGACY FIGHTING CHAMPIONSHIPS: AMATEUR SERIES this Saturday, October 6th, to see Colin take on URIEL FIGUEROA.
SPECIAL THANKS TO MIKE CALIMBAS PHOTOGRAPHY.
---
---