---
---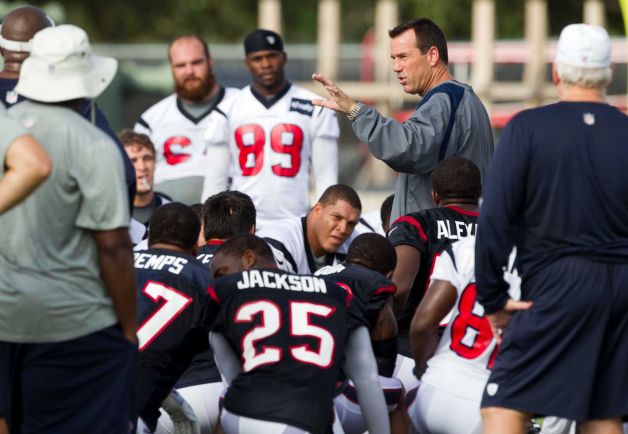 Everyone knows about the rigors of the Houston Texans' training camp, the so-called "grind" of day-to-day practices for the players. The team is focused and hard working, to say the least, but it's the comedic personalities that kept the team going in that unforgiving Texas heat.
Fortunately for me, I get to see this affable side of the team that is not often shown to the public, and tell you about it, too. The majority of fans know who the "funny guys" are, and if you follow these guys on social media, or listen to them at press conferences, you understand what I am talking about already.
Let's count down the top 5 Texans Training Camp comedians and personalities:
5. Johnathan Joseph: Talk about one of the most active and talkative players for the Texans. During practice he is the ringleader of the secondary and is always giving his positive take to the cornerbacks on the team. He give his playful "trash talk" to the offensive players and lets them know they are not going to move the ball on him. The mentality of the defense starts with Joseph and he is always getting into the ears of J.J. Watt and Brian Cushing during practice pushing their buttons to make them better.
Highlight of Camp: When his teammate from Cincinnati, Shayne Graham, was kicking field goals during a team situation during training camp, Joseph was yelling on the sideline "That' my boy "Money Graham"! Watch him do work." Graham ended up going five for five on field goal attempts, and while running off the field the first one to congratulate him before getting to the sideline was, you guessed it, Joseph.
4. Arian Foster: He is very soft spoken on the practice field and is business when it is practice time. A hard worker learning his craft running and catching the football and other skills associated with the position. When the Texans get water breaks, his helmet comes off, a smile comes out and he is making other players laugh. He is the life of the party, when time permits, and that is what makes him special. He works when it is time and provides that "humor" that is needed to get the team through those tough times of camp.
Highlight of Camp: It was the end of the second day of camp and Foster was talking to Ben Tate and Justin Forsett about his basketball game. Foster explained how he could cross them over and dominate them in the paint. To make it better Foster also told Lestar Jean that his fade away game is something you need to worry about.  He also was showing his moves using his helmet as the basketball.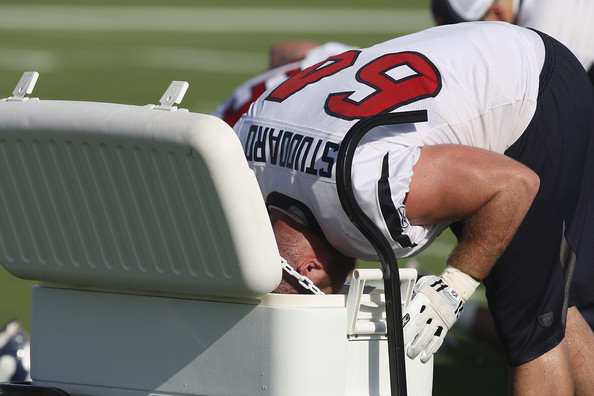 3. J.J. Watt: It is hard to imagine a second year player garner as much respect as Watt does when he hit the practice field. After dislocating his elbow, in the first week of training camp, his injury deflated the moral of the team. Watt ,not to be out done, was out at practice the next day in a sling, but still talking to fans and being with his position group during practice. The following week, Watt played water boy for the defense and pulled the ice chest around to his teammates and handed out towels and Gatorades. When he was fitted for his brace, he was catching of the football jugs machine with one hand. His presence was noticed by his teammates, and he let them know he was there despite his injury.
Highlight of Camp: At open practices he would get out to the field as early as he could, and talk to the kids that came to see him. He would get down on one knee and ask them for their name and a high five. One girl was holding up a handmade #99 poster board with "Watt" scribbled on it, Watt saw it went over to her gave her quick autograph and said "Thank You." This all happened before practice started.
2. Shaun Cody: Cody instantly broke barriers when he came out the 1st day of practice with his silver hoop earring in his left ear. He was glad to show it off to fans and his teammates, but mostly to his position coach Bill Kollar. When fans would yell for one of the big named players, Cody would instantly yell back to the fans and say I am over here, waving at them. Cody works as hard as anyone out there, but he is definitely the guy teammates look to for an instant laugh.
Highlight of Camp: The Texans practice on their three practice fields away from Reliant and mainly on field three furthest away from the entrance to the field. Carts take the players from the locker-room to the practice field. On a tough day of practice, Cody faked having a cramp to get on the training cart so he wouldn't have to walk. He covered his face with a towel so he could hide his smile, while lying on the cart.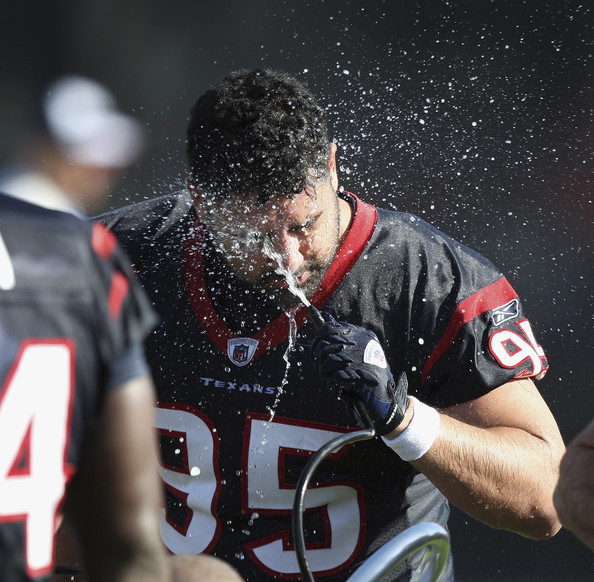 1. Antonio Smith: Of all the players on the team and when being interviewed, there is probably nobody better when it comes to being in the spotlight. When asked questions in an interview, you never know what you might get as an answer, just last week he came out with "Tomfoolery" describing Richie Incognito's play on Sunday. Smith does go out of his way to help the younger players and give them advice when it comes to technique used at the position. Smith is one of kind and he is able to balance football and being the center of attention very well.
Highlight of Camp: This goes with the Cody story above. While Cody was "limping" to the medical cart, Smith saw his opportunity to help and helped Cody to the cart. Then Smith started yelling that it was an emergency and told Coach Kubiak he had it under control. Both he and Cody were laughing, and needless to say, they both made the walk back to Reliant.
Texans fans love that their team is so readily accessible and easy to relate to. But, most importantly, they are our team, Houston's team. This organization is finally turning the corner, and giving us a product that we can be proud of…and it looks as though this is just the beginning.
***
About P.D. Starr: After contributing for Texans sites across the web, Starr decided to open the State of the Texans, a site dedicated to the REAL fans of the Houston Texans. Dedicated to bringing fresh thoughts and information on the Texans to their fan base, it is Texans 100% all day every day here on State of the Texans. You can also find Starr tri-hosting with Mike Kerns and Aaron Close on Luv Ya Steel Blue, a weekly podcast during the season all about the Texans.
Photos via Zimbio.com MySanAntoino.com 
---
---