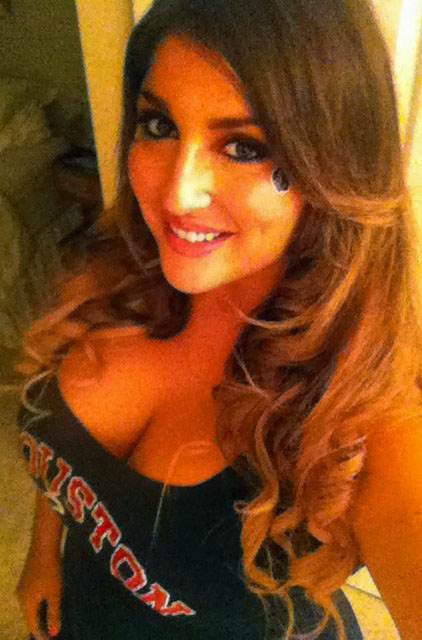 Texans are out of town, and you're figuring out where to end up [most likely drunk off your ass] watching some football. Do you go out to a bar? Do you tailgate? Do you sit at home on your couch with a bottle of vodka and a box of cocoa puffs? This past Sunday, I left my cave in favor of Texans Grille and the Battle Red Freaks. If you haven't heard about these guys, you're living under a rock. Per their own admission, they are "a group of FREAKY TEXANS fans that are working hard to spread the fever and do all we can to help build a TEXANS NATION!"
Freaky, you say? Sold.
Dragging my [surprisingly] not-hungover self out of bed at 9:30AM on a Sunday is quite the task. First of all, I'm pretty sure my snooze button up and quit on me a few months ago, just packed his bags and walked the f*ck out of my iPhone after years of abuse. Yet, somehow, I manage to turn myself from hot-mess into halfway decent in about 30-45 minutes of prep time. I never eat breakfast, so there's that, chugged a bottle of water and I was out the door. The ringleader of the Battle Red Freaks , let's call him "C", had told me to be there by 11AM, and I, being the complete control freak that I am, was there at 10:45.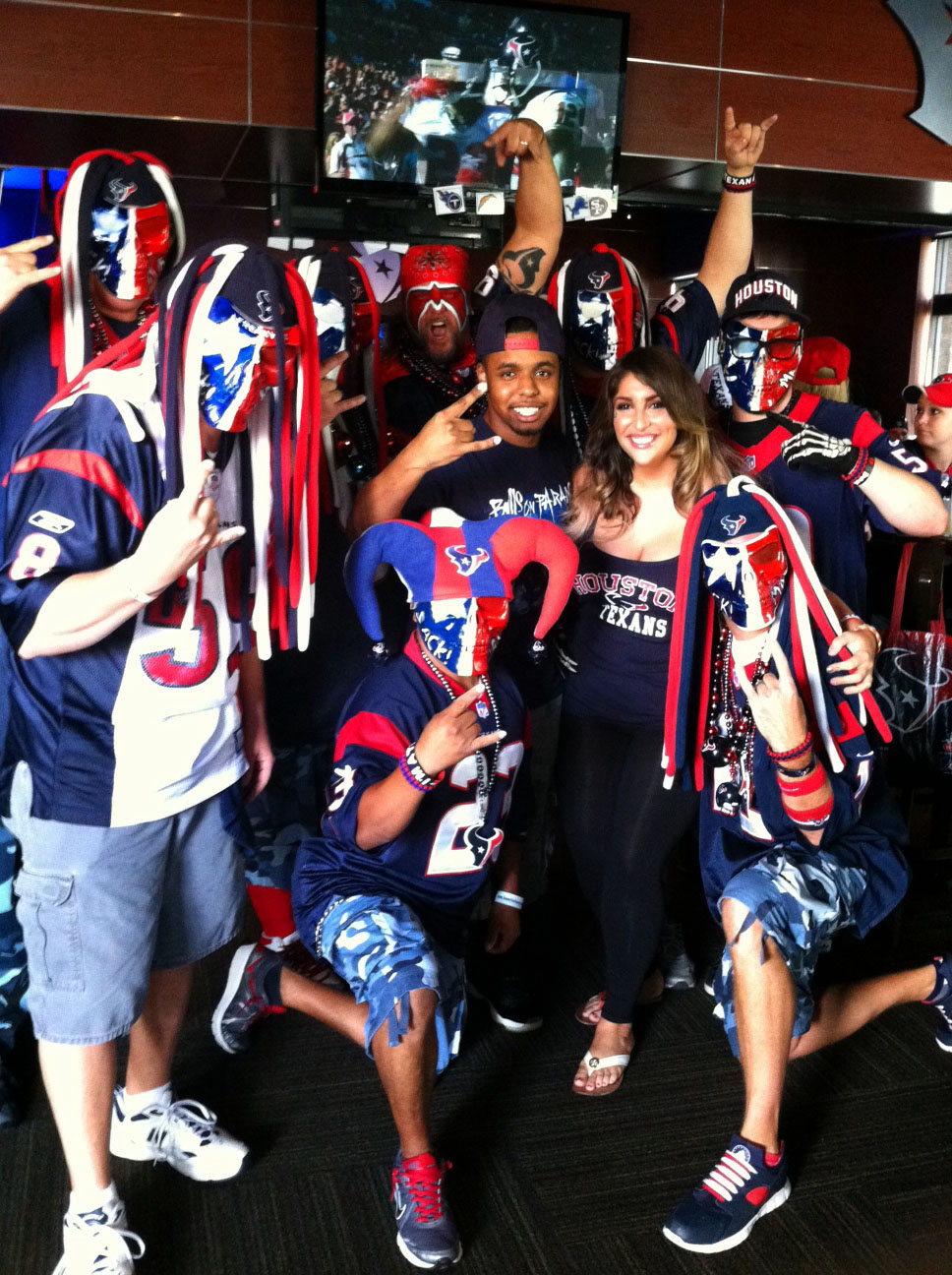 I was originally going to write a very ambiguous blog on this topic. But you all know me better than that. Sunday's experience was nothing short of ridiculous. By the time I left, I was three sheets to the wind, four gentlemen had plugged their numbers in my phone, five people had followed me on twitter, and my ass had a welt on it the size of a very large handprint. (THANKS, C!)
Miss Thang (aka TBD aka @taybyrnedodge) is 45 minutes late, so I'm down a Bloody Mary or six before she even arrives. Everyone was very welcoming and friendly. I meet C, his wife, some of their friends, and Houston rapper, Dre Ladon.  Super chill dude, very talented. His music is pretty sick (and by the way – PLUG – you can check out his new single, "H Up for Them Texans", HERE).
So anyway, TBD arrives. Thankfully she likes football. The absolute worst is to take a girlfriend that hates sports. You'll be left wondering what the over/under is for her making it through the game without burying her face in her Margarita. Not to mention the constant "will you come with me to the bathroom?" She tolerates my weird zoning out during offensive drives ("STEPHANIE? HELLO??"), and let's me scream when there's a sack without looking like she wants to die. She even shares my love of #76. Yes, we are soul mates.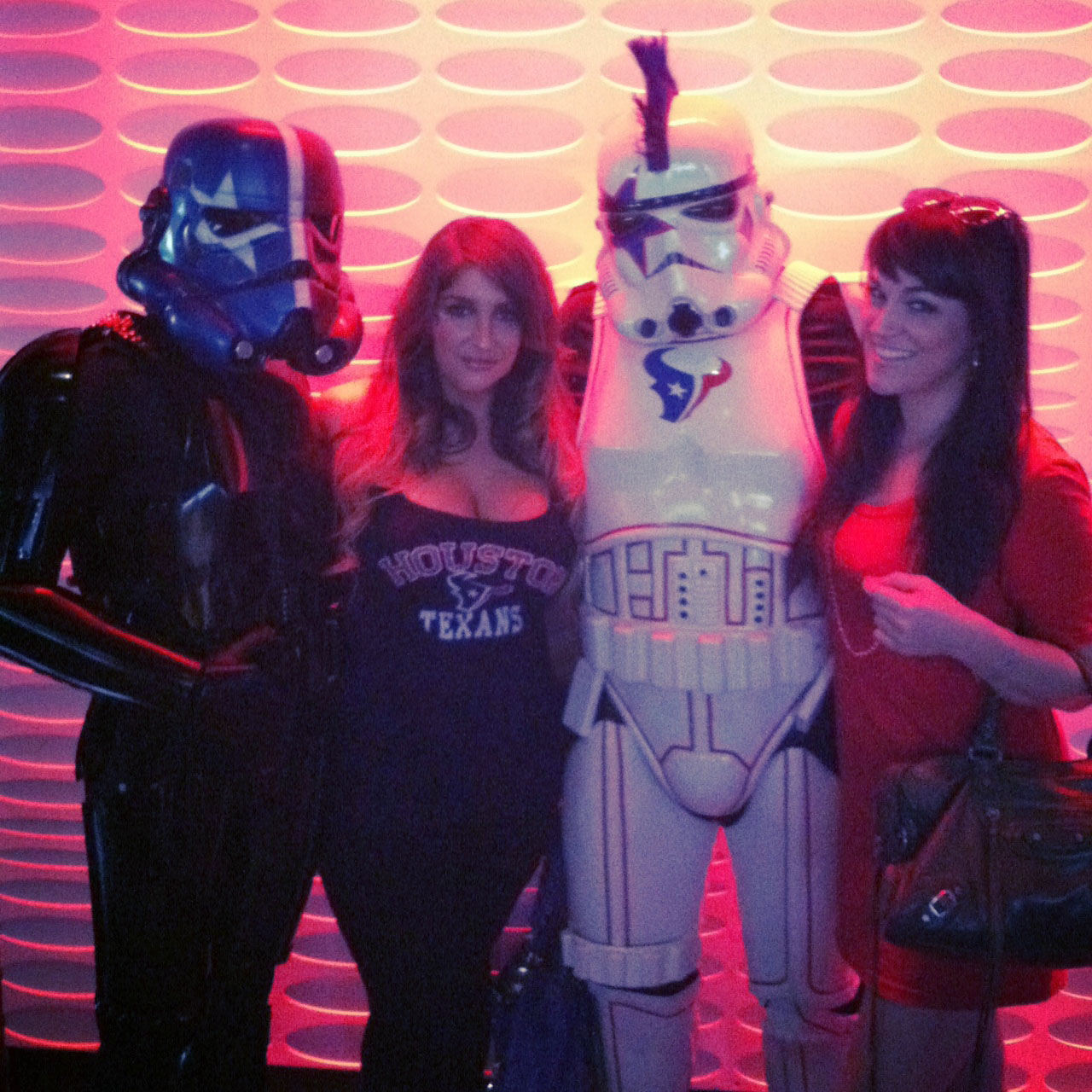 TBD and I were marveling at some of these get ups the BRFs come decked out in. We have got to have the best fans in the NFL. I mean, Texans STORM TROOPERS? Seriously? Unfreakingreal. There were also what appeared to be "communal children" that were drinking Red Bulls through a straw (kids go hard these days).
Long story short, we ended up having a badass time and meeting some cool people. The only problem was, for me anyway, that it was really difficult to focus on football with so much distraction. If you asked me to make an analysis based off Sunday's game, I would not be able to without watching some NFL rewind. So, depending what kind of girl you are, (dedicated to the actual game, or just a fan of the drinking and constant getting hit on) it's got to be your call whether or not this type of atmosphere is for you. As for me, I think I'll give my black and blue ass cheek a rest and stay home for the next one.
#PeaceLoveAndFootball