---
---
Let's get one thing straight: this girl (with two thumbs and a sweet Southern smile) knows Texans football. And chances are if you are reading this, you know a thing or two as well. So let's cut the bullshit instead of rehashing a play-by-play of two "just meh" preseason games, and enjoy a rousing game of "Would You Rather?" Now, hold up menses, don't go AWOL on me just yet; sure, one could probably assume that I am going to just pick the hotter teammate in a match up. But remember! A sweet ass doesn't get you ups in Reliant Stadium. Let's find out who makes the cut when we line up some of our new guys versus the vets.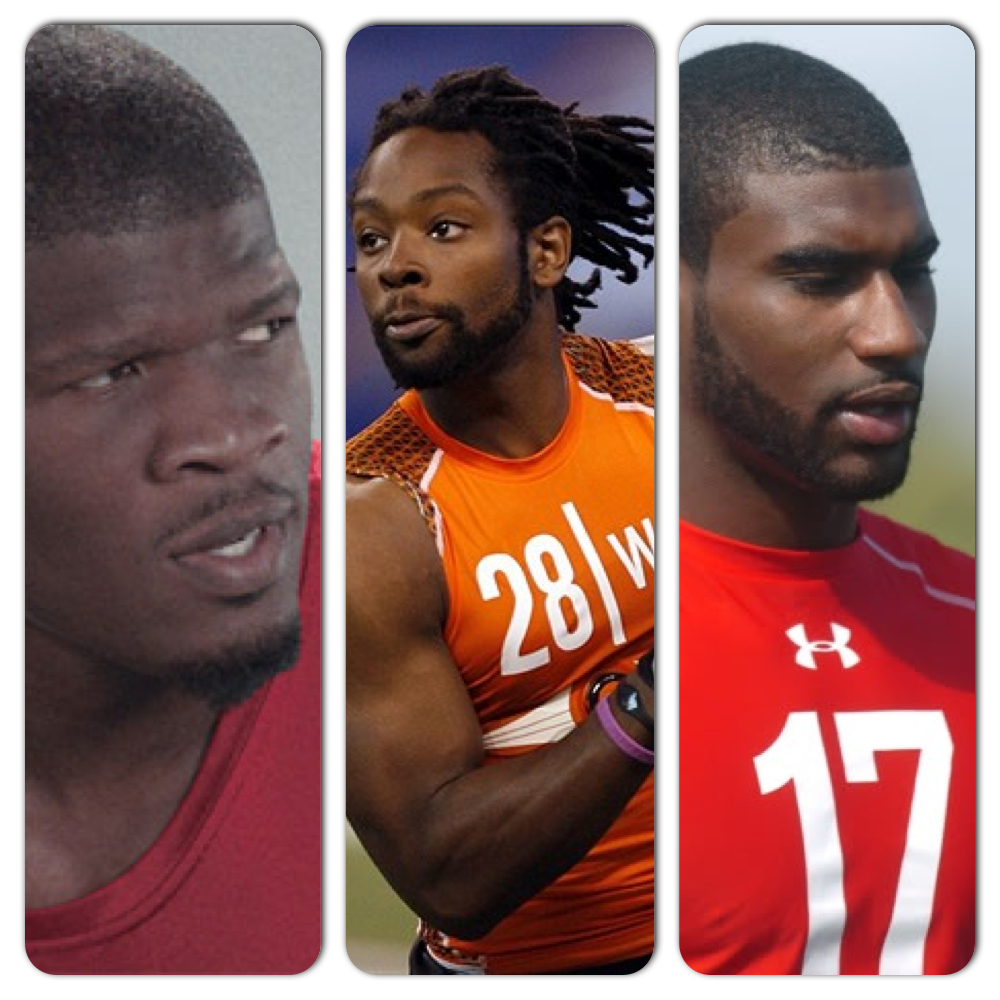 Offensive Line:
WIDE RECEIVER 1:
Andre Johnson / Keshawn Martin / Lestar Jean
One thing stands out here, and that is that we have a lot of complexity to this once-worrisome, and rather depth-empty position. Johnson, a 2003 vet, and one of our very own hometown heroes, has been plagued the past few seasons with multiple injuries, even sustaining a groin injury right before the beginning of the 2012 pre-season. Despite that fact, AJ brings 9,656 career total receiving yards and 52 career touchdowns.
Bringing in rookies like Martin and Jean always presents some instability, of course, both for the fans and for the rest of the Texans O-Line. During last Saturday's pre-season home opener against the 49ers, vet Johnson caught two passes for 49 yards before passing the baton to his younger counterparts.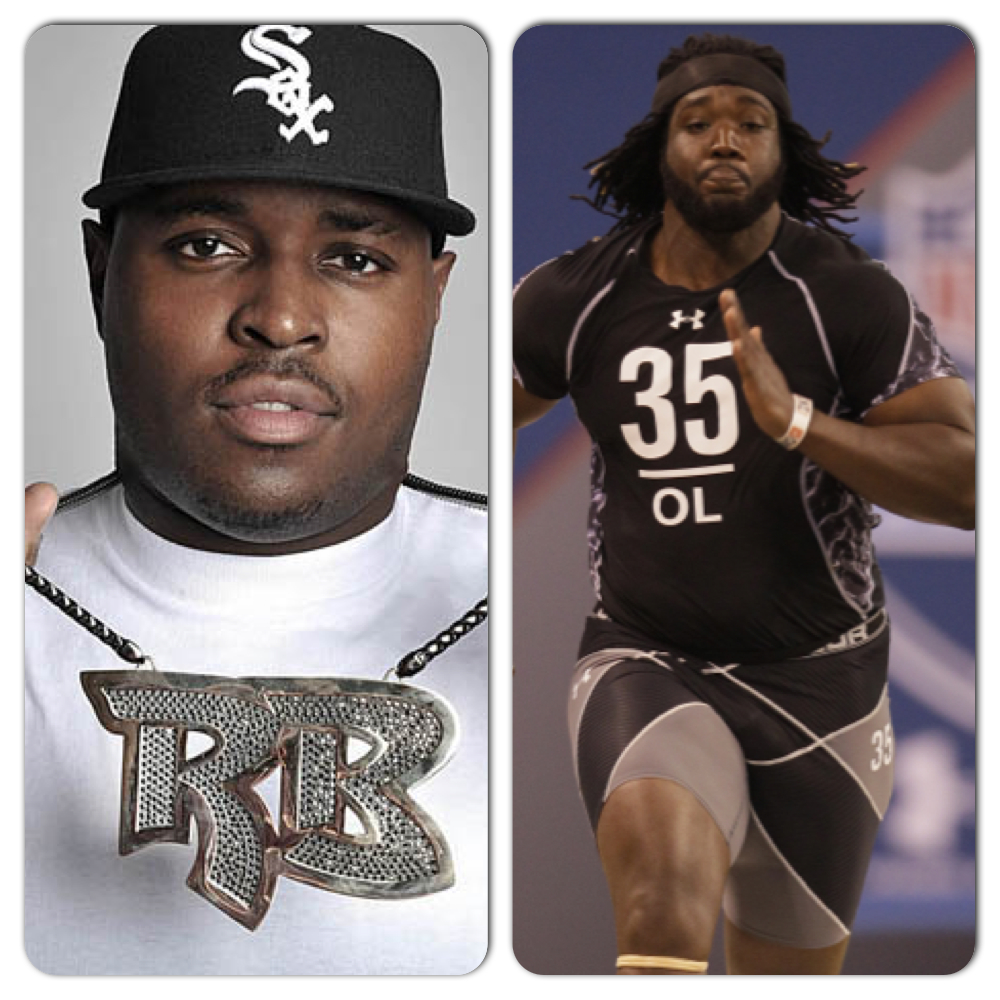 Keshawn had three catches for a total of 36 yards, while Lestar "Mean" Jean caught my eye with four catches, 42 yards, and one touchdown. LJ got the crowd roaring and my Twitter buddies buzzing, all in keeping with his new-found nickname. I pick LJ.
RIGHT TACKLE:
With the departure of Eric Winston in the offseason [sob!], these two cats will make a play for the starting RT position. Butler may have the inside info from Winston, but Newton will show that he is a force to be reckoned with, using his strength and endurance in hopes of outshining the seven-year vet. Although each got equal playing time in the first two pre-season games, it is hard to tell if Newton will be able to catch up to the accomplished Butler, in order to clinch that opening spot in time for regular season. I pick RB…for now.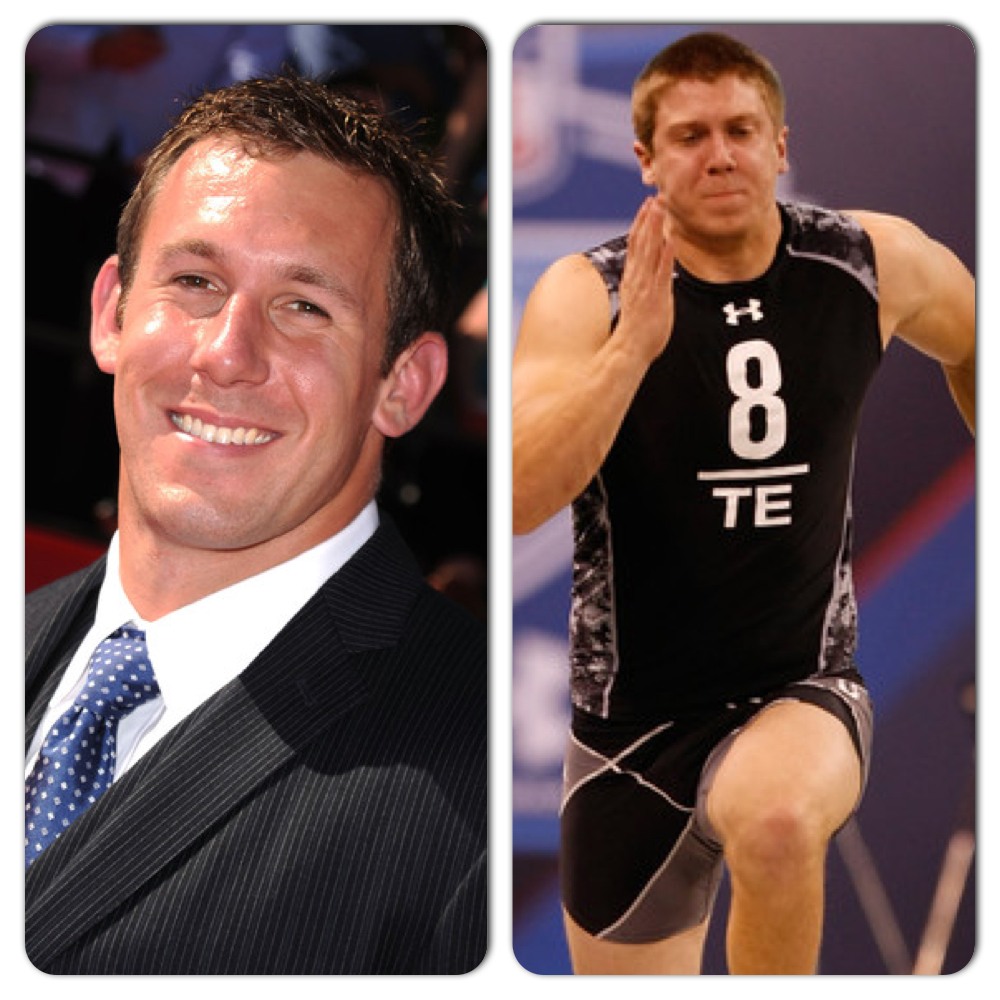 TIGHT END:
Be still my heart: two of the hottest dudes on the team (who, most unfortunately, both have serious girlfriends.) Foiled again! Alas, we will just have to resort to comparing them based on their football skills, I suppose. "Tight end" jokes aside, these two bring some serious talent: the two Wisconsin-bred O-Liners make quite the team. Daniels 2011 season was on the better side of reliable: 54 receptions, 677 total receiving yards, 12/5 average receive yards per game, three touchdowns, and zero fumbles.
This season, Owen is projected to do even better, especially with his counterpart biting at his heels. Graham put up 44 passing and 3 receiving yards in the Texans/Panthers pre-season game on August 11th. Based on what we have seen thus far, OD will need to keep his head down and crank it up if he doesn't want to be sharing his game minutes with Graham in the near future. For now, I pick Daniels.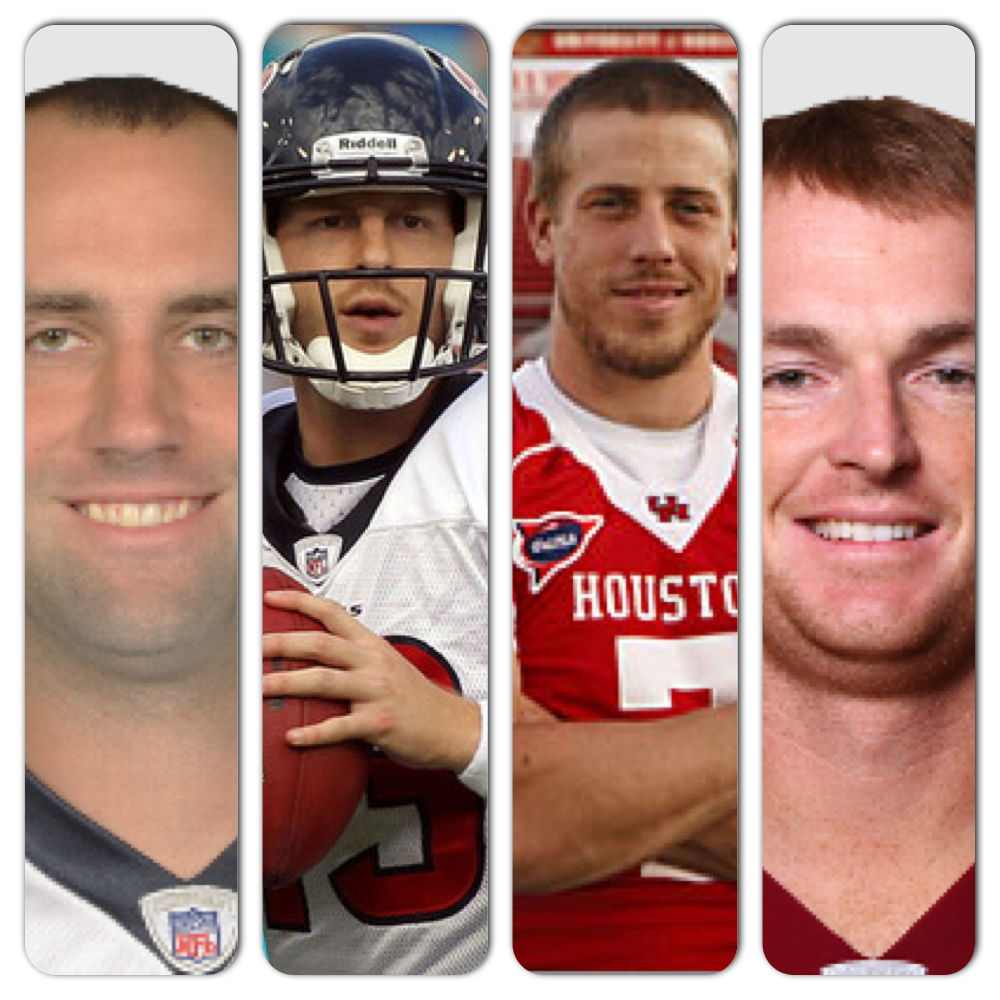 QUARTERBACK:
Matt Schaub / T.J. Yates / John Beck / Case Keenum
Clearly, I can't make an argument against Schaub starting, so I will delve into my argument here for rookie Case Keenum. I have been a Case fan for several years now, and I was greatly disappointed that I only got to see him play [less than] seven minutes of pre-season game time last weekend. Within seconds of being put in the game, I saw Case complete a beautiful 20-yard pass to TE Logan Brock. Although he later over-threw a pass to WR2 DeVier Posey, I sincerely believe that Case should, without a doubt, be in the number three spot behind Yates. Keenum is the Football Bowl Subdivision's career leader with 19,217 passing yards and 155 touchdown passes in his college career. PS: Who is John Beck? [This is not Jeopardy]. For this vote? I'm taking a pass [pun intended].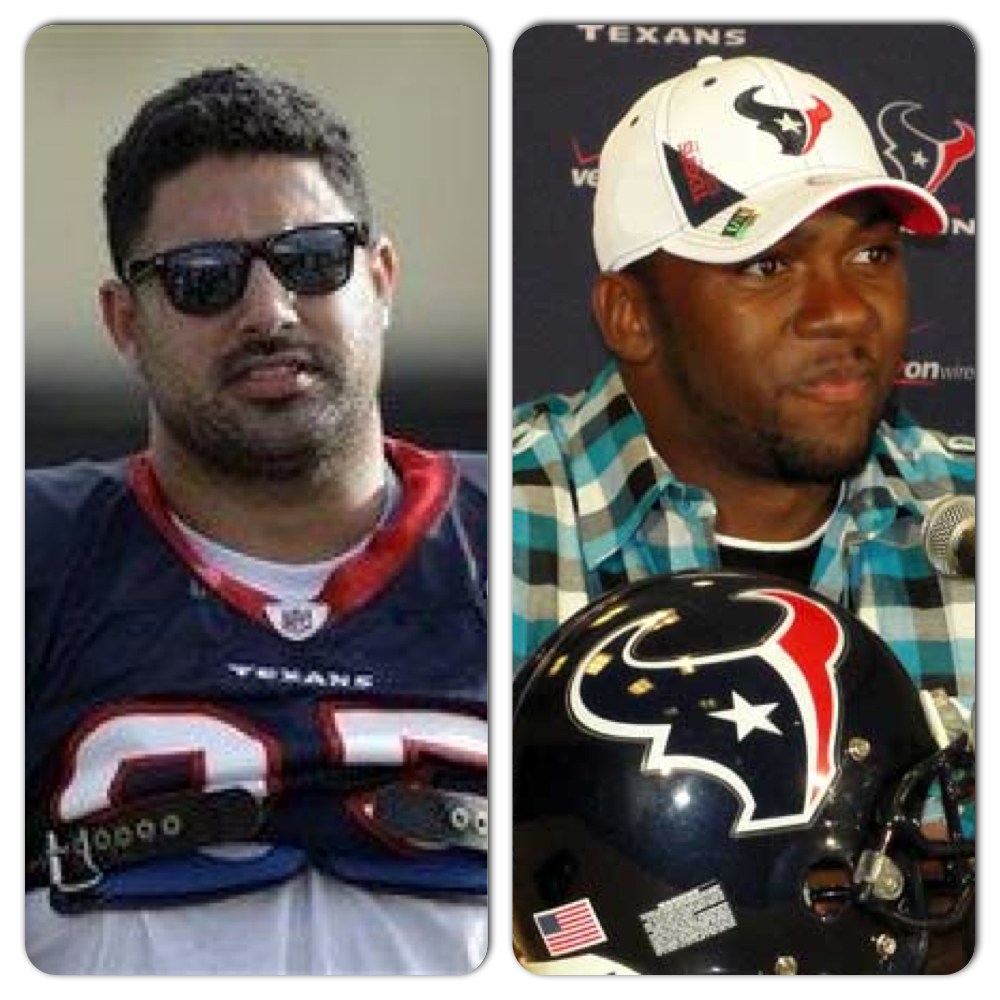 Defensive Line:
DEFENSIVE/NOSE TACKLE:
There is a noticeable absence up the middle where Shaun Cody normally resides. In light of Cody's recent injury, Mitchell stepped in for the most recent pre-season jaunt versus the Niners last weekend but, to no avail: Texans defense left room for 94 yards rushing just in the first half. Unable to diagnose the 49ers plays, Mitchell is certainly no match for the OG run-stuffer Cody.
WEAK-SIDE LINEBACKER:
Connor Barwin / Whitney Mercilus
There are a few of you who know my feelings on Kramer…uh, Connor. He is a comedian, but a hard worker, too, coming back from being a Cinci-based no-name with a leg injury two seasons ago, to now as the face of the "Bulls on Parade" sensation. He's put in the work and the fans know it. I, for one, would not want to be in the way of a Connor in black face paint and pads.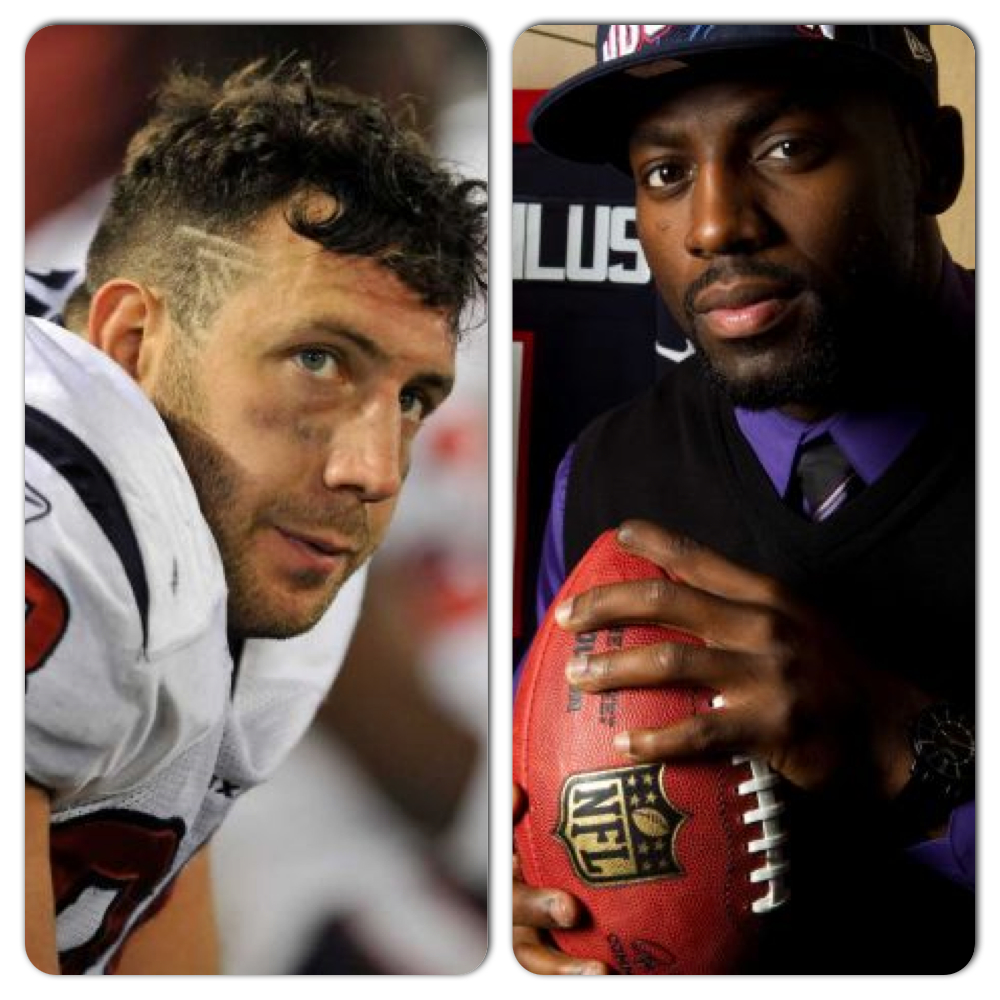 That being said, here comes Whitney on the fast track to fame, and, let me tell you, Wade Phillips knows it. Hell, the entire city knows it. The fans seem to have accepted him almost immediately; and boy, does he have the collegiate career highs to back it up: 9 tackles, 5 solos, 4 TFLs, 3 QB sacks, 3 QB hurries, 2 forced fumbles. Shall we list a few of his accomplishments as an NCAA badass? 2011 Ted Hendricks Award (top DE in the nation), 2011 CFPA National Defensive Performer of the Year, 2011 Consensus First-Team All American.
It could partly be Mercilus' great big smile and sweet brown eyes, but it's he who gets my vote in this WLB category. I know Coach Wade will be making a lot of headway with this matchup before the Texans head to Saints territory this weekend. Yet to be seen if the Texans will resign the 6'4" jokester Barwin; if they do not, Whitney's got some very large shoes to fill.
Special Teams: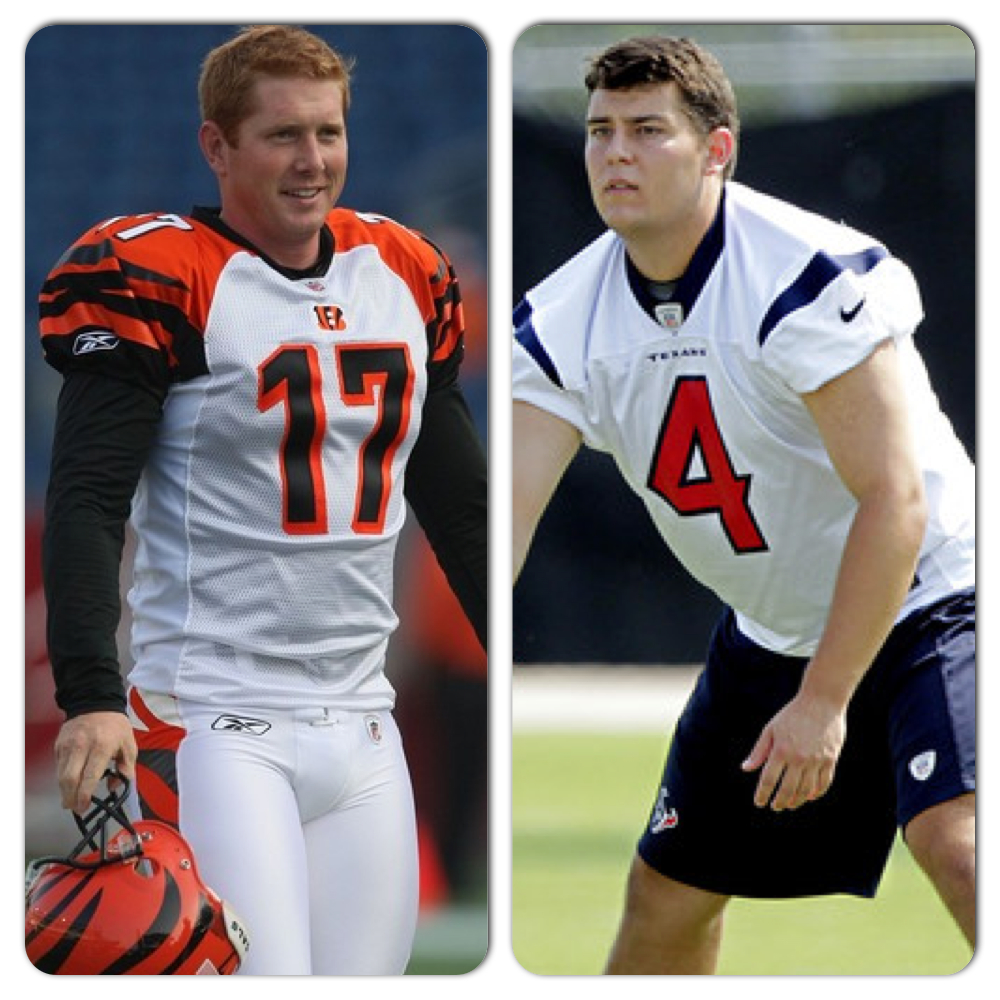 PLACEKICKER:
In last weekend's pre-season game against the Niners, Graham successfully made two field goals 48 and 49 yards respectively, while Bullock missed from 51 (which really isn't a 'go sit in the corner' type failure). While most are in favor of giving the rookie kicker the job, there are conservatives that believe that we should not be entrusting this position to someone with little to no NFL experience. One could also argue that Graham is ahead, in terms of pre-season games. There is also talk of Bullock suddenly getting "injured" in the coming weeks, so he can go on IR. Rookie gets my vote: for Graham to secure this position, Bullock would have to miss a few FGs in the 30-yard range (highly unlikely).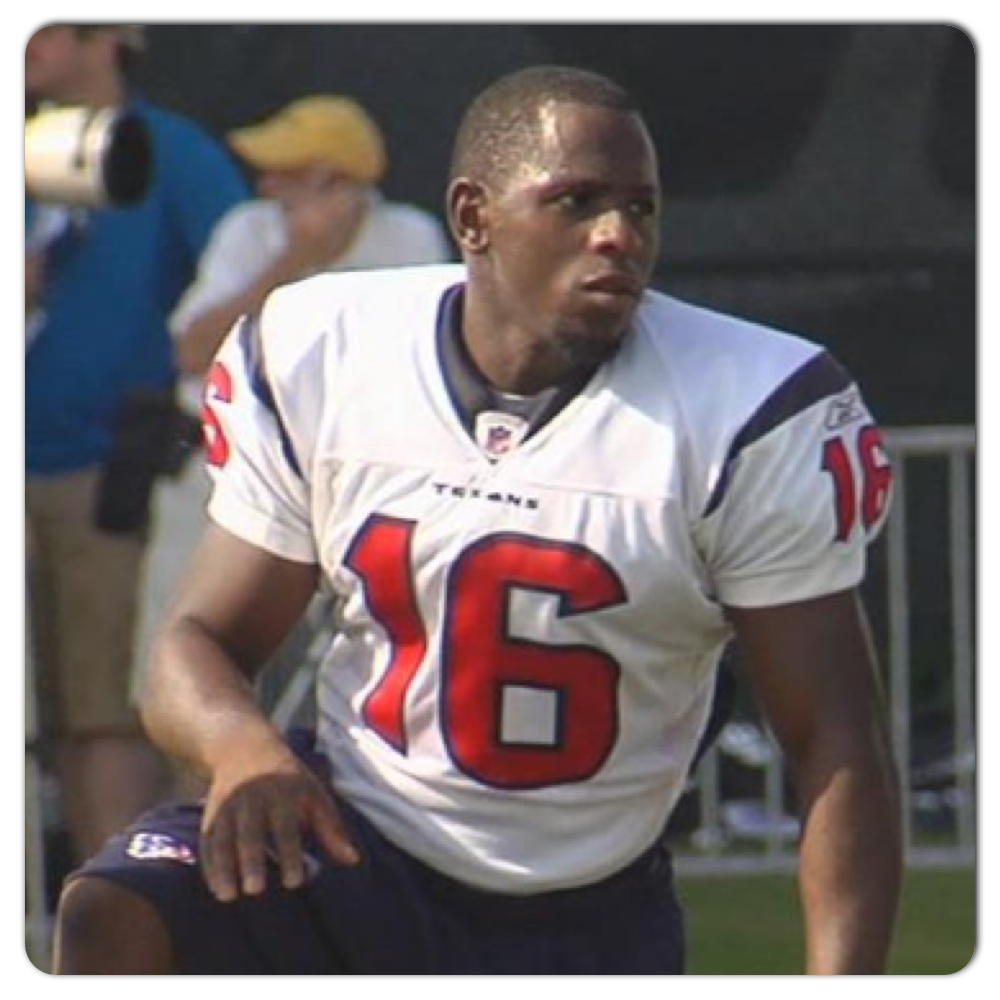 Lastly, let's chat about Trindon Holliday. #DSB wants to know what you think: has he earned his spot as the team's 6th receiver? After Trindon's stellar performance on Saturday, (106 yards on four punt returns) he is just in time for the #HollidaySeason, if you ask me.
How did my picks measure up to yours? And girls, feel free to chime in and let your favorite man in Deep Steel Blue and Battle Red know you got their back.
#PeaceLoveAndFootball
;
;
;
photo credits: houstontexans.com uniquephotographyanddesign.com nike.com thedzone.com weblogs.sun-sentinel.com zimbio.com sportsoverdose.com wbrz.com battleredblog.com tcschmidt.blogspot.com espn.com twitter.com blog.chron.com chron.com otrsportsonline.com
;
---
---