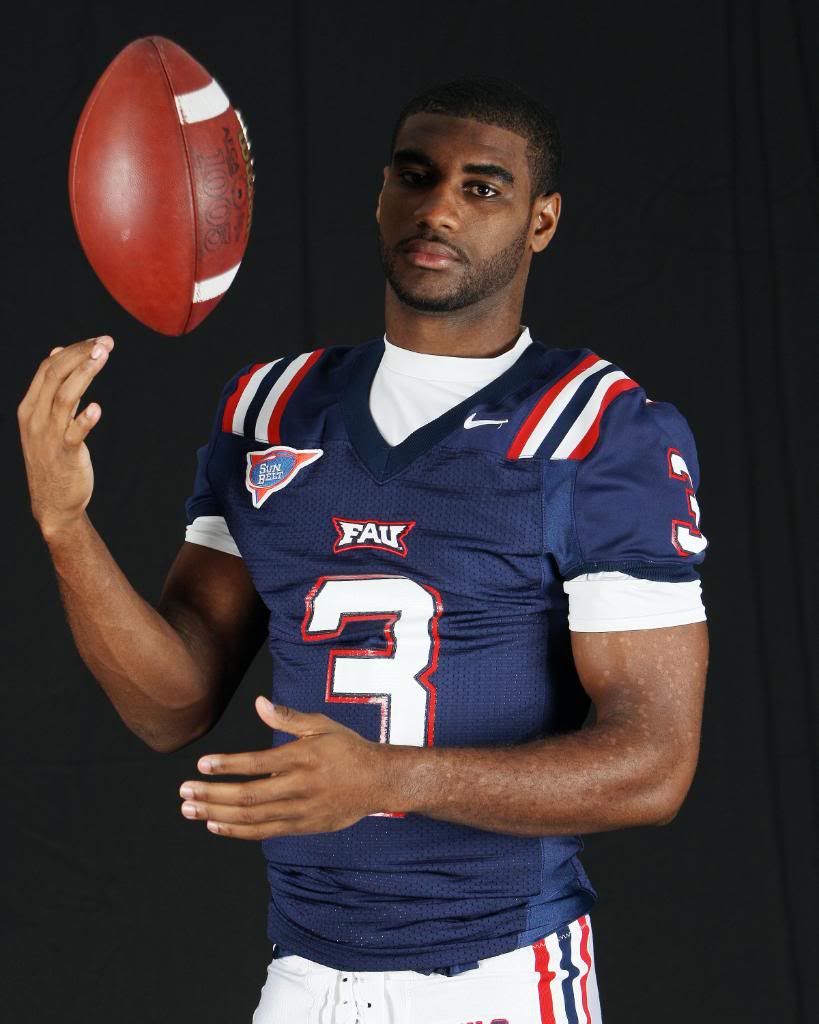 Andre Johnson, Kevin Walter and….Lestar Jean? If you haven't heard this name before, it's about to fall out of the sky and hit you in the head. 'Big Play' Jean has more than proved himself in his impressive start this 2012 pre-season. Despite a severe shoulder injury last season, Jean has come back stronger than ever. Pre-season highlights include Jean as the top receiver versus the Panthers August 11th with 50 yards, and a 9-yard touchdown grab from Schaub during the Niners game on August 18th.
Seventh of eleven brothers and sisters, Jean started playing football at the age of nine. He graduated with a degree in Criminal Justice from Florida Atlantic University in 2010, winning several awards throughout his college career: Most Improved, Offensive MVP , Second Team All Sunbelt, Conference Game MVP, and the "Big Hit" award. The first in his family to graduate from college, Jean now has an entire career ahead of him to continue to make his loved ones proud.
Lestar is a different sort: he is serious about his craft, and loves to talk football exclusively.  I respect that fact and, in turn, will give you the hard facts about our WR, with no added fluff. With that said, let's check out our Q&A:
DreamShakeBarbie: Tell me a little about growing up; when did you realize you wanted to play pro football?
Lestar Jean: When I was playing little league.
DSB: Did you play other sports as a kid or in high school?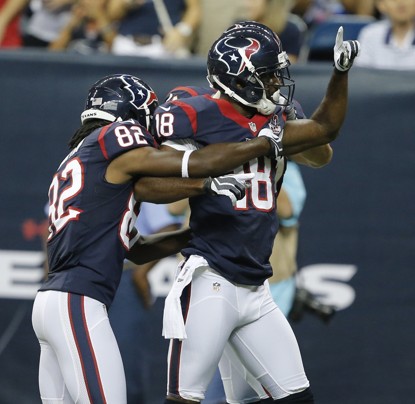 LJ: Yeah, I played basketball and ran a little track.
DSB: What was your first big play that you could never forget?
LJ: When I scored my first high school touchdown my junior year.
DSB: What's your favorite spot in your hometown of Miami, and why?
LJ: My favorite spot is my mother's house because that's where everyone hangs out.
DSB: How much did your shoulder injury affect your mentality last year?
LJ: It was depressing, but I was just happy they gave me another opportunity to comeback.
DSB: What was your recovery like?
LJ: It was long but it was a good time for me to get better.
DSB: Do you have a specific diet you follow during the season?
LJ: No, not really. I just use the off-season to work.
DSB: What's a food or beverage that you can't live without?
LJ: I can't live without burgers and fries!
DSB: There was a lot of controversy earlier this year around the fact that Texans were lacking in the WR position. How do you feel about the situation now?
LJ: It's a good situation; a lot of players that can help this team win.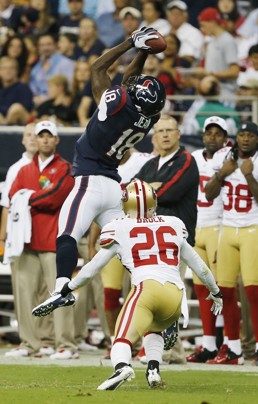 DSB: Who would be in the lineup of your all-star ultimate Fantasy Football draft?
LJ: Everybody on my team because we have a lot of great players.
DSB: Players always say their goals are to help their team win. But in this, your first healthy season, what kind of numbers are you, yourself, shooting for?
LJ: I'm really just trying to help the team win.
DSB: With all the talk about concussions keeping parents from letting their kids play football, do you think that is just hype, or is there some truth to that hurting the game?
LJ: Yeah, this a big deal and I'm happy that they are doing something to change it around because it will benefit the players in the future.
DSB: Do you have anything special planned for after you catch your first touchdown pass?
LJ: No I just plan on scoring more. I just want to help the team.
DSB: Do you have any pre-game rituals or superstitions?
LJ: I just have to catch a lot of passes before the game.
Follow Lestar on Twitter @LJean3.
#PeaceLoveAndFootball
photo credits: bigplayjean.com washingtonpost.com