---
---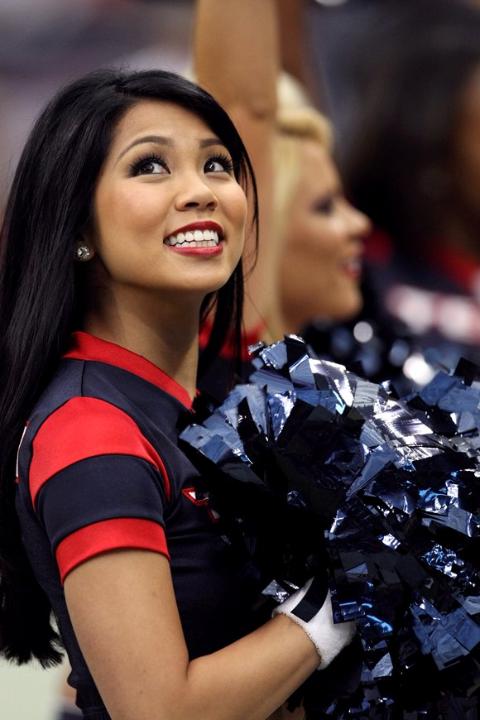 Can I get an "amen!" for Duyen Doan, my pick for most stunning and affable Houston Texans cheerleader [HTC]. With a 4-year tenure to the HTC squad, the 21-year-old from Irving, Texas, is a dynamo in miniature. Although without a doubt one of Houston's most eligible beauties, Duyen is humble, funny, and just the right amount of sweet.
"Veteran" seems like such a strange term for someone so young, but already Duyen proves a role model to her squad-mates: "…it's an honor and a privilege to even be an HTC. It's still so surreal to me to think I've made it this far…[I] work with such an amazing group of girls; veteran is a relative term." Duyen tells me she has been dancing "for as long as I can remember; probably since I was about four years old." She has constantly been with one Dance Company or another. After graduating high school, where Duyen participated in swim team and volleyball, she moved to Houston for school and was soon ready to take things to another level. "I trained three weeks straight to tryout to become an HTC."
I am curious to know what craziness awaits these girls when they enter HTC tryouts every year, so I ask Duyen to break it down for me: "Tryouts are exciting and stressful at the same time. The Texans pull in the largest turnout of cheerleading tryouts [in] the NFL." I know what you're thinking…how many hot chicks can you put in one room? And Texas girls nonetheless! Duyen continues, "Tryouts consist of three rounds of dancing, and then the final 50 are chosen. From there we have a trial period of practices, in which we practice for Finals that take place on draft day." Duyen pauses to explain to me that she feels there is much more pressure as a returning veteran than there is for first-timers. "Not only are you dancing for your spot, there is a lot of pressure in upholding the standards of an HTC." There is also a voting process, where fans can vote for their favorite girl. "To a certain degree, the voting process helps aid the Texans in choosing the final squad."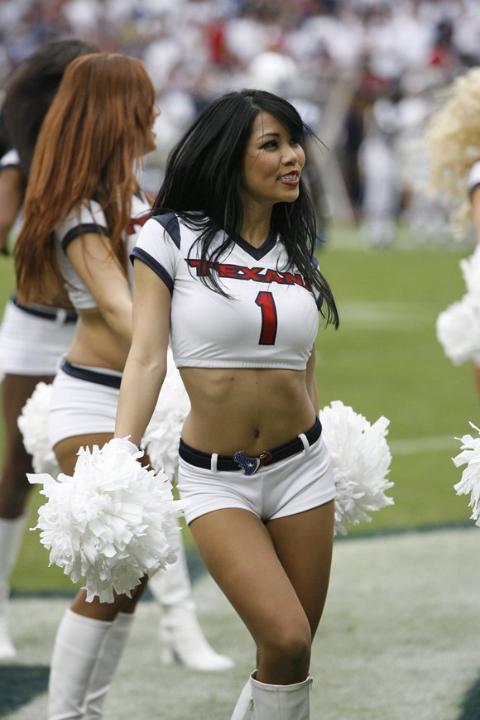 Think cheerleading is easy? Try learning a new dance and sideline for every game, as well as "drilling and perfecting" their craft. "We practice three times a week, and the hours depend on how much work we need to get it down." Duyen busts her ass in the gym every single day, and her workouts are hardcore. We're not talking 20 minutes on the Stairmaster and a quick trip to the sauna, here. Hand in hand with that tough workout schedule goes a clean diet. "I live a "paleo" lifestyle, meaning I eat protein, good carbs and healthy fats." Don't worry; Duyen cheats every once in a while (as she should!). "Macaroons and crawfish are my weakness!"
Of course I bring up the players, now, but Duyen is such a professional that she doesn't even flinch when I ask about the strict "no dating" policy that is enforced by the Texans: "Upon making the team, as an HTC, you sign a contract enforcing that you will not fraternize with any player or staff from the NFL. I have never witnessed a situation during any of the seasons." She goes on, "we work very hard for our positions and would never do anything to jeopardize our spot on the team." I ask if there was anyone, hypothetically, if she was forced to select a team member to date, who would it be? "I would have to say I'd choose Toro…he's really laid back and has a really great sense of humor. I've had a crush on him since my rookie year; he's so cute and fluffy, definitely his biggest fan." Awww!
So by now, we know Duyen is an athlete, but does she love to watch sports? "I love sports hands down, it's a given," she exclaims. "I am obsessed with basketball and soccer." What about her favorite game time snacks? "You would most likely find me munching on some nachos with a diet coke in hand." Side note: Duyen just likes the taste of Diet Coke better than regular Coke. Girl after my own heart.
Finally, I force some guy talk out of this cutie pie: "I guess my ideal match is someone that I know I can rely on. My life is nonstop and really fast-paced, so definitely someone that can keep up with me." She has a soft spot for a sense of humor, "…I love a guy who can make me laugh, but at the same time can take care of me….[someone] with a good head on his shoulders, with strong morals and values." She giggles, "…and if he can dance, it's a plus!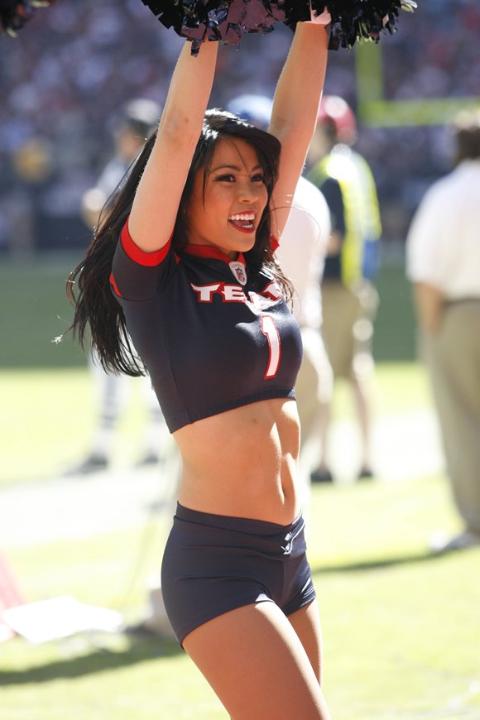 TEN THINGS YOU DIDN'T KNOW ABOUT DUYEN:
I am a pescatarian.
I am a workout addict; I can probably military press more than most guys!
I'm a good bowler; I even have my own pair of bowling shoes.
I am the founder of the Texan Branch Friends of the Lepers in Vietnam Non-Profit Organization.
My dream car is an Aston Martin DBS
In my free time, I like to volunteer at the animal shelter; I am always coming home with abandoned cats and dogs.
When I was a kid I loved eating pickles and Parmesan cheese. Nothing has changed.
I have awesome hair-flipping technique. Ask any of my friends about it!
Ever since I was younger, I always wanted to be a dancer for Disney World. I am still considering it.
10. I love cheese, whether it be fried, melted, Gouda, goat, cow cheese. But It definitely doesn't follow in on my paleo diet.
You can cheer Duyen on at all the Houston Texans home games, and follow her via twitter @HTC_Duyen.
Oh, and boys? You're welcome.
#peaceloveandfootball
---
---