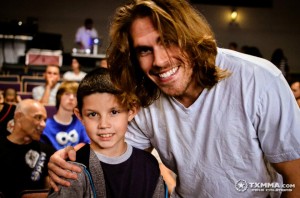 What makes an undefeated, demi-god-lookin' UFC fighter even more deadly than his 7-0 professional record? I set out to find the answer, and Andrew Craig did not disappoint.
You wouldn't know it from the way Andrew picks each of his opponents apart, one by one, but he is one of the most charismatic, humorous, and, lest I forget, devastatingly handsome athletes I have ever had the pleasure of meeting. His stats speak for themselves: in just eleven fights (seven pro, four amateur), Andrew has racked up five wins by unanimous decision, three submissions, two TKOs (one of which resulted in a referee stoppage from strikes), and one KO. Want to know Andrew's secret? That smile of his could distract the white off rice.
If there ever was a hometown athlete to root for, Craig is it. He is a graduate of Stratford High School, and obtained a degree in Corporate Communications from the University of Texas in Austin. When I asked him what the heck he thought he was doing, deciding to fight in a cage for a living, he replied, "You know, it wasn't that I wanted to do it for a living. I just wanted to do it once. I was obsessed with this sport. I thought it was the coolest sport in the world. "
Andrew explains, "My cousin [Brazilian Jiu-Jitsu Black Belt, Travis Tooke] was teaching [Jiu Jitsu] in Houston, and he had some fighters under him at the time like Yves Edwards and Todd Moore…so I was like man, those guys are legit, maybe I could learn a little something, maybe do one amateur fight, get it out of my system, and be done with it. But I was hooked." Craig went on, "Even though I kept on telling myself it was going to be one, nahh…so now I have 11 [fights under my belt]."
(Notice right away how freaking rad this interview is already, and we're not even five minutes in).
Andrew and I both order smoked salmon sandwiches, his on sourdough, mine on a whole-wheat bagel, and a couple of iced teas. I notice that he uses one Sweet-N-Low and one Equal packet each in his glass. Of course, I call him out. "Yeah, you know, I like to keep it lean, keep it healthy." [Laughter, on my end] You know I don't usually see Equal a lot, so I thought I'd give it a shot." [More laughter]. Yep, we're going to get along.
One would imagine this fighter would have an ego the size of Serena Williams' ass by now, but not Andrew. "To be honest, I couldn't tell you [if I've had any impact on Houston MMA]! It's not so much me having an impact; it's people like you or like "The Cage Door" when they were around. They did a huge job on promoting fighters. None of us would be near as well-known if it wasn't for them." He adds, "Mick Maynard's got Legacy right now, it's mostly those guys that shed light on us."
I asked Andrew if there were any fighters on Houston's MMA radar that stand out to him as being able to sustain a long-lasting career: "As far as the guys I train with I really think Lester Batres; he's as bad as they come. Him and [William] Bubba Bush, who I fought previously. I think that dude can dominate some fools on a national level." He continues,  "[Artenas] Chico Young could get there with a couple more wins. [Mike] Bronzoulis and Todd Moore, they have already fought for Strikeforce. One of my coaches, Jace Pitre, he's been out of the game for a little while, but if he came back to it, I think he would make it, make a good run for himself."
Craig reflects, "It's tough to say just because it's such a fickle business. There's so much talent, which is why it makes it easy to live and train in Houston and not have to move anywhere else. If you're in a different sport like Muay Thai, you are going to have a hard time competing at a top level internationally, unless you go to Thailand, Amsterdam or California; whereas if you wanted to go to a top level in Houston, you could do that."  In conjunction, I ask how he thinks Houston MMA is measuring up to other hotbeds like Vegas and Albuquerque: "It's like at least top three in the nation, right?" I would certainly say so, yes.
So what kind of a fighter does Andrew like to go up against the most (and the least)?  "I enjoy fighting all [types of fighters], because you train differently for each one, and each one poses a new challenge."
"My past couple of fights have been like 'defend the takedown, get up, take them apart on their feet' so, I think it would be good if I had to fight a really elite striker. As far as what I've had the most trouble with is the power wrestler, which I think my toughest fight to date was with [William] Bubba Bush." As far as submissions go, "With the Jiu Jitsu guys, I'm not too worried, because most of the time their wrestling's not as good as a pure wrestler. Most of the time Travis [Tooke] submits me worse than anybody else, so I'm usually pretty good to go."
Andrew's next UFC fight will be on July 11th versus Rafael Natal. "He's a Brazilian dude, lives in New York, trains with Renzo Gracie, Phil Nurse…he's got good coaches around him."
When asked how he will prepare differently from his last UFC face-off versus Kyle Noke on March 2nd of this year, Andrew reassures me, "honestly this [fight] is almost identical. This guy, he switches stances a little bit more, whereas Noke didn't really [do that] as much; this guy will go Southpaw and go back and forth.  I don't think [Natal] has as good of a takedown as Noke, but, this guy [is] a good grinder, honestly. He's been dropped in a lot of his fights, but he still just comes back and you're like 'Wow! How the hell does that guy do that without getting in that much trouble?'"
Andrew pauses, "I think the biggest thing with this one is just…don't get sloppy. Cardio has almost been the best thing I have. My wrestling, my Jiu Jitsu, my striking, you know, none of those are that great; but my cardio is pretty damn good…yeah." (Like I believed any of that for one second).
"As far as what I'm going to do [in the future] and the goals, I'm pretty short term actually. I'm going to beat [Natal] and that's the thing I'm going to do next. Down the road, as far as fighting goes, just it's pretty general, keep fighting and winning. But as far as what do I want to do with that success? I'd like to keep coaching; I'd like to open my own gym. I've already talked to Travis about it. I'd like to open a gym probably in Austin, actually."
Quickly I start tabulating the trips and gas mileage between here and Austin, since naturally the first thing that comes to my mind is that Andrew and I will most likely be entertaining a long-distance romance by then. So I ask him, "Austin?" He hesitates, "I mean, I would like to.  Again, that's more the indefinite goal, you know. The first one being my next fight, very definite, this next one is indefinite. Not as big of a definite time frame I should say." (Insert sigh of relief).
So, what does Andrew Craig do to prepare for a fight? What does he eat? All of these are questions that were on my mind. He obliges, "I try new things all the time…not to stick with such a rigid structure if I know there's something better out there. I'm always open-minded, trying to learn new things and improve myself. For example I did hot yoga this morning. This might be what I would call an 'active recovery day'…so it was like an hour and a half and it was brutal, but that's something I need to do to become a little bit looser." Andrew explains, "I fight at 185 which is middleweight, so if it's a non-title fight you can weigh 186, and I usually walk around, like before I start really buckling down in my cardio before a fight, maybe around 205, 210."
"The biggest thing that Travis taught me since I first started was [taking] 'positive thinking' to like a crazy level. For instance, some guys say 'there's no way I'm going to lose' I don't even do that, because that's like you're still saying there's like a 'lose' in there, so I say 'I'm positively going to win.' I imagine beating my opponent. Before I go to sleep, if I'm nervous about it, I'll go through my progression, and then go to sleep with peace of mind, knowing that it will be an easy decision, like unanimous, winning a hard-fought split decision, getting a crazy knockout, winning the submission, every single time it's like 'BOOM! BOOM!' My hand raised-type of thing…"
I confirm, "So…you just fire yourself up?" "I mean not even that, just like reinforcing my mind that I'm going to win", he replies. Boss.
I ask about pre-fight rituals: "Yeah, I slap myself like a hundred times… [laughs] no, I don't do anything like that. We honestly, like, chill out to tell you the truth.
Next I talk to Andrew about MMA athletes, and what sets them apart from other athletes. "There's no team, there's nobody to take the fall if something happens except for you. You don't get another game the next week; you don't get to redeem yourself that quick. You've got to wait months. If you lose, you go to the undercard. People are forgetting about you that quick. I think it's much bigger pressure than a lot of other sports."
All right ladies, you've been patient: time for y'all to tune in while Andrew and I talk chicks. "When I first started [fighting], I had a girlfriend. I dated her until my last Legacy Fight, so…[Eric] Schambari. I got done with that fight, signed with a big management company, and it's been kind of training and business since. So not a whole lot of [a dating] life that you have."
I retort, "So no groupies?" Andrew smiles, "I don't think so…. uh I don't know. Maybe? [Laughs.] That's possible I suppose? It's not like I walk around the street and have people stop me and ask me for autographs. Now, if I go to a Legacy fight, yeah, I get a lot of attention from an MMA community. Like when I was in Sweden [supporting teammate, Michael Chase Corley], they didn't know who I was…I just got a lot of 'Thor' comments, and that's it.' [Laughs.]
So what's Andrew's type? Shit, this guy's hard to crack:  "I've never really broken it down like that."  Okay…so I go with a different route: "Well, not just physically, in terms of personality, is there anything that's important to you?
Eventually, I get what I'm looking for: "Humor is big. Being sweet and nice, stuff like that. But being thick-skinned enough to handle me being a sarcastic asshole at the same time." Bingo.
UFC on FUEL TV 4 will take place July 11, 2012 at HP Pavilion in San Jose, California. The main card will air on FUEL TV, and Facebook is expected to carry the prelims.
Follow Andrew on Twitter @andybcraig.
#peaceloveandsubmissions
photos via: Mike Calimbas  TXMMA.com  Jexse Studios by Jesse Soto