---
---
"The stars at night are big and bright [clap! clap! clap! clap!] deep in the heaaart of Texas!"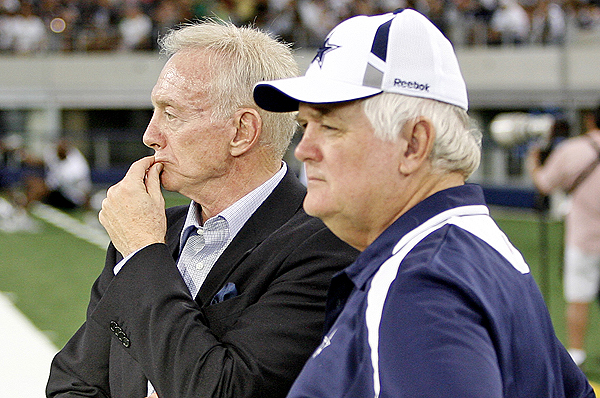 Undoubtedly, there are some Cowboys fans that follow my blog. After all, the infamous Dallas star shows up just about everywhere. I know what y'all are thinking: "We want more Texans talk!" And we will get there, no need to be greedy. But since this was my interview, I was curious to see what it would be like to be the head coach of such an organization such as the Dallas Cowboys; and, of course, what it was like working for Jerry Jones. Does this pique your interest? If not, here's a photo of me in a bikini. (Kidding; made you look for it though, didn't I?")
Get your head out of the gutter and back in the game, fellas. It's time to talk Cowboys.
When I asked Coach about his Dallas days working with Jerry, I used the term "hot seat". It didn't take long for Wade to open up about the "constant attention" he received, "both local and national." "[Jerry] is a very good business man, and…really fun to be around."  I am sure there are fans that would scoff at such a statement, but Phillips deflects, "I don't think a lot of people know that [he is a fun guy]."
Wade continues, "One of the things that Jerry does really well is keep [the team] in spotlight. He keeps the team promoted year after year…that includes being on national TV, or having a huge following when they go on the road." Phillips reminisces, "When we would go on the road to New York or Philadelphia, the hotels you are staying in are mobbed with Dallas Cowboys fans!"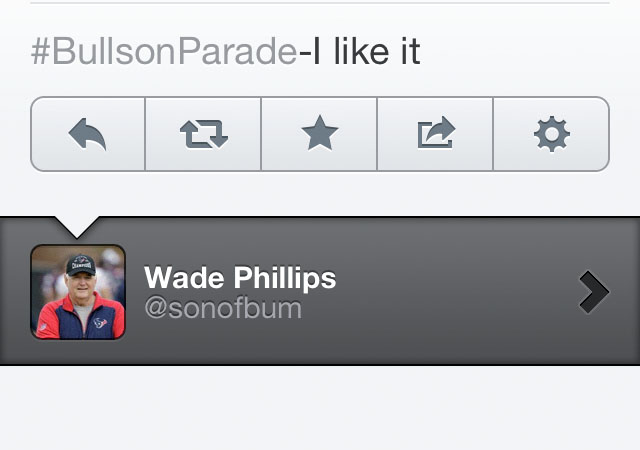 Here, I interject that when I lived in Vegas, there were a ton of Cowboy fans. Coach informed me, "One of the deals that Jerry has is [selling Cowboys] merchandise in Utah. He'd sell stuff for the Utah Jazz and all of that…and he sold more Cowboys stuff than anything. And that was in Utah." Pretty impressive!  He continued, "[The Cowboys] were popular way back with Roger Staubach, and then again with Troy Aikman, Michael Irvin and Emmett Smith. I really think that says a lot of Jerry." He explains, "They were the only team in Texas for a long time, and, to me, that is why a lot of people in Texans, and they are older people, I guess, are Cowboy fans."
My very last question for Coach was, of course, about Twitter. If you aren't following him, you really need to [@sonofbum]. He drops little gems of wisdom and humor on my timeline, and interacts with his fans. Oh, and #likeaboss, he follows NO ONE. I freaking love it.  "Nobody really encouraged me [to get on twitter], but when it first came out, and I was in Dallas, I just thought, 'Hey, this is interesting.' I did it for a bit, and then I got away from it…I think that I probably should have had a lot more interaction with the Dallas fans. I really didn't get into it too much there."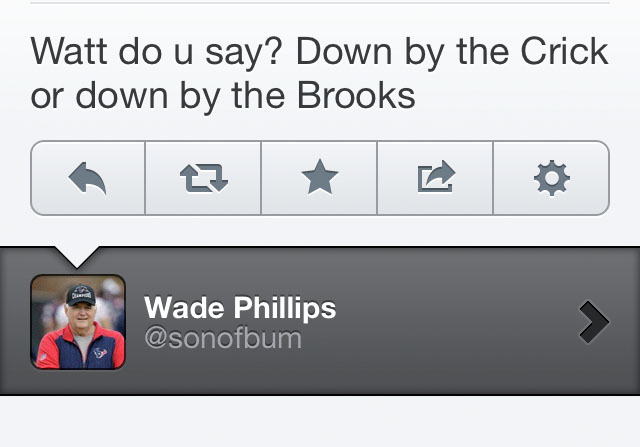 So what made him hop back on? "Nick [Scurfield] [follow Nick @NickScurfield] does it here for the club, and he and I got to talking about it. I feel good about our fans."
What does Wade plan to tweet about to all his 700,000+ followers? "I will try to give them a little insight…a lot of people don't really know what we do." Well, we sure love your tweets, Coach. Keep it up.
I am a little bummed out that this chapter of the Wade and #DreamShake show is at an end. After all, Coach Phillips is like family now, and I sincerely hope to make that "lifelong friends" list he spoke of in my last article.
Make sure you head out to the Texans games this fall and #GetWade.
Till next time, y'all.
#peaceloveandfootball.
Photo credits: dallascowboygirl.com  twitter.com
---
---