---
---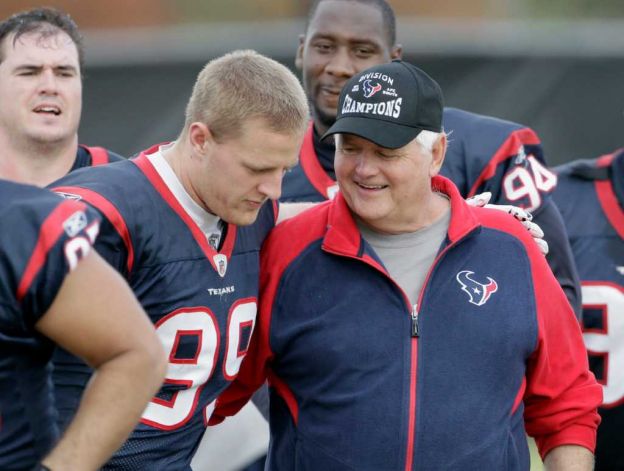 #BullsOnParade. I think it's safe to say that Texans football fans are well aware of this term of endearment that LB Connor Barwin gave our D-Line. Not only did both fans and Texans team members embrace this phrase, it all but became a new branding for the organization. Clearly, we have a bunch of beasts on our defense; believe me, I will be talking about my favorites here shortly. But here's the question: who do you think is responsible for this pack of chest-beating, QB-slaying, nose-bleeding, lion-roaring defensive players? Answer: Coach Wade Phillips.
Coach is pretty modest when it comes to the success of his defense. "[The Texans] already had a lot of good guys, a lot of hard workers. They wanted something new, and we had to change some positions. It was new to them, but they all did really well." Wade continued, "I just think the mentality of the group overall, how hard they work really helped us as much as anything."
For those of you unfamiliar with these boys, let's get to know some of my favorite (read: hottest) members of our D-Line.
Antonio Smith (Defensive End): In our interview, Coach Wade makes it a point to recognize his DE's Pro-Bowl appearance. Smith is a powerhouse; where he may lack in agility he makes up for in brute strength. Experience and leadership make Antonio an asset to Texans defense, and with Wade's encouragement and guidance, will certainly be a force to reckon with in the 2012-13 season.
Shaun Cody (Defensive/Nose Tackle): Although somewhat limited in his flexibility, Cody does a great job moving at the snap. Last season, Phillips had Shaun take on an assisting role to the linebackers, freeing them up for plays as he took on the blockers. After Coach moved the team to a 3-4 defense, Shaun adapted well. My only request? I believe he needs a bit more bulk to take on centers and guards on a consistent basis.
JJ Watt (Defensive End): Alright, alright. Enough with the smirks. We all know I have a soft spot for JJ. But guess what? So does Coach Phillips. So I'm not alone on this one. Plus, he's got the stats to back him up: Watt is an overall #boss athl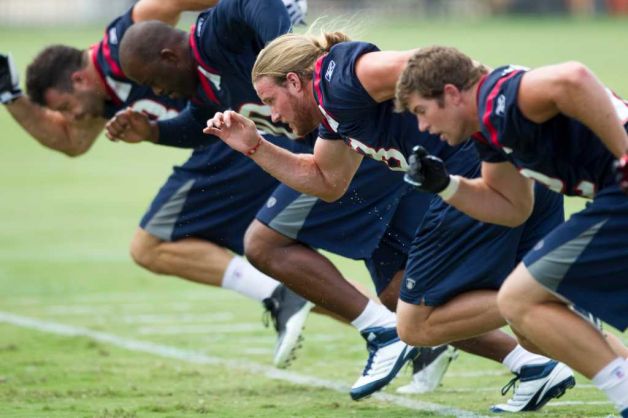 ete; he has both size and the agility, putting him squarely in the "beast" category. He is able to take on lead blockers with ease, and is capable of picking off passes others would otherwise bat down.
Coach Phillips singled out both JJ and LB Brooks Reed specifically in our time together, affirming that the duo "played better than probably any rookies in the league." Brooks had three and a half sacks during playoffs and six during the regular 2011-12 season. Certainly not the man I'd like to see heading for my face with a football in my arms.
Jonathan Joseph (Cornerback): Recognized nationally as one of the best Cornerbacks in the NFL, Jonathan is quick to attack and close the ball. He is lighting on his feet and loose in the hips, coupled with outstanding body control. He excels at being an open-field tackler; not many players can outrun him.
Connor Barwin (Linebacker): This specimen of a man collected thirteen sacks in the 2011-12 season. Connor is disciplined, knowing where the ball is at all times, and drops into coverage when it is most needed and effective. His energy and effort are consistent, even when faced with a position change at the start of last season (Coach Wade remarked that he "did great" when he was moved to LB). One thing's for sure: Connor bleeds Steel Blue and Battle Red.
Noticeably absent from above are fan favorites DeMeco Ryans and Mario Williams. Now that these two have parted ways with the Texans organization, there has been a lot of discussion as to who will step up in a leadership role. I addressed this with Coach Phillips, and asked him how he sees Bradie James (former Dallas Cowboys LB and 2012 free agency acquisition by the Texans) working into the fold. "Well, I know Bradie, and he is a leader" says Wade. "I was part of the reason we brought him in. He is a good football player, and he had over 100 tackles every year, except last year." Wade went on, "He has a lot of leadership qualities and I think our guys will take to him real well." Coach pauses for a moment and reflects on his team, "I think we have a lot of leaders on our team. They lead by example, and by that I mean they just do things right all the time."
As I write this, the NFL draft is upon us (hell, it's tomorrow) and of course, I simply had to ask Coach where his head was in terms of the new crop of kids coming on to the squad. What is his ideal draft selection? "Well, like the one we took first last year [JJ Watt] certainly, those kinds of players. You want a high-motor guy that is a self-starter, and one that is both a good person on and off the field." He continued, "It is defi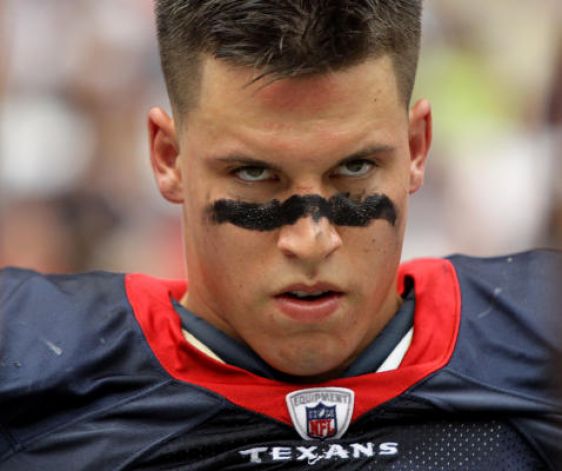 nitely good to get a player that is talented enough, but just has that other level of self-motivation, and a guy that looks forward to coming to practice." Coach emphasized, "Nobody likes to practice; everybody likes to play the game. But you have to practice to get better."
On Wednesday, Watt tweeted, "With the draft tomorrow, remember not to jump to conclusions before the guy ever steps foot on the field." [Follow JJ @JJWatt] Only time will tell what the draft will bring to the Texans defense in the 2012-13 season, but it is plain to see that this pack of bulls and their leader certainly have their eyes on the prize.
Stay tuned for part one of my Coach Phillips Q&A tomorrow.
#peaceloveandfootball
Photo credits: beaumontenterprise.com  chron.com
---
---