---
---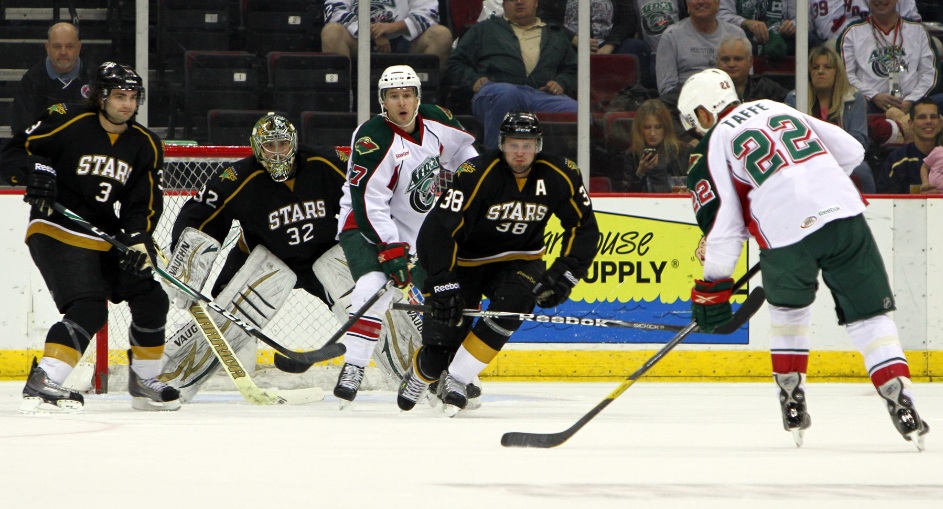 Well, we did it! Our Aeros are going to the Calder Cup Playoffs! Yes, that's right, after seeing me at a charity bowling event last week, the boys were finally able to find the motivation they needed to clench two consecutive wins last weekend against the San Antonio Rampage and the Texas Stars. Not sure whether it was my amazing titty dress I wore, or the fact that I spent the majority of the night flirting my ass off, but either way, something clicked.
Jokes aside (maybe), my boys did a kickass job of nailing the Rampage's ass to the wall on Saturday night, with a final score of 5-3. A sellout crowd of 9,006 looked on as Jeff Taffe, Kris Foucault, Joel Broda, Chad Rau, and Justin Fontaine led their team to victory at the Toyota Center. Chay Genoway did work with a total of two assists, and hot potato Matt Hackett had 19 saves. Sunday's playoff-deciding nail-biter against the Stars ended in favor of the Aeros again, 2-1, with goals by Broda and Foucault, with 28 saves for Hackett.
Being 8th seed heading into the playoffs isn't exactly the coup de grace that the boys wanted, but with the no. 1 seeded OKC Barons series looming on the horizon, you can bet that the Aeros have some #UnfinishedBusiness to take care of. The higher seeded Barons opted to host the last three games of the series at home, so the defending Western Conference champs will host games on Thursday, April 19th and Friday, April 20th at Toyota Center, at 7:05PM and 7:35PM respectively.
Predictions for this first round against the Barons? My sports mentor would tell me that I sound "fanboy", but of course I have full faith that the Aeros will pull this one off with three out of the five wins. Key players that will need to lead the way are Jon DiSalvatore, Taffe, and Rau. As veterans, DiSalvatore and Taffe really need to step up as leaders, while Rau needs to continue his aggressive and positive drive. Despite the fact that Rau is just a third-year center, he has proven his worth over the course of this year, with 14 goals and 21 assists for the Aeros, and 2 goals for our NHL af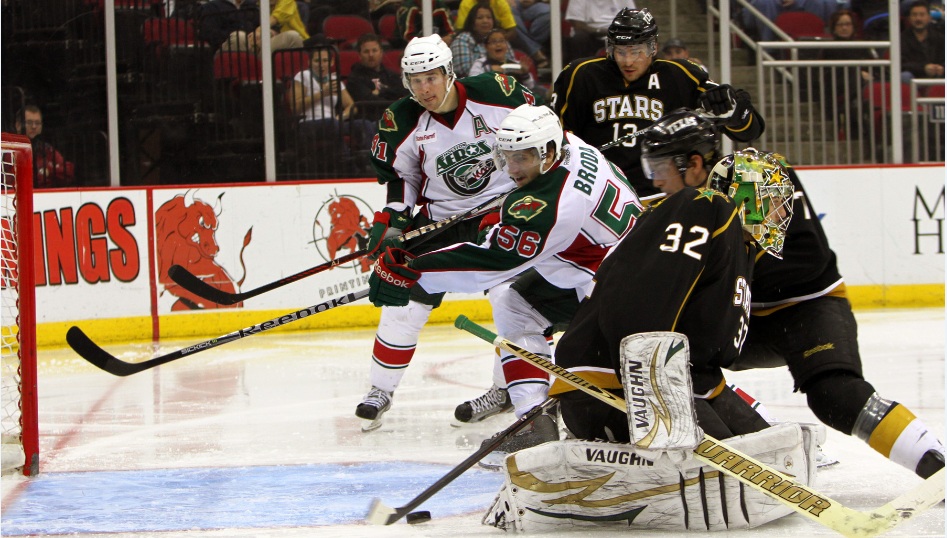 filiate, the Minnesota Wild during the 2011-12 season thus far.
Wondering why we don't just play all vets, especially during playoffs? According to the PHPA (Professional Hockey Players Association), you can only suit up four players that are considered to be "veterans", meaning you have played more than 260 combined games in the AHL or NHL. As my friend Andrew so eloquently puts it, "it keeps teams like Chicago and Hartford from beating the crap out of everyone."
Well, guess what, Drew, that's exactly what the Aeros are gonna do anyway, come Thursday.
So what are you waiting for? Get your playoff tix NOW through the Houston Aeros box office, or contact Justin Humphrey @justinh48 via twitter.
Get ready, Houston. This puck's for you.
Photos courtesy of Houston Aeros.
**Please note: should you wish to get Jon a gift when the Aeros win this round against the Barons, he wants one of these. trust me on this one.
#peaceloveandhockey
---
---