---
---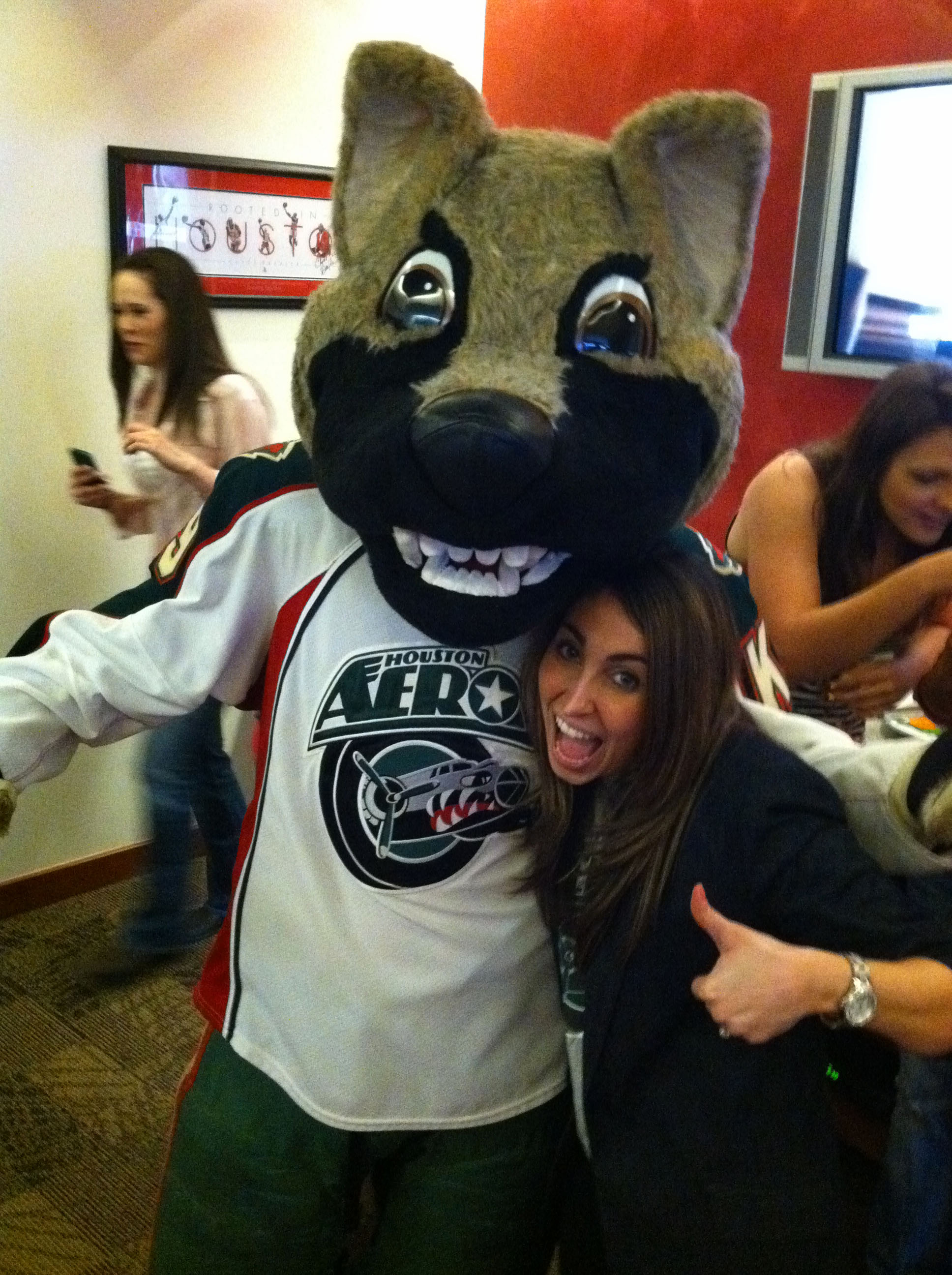 My Houston Aeros took on the Grand Rapids Griffins Sunday evening at Toyota Center in front of a crowd of over 10,000, including me and my closest gal pals. David Burke, (Twitter: @DBurkeAeros) President of the Houston Aeros organization, so graciously sacrificed his suite for the evening to 17 hot brunettes in their 20-somethings. As if that weren't a frightening enough prospect, the ladies were provided with beer and wine, (oh, and vodka for Maya) delicious snacks, and 60 pink Jell-O shots. Oh boy.
Sunday, March 11th, or "Pink Day", was a celebration for Breast Cancer Awareness. We all wore pink in celebration, and there were pink latex gloves on the back of every seat in the arena to promote women's breast health and education. After getting situated, Estefannie G. De la Garza (Dinastia Magazine) snapped a few group shots of the girls, and the game began. We were all so excited when the boys hit the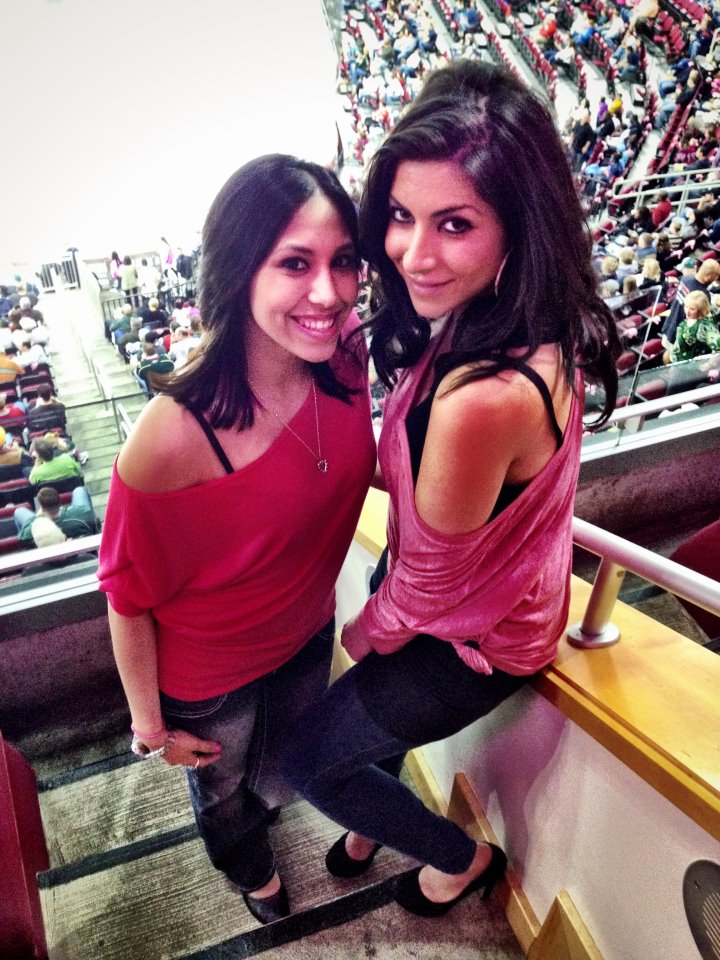 ice!
A lot of my girls weren't familiar with hockey, but when it comes to compimentary booze and food plus #eyecandy, it was easy to lure them to the game. Quite a few of the ladies had been to Aeros games previously, but had not been back in years! This was such an unusual and exhilarating way to expose them for the first time, or re-introduce them, to this game that I love so much.
To connect with social media outlets that evening, the Aeros official twitter account, @Houston_Aeros, had given us our very own hashtag to use during the game: #AerosGirlsNightOut. With all of the Facebook & Twitter exposure from last night's match-up, David and I hope to motivate even more fans to come out to the games. Just from the reaction that I saw personally, this event was an absolute stunna (and no, not just talking about the hot ass bitches I brought with me)!
After a few drinks and one period later, "Aero" Joe O'Donnell, Director of Broadcasting, came up to the suite to teach the girls "Hockey 101″. Joe taught us about "icing", "offsides", and "plus/minus", just to name a few topics. Despite the fact that Joe's 'Andrew Firestone' looks are a bit distracting, he is quite the informative pro in his field! We all were able to ask questions, and he even brought a whiteboard to describ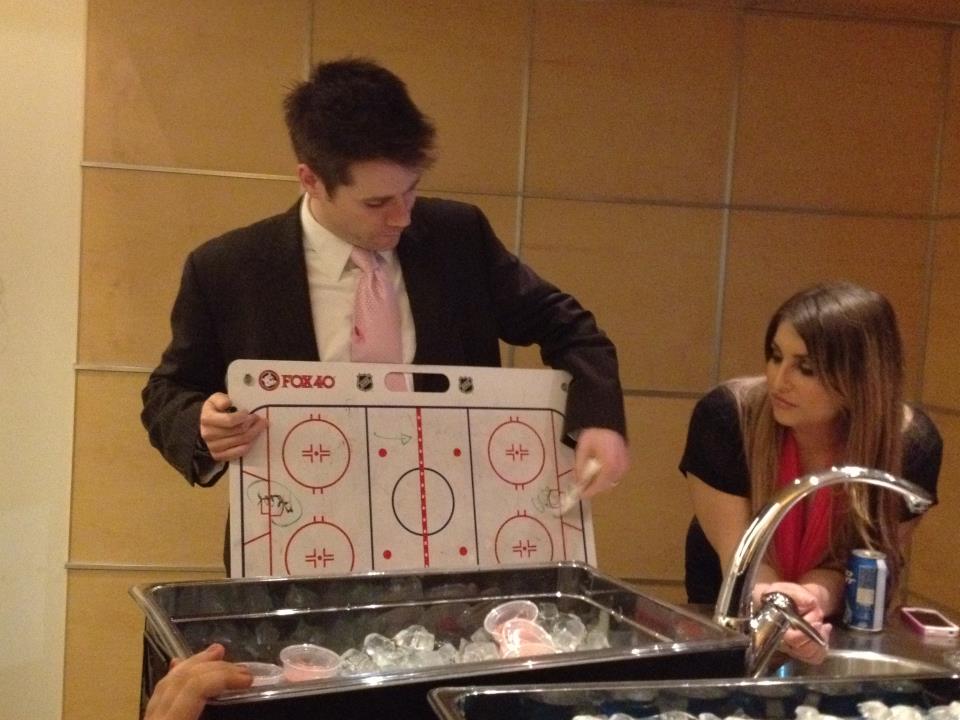 e what he was teaching us. You can follow Joe on Twitter @aero_joe.
Our next surprise was a visit from Chilly and two of the prettiest Aero Dynamics I have ever seen! As soon as the mascot entered the suite, my little sis, Jacqueline, yelled out, "It's CHILLY!" and everyone scrambled to get a photo op. Little known fact that "sissy" and I have been a Chilly fan since we were in middle school!
As if this weren't enough excitement for one evening, Jim Gadd, the Aeros Director of Merchandise, came up to the suite with a surprise for all of us: ladies Aeros tees and hats! We were thrilled! The ladies put on the t-shirts and hats right away, and then, of course, followed that up with a 20-minute Aeros gear photo-shoot.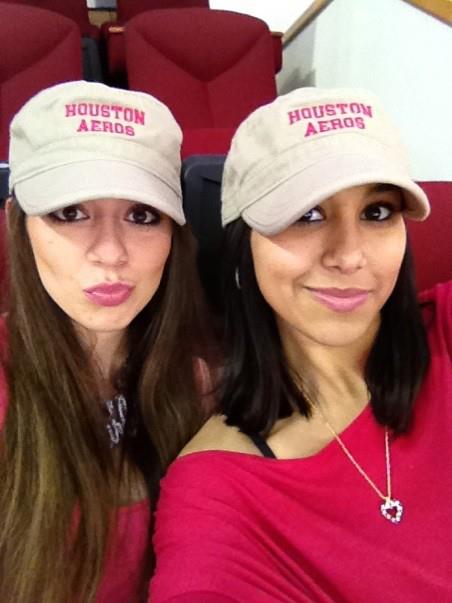 Although DiSalvatore and Palmer put up two impressive goals, the Aeros fell to the Griffins 2-5. Not that any of this mattered to the girls, who screamed and cheered for our team as they left the ice regardless. I have to say, I am proud of this team. After only 18 years in this city, City Councilman District E Mike Sullivan named March 11th "Houston Aeros Day" in Houston! I am telling you, these guys have some raw talent that is unreal; after all, the American Hockey League (AHL) is the training grounds for the National Hockey League (NHL).
If you are just getting into hockey, you should absolutely become a regular at these games, if not a season ticket holder.  The crowd is always pumped, and I would say with certainty that these fans are some of the most die-hard in the league. I have been an Aeros fan since the 7th grade (that's Summit days, people), and my allegiance to the team has continued over the years. Not only is the team talented, but all of the Aeros front office staff are fantastic, too. Go to a game, and tweet me your thoughts. I promise you won't be disappointed.
If you would like to learn more about the Houston Aeros or their NHL affiliate, the Minnesota Wild, please visit my previous article, "aeros gone wild."
#peaceloveandhockey
---
---