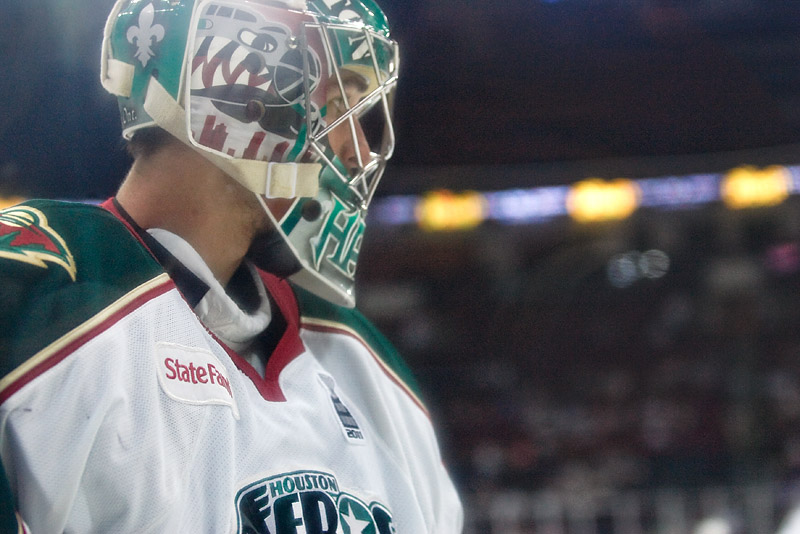 It's chilly up here in the press box. Funny, one would assume it would be warmer….This pizza is awful; I don't know why I always order it. I think I am nervous. It's my first time living out my dream, and the prospect is daunting: entertain the masses. In terms of AHL hockey, no less. Although widely popular throughout North America as a whole, Houston hasn't quite gotten on the hockey train, most probably because of the lack of an NHL team here in Houston. I plan to change that.
With the playoffs just around the corner, AHL hockey is buzzing.  The Aeros are hungry for those playoff seats, most notably players like RW Justin "Fonz" Fontaine and C Jeff Taffe. With the reassignment of Goalie Matt Hackett from the Minnesota Wild after nearly a month, it feels good to see the "old guard" back together again. The opponents for the evening? The Lake Eerie Monsters, who rank 10th in the Western Conference versus the Aeros 6th. The race is so tight that only a few points separate the top playoff contenders from one another. At the start of the game, for example, the Oklahoma City Barons, the current top seed in the Western Conference, and the Aeros were tied at 68 GP for the season; Barons with 41W to Houston's 32.
As Kurt Russell hollers from the Jumbo-Tron, "This is your time! Now go out there and take it!" the Aeros hit the ice. On the starting lineup: G Hackett, D Fredheim, C Almond, RW DiSalvatore, C Taffe, and D Cuma.  I plan on simply jotting down my observations and see where that takes me, and so I begin: the first four minutes of the game were practically the only ones without some sort of penalty or drama going on. Not that I would ever complain about that; who doesn't love a good scuffle? Almond quickly picks up a 2 minute penalty for hooking and shortly thereafter, Fontaine gets another 2 for goal tender interference. I notice that C Carson McMillan is an aggressive skater, and write that down in my notes. I know this because I used to skate competitively (okay, it was roller skating…think hot pink skate covers and choreographed routines to "Wind Beneath my Wings").
I realize I begin to take notice of how many goals are stopped. There is definitely something about this game that is really drawing my attention, yet I cannot seem to put my finger on it. In one fell swoop, I spy Matt Hackett getting away with both a slash and an elbow. Yep, he's back, alright. Hackett's ability to convey his personality and aggression, even on the ice and in the net, is uncanny. And this, for me, was the most entertaining factor of this game.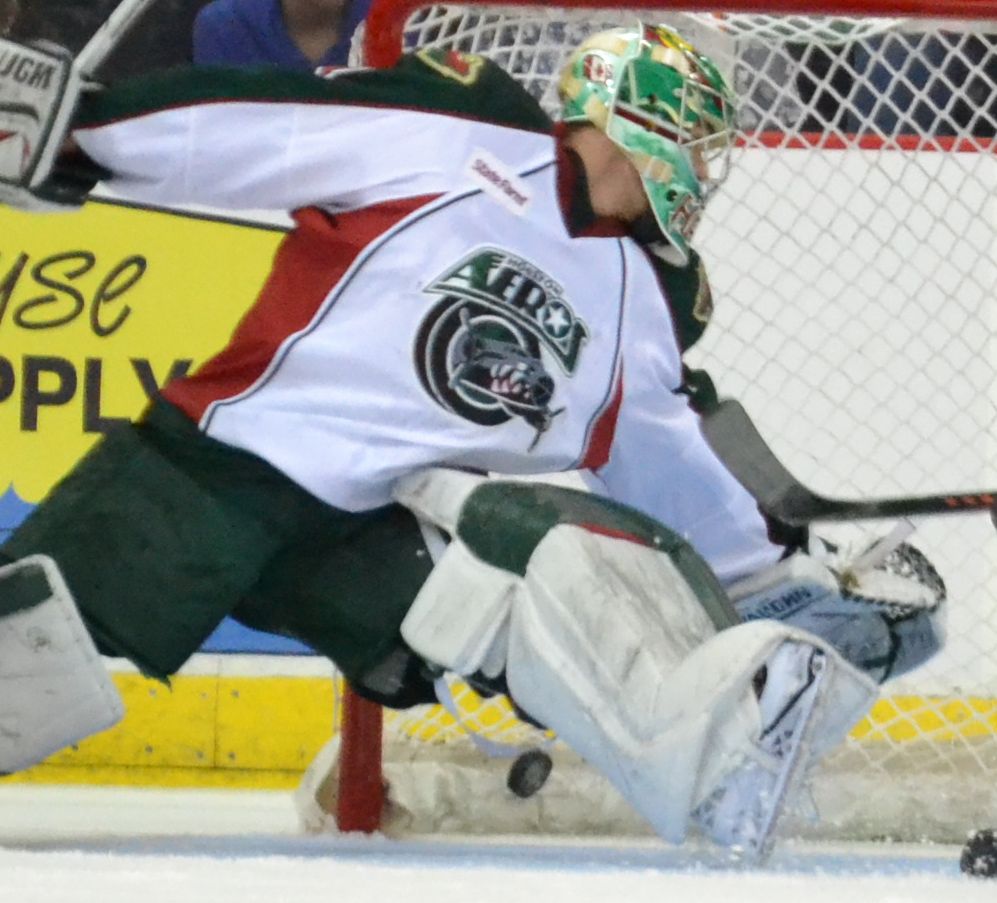 Although the Aeros ended up losing in a shootout 4-3, I wouldn't count them down and out just yet. John Torchetti, Aeros head coach, agrees that the proverbial ball is in their court: "We've been giving up points for the last five games…we've had the puck." He explains, "once we can eliminate [giving up points], we certainly [can] make the playoffs." "We have to work hard and get to the post, that's the crux of it; we are beating ourselves and once we stop doing that, I think we'll start winning some more games."
The subject then turned to Hackett. Goalies always seem to catch a lot of flak for shootout losses, but Torchetti won't even hear of it: "He always comes through for us in the end…The 3rd [goal] you can't judge the goalie on, it's just a bang-bang play." When asked about Matt's emotional demeanor on the ice, (Hackett threw a punch after action at the end of OT1) Coach Torchetti explained, "[Hackett] wants to win, he wants to compete, and there's nothing wrong with your goalie trying to compete." Regarding the shootout, he further drives his point, "You're not going to win a shootout with no goals."
It looks like Hackett's return has come just in time, and if players like Clackson, Fontaine, Palmieri and Taffe keep skating smart and fighting hard, we could still come up successful and make the Calder Cup Playoffs. But, that's a big if, considering as of now we are ranked 5th in the Western Conference after Abbotford's win last night against Chicago. Saturday's home game against Hamilton will go a long way in determining how stressful the Aeros' final six games will be. With only one game scheduled in the next week, a victory this weekend will give the team some much-needed wiggle room.  One thing's for sure: as long as my Aeros aren't giving up, I'm not going to either.
#peaceloveandhockey
ps: Matt….sorry about the title. I'm too punny for my own good.
Photos via: RantSports.com InGoalMagazine.com HoustonPress.com