---
---
For those of you who don't follow Houston hockey, you're in for a surprise: your Houston Aeros might just be the busiest and hardest working team in the AHL. Am I biased? Perhaps. But by the time you've read this article, you might be, too.
Currently, the Aeros, or #roadwarriors, as they refer to themselves on social media, just embarked on an over month-long 11-game road trip taking them from the Great Lakes to British Columbia, back to Texas, and then back across the northern border again. As if that wasn't enough, they have been going through endless transitions with NHL affiliate, the Minnesota Wild. In the span of just 2 weeks, the Wild has called up and reassigned over 15 different times. Two of the Aer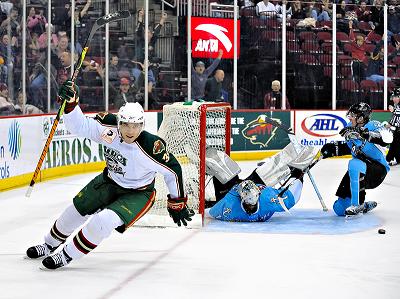 os top performers, defenseman Nate Prosser and forward Matt Kassian, are now on the Wild's active roster.
Despite the constant turnover and a notably demanding schedule, our Aeros continue to perform. Currently, their record stands at 23 wins and 13 losses, ranking them number 2 in the Western Division, and number 4 in the Western Conference. And although I'd like to credit my signature, "Shake your tits for the Aeros!" game chant, I can't take all the credit. It's the team's mentality and perseverance that keeps them going.
I spoke with Jody Green, Head Athletic Trainer for the Aeros, in the hopes that I would get some insight behind the curtain. "You have to know that stuff's going to happen throughout the year, and you've just got to roll with the punches" Green says, explaining to me the fluid and constant movement between the Wild and the Aeros.
Green reflects, "If you lose one of your top scorers, it places the burden on other players. But when you're not at the top of the food chain, you're subject to that type of stuff." "In the end, you're there to develop players for the National Hockey League."
After pressing Green with a few more questions, he finally admits, "It does hurt" to lose a top scorer. "It's a huge rollercoaster." But it's not all bad. RW Jed Ortmeyer is back with Houston as of yesterday. Green describes, "With Ortmeyer clearing waivers yesterday and him being reassigned to us, that's a huge boost. We're getting a key part of our team back."
On March 10th, your Aeros will finally be back at home to play Grand Rapids, who they're also set to face tonight and tomorrow. I better see all of my readers there with (cow)bells on. If you haven't been to one of these games, you are missing out! And no, not because of my signature chant or the eye candy on ice, but because of the sheer display of talent you're sure to witness at every game. Tweet me and let me know you've got your tickets, and I will give you a big ol' shoutout.
Tickets available at aeros.com.
(Stats via aeros.com, wild.nhl.com)
---
---